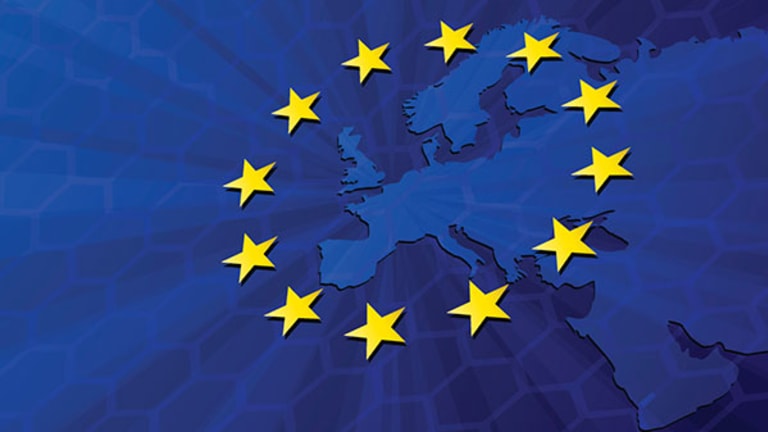 Google, Poland Offer Safety From the Threat of Europe's Trojan Horse
Germany is a safe haven for European investors, but countries on the periphery offer the best growth and U.S. companies are taking advantage.
NEW YORK (TheStreet) - Greece may have rocked the markets recently, but that doesn't mean investors should run away from Europe entirely.
For U.S. investors, in fact, Europe is on sale, thanks to the euro's 21% drop over the past 14 months and an ongoing economic stimulus program. The best opportunities can be organized by both geography and industry: Consumer goods, manufacturing and financial services appear poised for growth, analysts say, as do countries that were in financial trouble or received bailouts in the last few years, such as Italy and Spain. 
A variety of exchange-traded funds offer easy access to the continent, and investors can also put their money into companies like tech giant Google (GOOG) that have operations there.
"The European markets, in general, are doing better than the U.S," said Nick Colas, chief market strategist at Convergex, adding that indices in Europe are up between 5% and 6% so far this year, while the S&P 500 has risen 2.6% in the same period.
The real potential is in countries that have not yet realized those gains. "It really is the case that you want to go to the countries that have the best opportunity for growth from here versus the countries that are strong already," such as Germany, Colas said.
For the first decade of the millennium, many investors looked to China when they wanted to diversify their portfolio with holdings outside the U.S. But as East Asia's behemoth market cooled off and headed into a nosedive, investors have started to look for other places to park their cash.
Some, including Martin Schulz, managing director of international equity at PNC Capital Advisors, are now betting that European markets have upward potential as central bankers pump much-anticipated cash into the economy. Critically for U.S. investors, those quantitative-easing measures are coming years after the Fed began similar programs in this country.
"Not only is the Euro weaker now, but Europe is probably about two years behind the U.S." in making its economic recovery, Schulz said in a telephone interview.
That lag behind the U.S. economy's recovery is what investors have taken -- and can still take -- advantage of by pilling on European equities where they used to have Chinese stocks.
The opportunity appears especially lucrative with a euro-dollar rate that will likely remain low for the near future: After dropping from 2014's high of $1.39 to below $1.10, even the most optimistic currency watchers don't see the euro returning to its peak before 2018, according to data compiled by Bloomberg.
If that prediction comes true, European companies that export to other parts of the world could have a competitive advantage for the near-term.
Companies that export consumer discretionary and staple products are already seeing that benefit, with prices already down due to the effects of currency. "Those two sectors have really rebounded because now they're more competitive against their American counterparts," said Kevin Kelly, managing partner at Recon Capital Partners in New York.
One example is Bayer, the Leverkusen, Germany-based pharmaceutical company, whose products compete with New Brunswick, N.J.-based Johnson & Johnson (JNJ) . Thanks to the euro's recent weakness, Kelly said, drugs from American firms like Johnson & Johnson are as much as 25% more expensive in Europe and Asia than equivalents manufactured by Bayer.
Other specific areas to watch include luxury brands and car makers, said Sebastien Pigeon, an analyst at Chicago-based Driehaus Capital Management who covers consumer stocks.
One auto company well-positioned to benefit from those gains is Volkswagen, whose global car sales overtook Toyota in the first half of 2015. In VW's case, strong demand from China has fueled one-third of the company's sales.
One of the big three U.S. automakers could also benefit from the foreign exchange effect, at least in manufacturing costs. As part of a restructuring of its European operations, Ford (F) plans to ramp up production at its facility in Valencia, Spain, to produce as many as 450,000 vehicles annually by the end of 2015. (The company sold 6.3 million cars worldwide in 2014.)
As the European Central Bank continues to pump money into the Eurozone's economy, financial firms are also likely to do well, said Convergex's Colas. "Financials across Europe are up almost 13% year-to-date even before hedging out euro exposure," he said.
While the 28-member common market expanded by 1.8% in 2014, growth rates among the individual member countries varied from a contraction of 2.3% in Cyprus to an expansion of 5.6% in Luxembourg, according to data from the World Bank.
Germany, the continent's economic powerhouse and source of roughly one-third of the Eurozone's gross domestic product, is often regarded as a safe haven of productivity. But while the country's main index, the DAX, rose above 12,000 points for the first time ever in March, Germany has not grown as quickly this year as some of its neighbors.
"More of the fringe economies, Italy and France in particular, have done much better year-to-date, up between 9% and 12%, even before you take out potentially hedging out that euro exposure," Colas said.
Even the DAX's year-to-date 15.33% gain isn't as impressive as the 18.95% rise in France's CAC 40.
But one country is making a recovery that seemed unlikely just a few years ago: Spain, which received a $56.6 billion-bailout for its banks between 2012 and 2014, is recovering by refocusing its economy on exports, such as the cars Ford produces there. The country is "having an economic renaissance," Recon's Kelly said. "Their industrial production numbers have consistently beat consensus over the last three months, and they're thriving from that industrial production."
In 2014, Spain's economy expanded by 1.4%, the first year of growth since 2008. The country's real estate market, which was the source of a bubble earlier this decade, has begun to improve as well, Kelly said.
All of these trends will have to continue for years before Spain can rival a country like Germany, but "it's making big strides," PNC's Schulz said.
One threat to that progress may come this December, said Convergex's Colas. That's when Spain will hold national elections that could see Podemos, a leftist Euro-skeptic party similar to the ruling Syriza party in Greece, form a government.
Part of the party's platform is to renegotiate the terms of Spanish debt that the European Central Bank holds, a promise similar to ones made by Greek Prime Minister Alexis Tsipras' before he was elected earlier this year. "If they gain power, it could be that Spain is another version of the Greek crisis in 2016," Colas said.
Outside of the common-currency zone but within the European Union, Poland has also staged an interesting recovery, albeit in different circumstances.
Despite emerging from communism a quarter century ago, the country's economy was the only one in the European Union that did not contract during the financial crises that the continent faced starting in 2009. Its 2014 growth rate, 3.4%, is higher than the U.S.'s rate of 2.4% over the same period.
Wages and living expenses are lower in Poland than its neighbors to the west, and the country has used those attributes to become an outsourcing center for the service industry, particularly in technology support and customer service for companies including IBM (IBM) , Google (GOOGL) (GOOG) and HP (HPQ) . "It's probably been the biggest beneficiary of the outsourcing trends," said Schulz.
The country also has a low debt relative to its gross domestic product. 
While Poland's debt sits at about 50% of GDP, other countries, such as Portugal (130%), represent riskier places to invest. Greece is a prime example. The Mediterranean nation which has requested multiple bailouts and engaged in contentious negotiations with creditors, has debt that amounts to 177% of GDP. "From a current accounts to GDP perspective, you don't want a huge deficit," Schulz said.
Economy-wide factors are especially important for investors who want to buy into Europe using an Exchange Traded Fund, which offers a less risky way to invest in the continent's rebound: Instead of investing in just one company, investors can put their money in one of many different mixes of equities. Some focus on one country, while others include equities from several nations.
As a group, Europe-based ETFs have done well: Of the 64 listed on ETFdb.com, a database that tracks the funds, only the Greece-based fund has failed to turn a profit so far this year. Many funds have returns between 6% and 9%, but several have done better: WisdomTree's Europe Hedged Equity Fund, for example, has achieved a year-to-date return of 14.27% by focusing on consumer and industrial companies. Nearly three-quarters of its equities come from companies in France, Germany or Spain.
Many of the equities in these funds are names familiar to Americans, such as Anheuser-Busch Inbev (BUD) , Siemens and Bayerische Motoren Werke (colloquially known as BMW).
Regardless of whether investors choose to invest directly in a company or in an ETF, planning for the effects of a shifting exchange rate is vital. If the euro continues to lose value relative to the dollar, investors' returns could suffer the same fate that revenue for U.S. companies did in the first quarter.
Investors who are expecting the euro to fall even lower as they park their money in a European ETF might consider a currency-hedged fund, which attempts to mitigate the effect of changes in the euro-dollar rate.
"The currency-hedged ETF gives an investor access to a packaged product with a hedging strategy that would have previously only been available to institutional investors," said Andrew Craswell, a vice president at Brown Brothers Harriman who focuses on European ETFs.