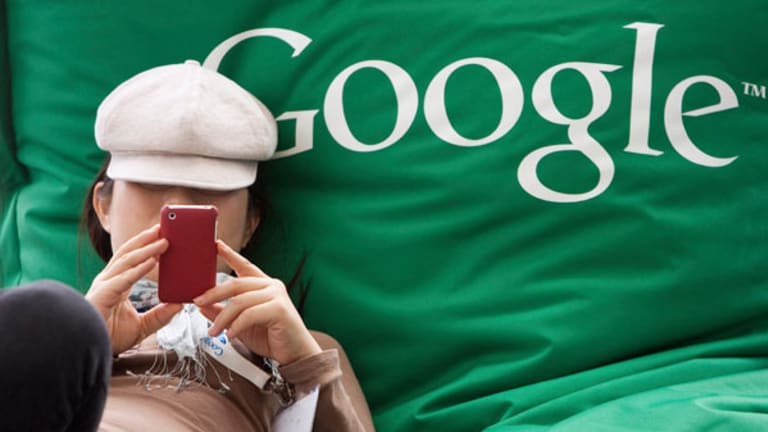 Google or Yahoo Buying Pandora Makes a Ton of Sense
Either company could provide the vision and competent management Pandora lacks.
NEW YORK (TheStreet) -- Somebody at CNBC found last Wednesday's Will Apple Buy Pandora? article interesting so I broke my self-imposed television hiatus and joined Brian Sullivan and Mandy Drury on "Street Signs."
Driving home I got to thinking about the dynamics of an Apple (AAPL) - Get Apple Inc. Report takeover of Pandora (P) . Dynamics that -- with a few situational tweaks -- apply to most scenarios where somebody buys Pandora. It's always fun to use Apple as the suitor because ... it's Apple and everybody wants it to buy somebody.
However, as I continued to noodle, I determined it wasn't wise to go with the crowd and theorize something I really don't see happening. As I said on CNBC and in countless articles at TheStreet, Apple nails balls to the wall as a hardware company. There's no need to own individual features that -- as part of a much larger whole -- drive device sales and related revenue.
My thought trajectory swirled and, without fail, brought me back to Google (GOOG) - Get Alphabet Inc. Class C Report as the most logical choice to put Pandora out of what will soon be -- if the company continues on the present and limited path -- its misery. Google could take Pandora and do things with it Pandora management hasn't entertained with any meaningful cognition while creating the ultimate synergy between Internet radio and YouTube. And my blood flows real hard when I think about the things Google could do with Pandora's historical and real-time data.
Pandora requires a mercy killing to keep it alive. To ensure it achieves its full potential. Google could get it done by booting out segments of a Pandora management team mired in stubborn tunnel vision that's set to hit a wall.
Billboard recently reported that Google's holding back on a YouTube streaming service because it wants "to 'get it right.'" Or could it be that Google's contemplating some M&A as the cornerstone of whatever it does -- musically and with data -- at YouTube and beyond?
In any event ...
Here's What a Google Buyout of Pandora Could Look Like
A Google buyout of Pandora includes -- or at least should include -- four primary components:
The music/radio component ... particularly how buying Pandora would improve Google's position as a streaming/Internet radio player.
The YouTube component ... particularly how Pandora can help focus and improve YouTube while YouTube expands and diversifies Pandora. The ideal complementary (and complimentary) relationship.
The data component as it pertains to advertising.
The data component as it does not pertain (directly) to advertising.
We'll take these areas point-by-point. And, because (to some extent) Yahoo! (YHOO) makes as much sense as Google, we'll throw in thoughts that pertain specifically to the powerhouse Marissa Mayer's building.

Pandora Could Make Google the Most Dominant Internet Radio Player
Google already has what's best (even if imprecisely) described as a "Spotify-like" streaming service. It's part of Google Play. And it's on-demand radio with a cloud storage feature.
Key point -- this service and services like it (see, e.g., Spotify and Rdio) are distinct from Pandora. The way the platform serves music and the way you're able to manipulate and interact with the songs differs considerably between Pandora and these on-demand services. Pandora is traditional radio redefined whereas Google Play's music feature, Spotify and Rdio are direct avenues to assemble and organize music collections (though some offer relatively wimpy and ultimately secondary radio-like options).
With that in mind, a Google takeout of Pandora gives it instant control of the space Pandora now dominates. If you question Pandora's domination as a pure-play radio outfit, check its March 2014 audience metrics. Apple's iTunes Radio has done absolutely nothing to curtail Pandora's omnipresence.
Consider Google Music as an interconnected trio of Google Play, YouTube and Pandora and, suddenly, you realize Google could have everything it needs in place -- strategically and contractually -- to tweak terms here and there with the music industrial complex (labels, publishers, songwriters) and deliver music to the masses any way it wants. And the music industry would have no choice but to comply with Google's wishes. It has already ceded control of its product to third parties thereby putting it in a position where it hopes and prays technology companies move the puck in a direction that favors the industry's interests (even if they don't know exactly what these interests are).
Google could keep the music feature in Google Play as is, but cross-promote it through Pandora, giving Pandora's user base an on-demand option. And just like Google Maps, this -- we'll call it Pandora Radio by Google -- could live in Apple's iOS ecosystem. Tim Cook's not bold, crazy or dumb enough to jettison Pandora -- the top music app in Apple's App Store -- from iOS regardless of who owns it.
The YouTube Component Makes a Google-Pandora Marriage Even More Compelling
And this is where Yahoo! logically enters the mix. While Kara Swisher's Re / Code recently presented it as a scoop, it's common knowledge that Marissa Mayer wants to challenge Google's YouTube as part of Yahoo's still-developing video streaming plans.
But first ... focusing on Google.
YouTube as a destination for music streaming requires what some people might call order. And, while Google might not define it that way, they're, as the above-linked Billboard story (an actual scoop!) indicates, carefully figuring out how to provide it. Pandora could go a long way to getting YouTube where it needs to be.
I'm puzzled as to why Google hasn't integrated the music feature of Google Play with YouTube a bit more. Why not shuffle users between the two properties? (Maybe time spent on YouTube is worth more than time spent at Google Play?). But, all things equal, it would be ideal to combine on-demand streaming, artist- and genre-themed stations, radio redefined and music discovery via cross promotion of Google's YouTube, Pandora Radio by Google and Google's existing on-demand portal.
And give users the ability to control just how much integration they receive. Done well -- intuitively via slick user interfaces on each platform -- it could be a hit.
You're listening to Pandora and given the option to add the song you just thumbed up to your music "collection" or save the most popular YouTube video of that tune to view later. You're on YouTube mindlessly playing videos (not that there's anything wrong with this or that Google should discourage it) and you're prompted to create an artist-themed station to save for later or listen to now. You could add bootlegs from concerts you stream via YouTube to your Pandora mixes. The possibilities of what could come of a Google-Pandora union are literally endless.
Ideally, Google enters the live concert streaming space -- the way I think Yahoo should -- and capitalizes on the optimal flow that naturally exists between the aforementioned areas.
The Advertising Data Component
You'll see nothing but praise from me with respect to Pandora's ability to do radio, as a consumer product, and combine humans and data to build and execute a radio advertising sales strategy. That said, Google (or Yahoo!) could take Pandora's advertising business to the next level.
TheStreet's Chris Ciaccia has done a fantastic job connecting the dots between Yahoo, Yelp (YELP) - Get Yelp Inc Report and Marissa Mayer's aim to develop and master localized contextual advertising. On the next page we review what that looks like, on the ground, and discuss how and why Internet radio enters the mix. 

When you search "italian restaurant" on Yahoo, you get something like this -- an ad followed up with personalized results powered by Yelp:
But when you search "scenes from an italian restaurant billy joel" on Yahoo, you get this -- videos from random properties (including YouTube) and links to non-Yahoo entities such as YouTube, CBS's (CBS) - Get CBS Corporation Class B Report Last.fm and Wikipedia:
The former's not quite there yet, but it's not bad. The latter -- it's just lame. And it illustrates missed opportunity for Yahoo. Of course, Google owns this space, but if you conduct the same searches using it, you'll see Google still has room to provide more useful, compelling and dynamic results.
Given the popularity of music-related searches and music's ability to help sell just about anything, it's a common sense -- and, to this point, largely underutilized -- stragegy to integrate not merely music, but dynamic and wide-ranging Internet radio platforms with local, personalized, contextual (whatever you want to call it) search.
Google or Yahoo provides better user experiences. Users give Google or Yahoo more clicks and time spent on the page. And the tech/media company-music industry relationship finally begins to unleash the power of Pandora's data. Because, make no mistake, Pandora's present regime refuses -- for whatever reason -- to take that data and max out its multi-faceted potential.
The Non-Advertising Data Component
For background and context on this section, it makes sense to see February's Sell Pandora: Stock Could Crash on Bad Strategic Investments.
For the record, since that article hit, Pandora stock has plummeted roughly 24%.
In any event, when I consider the extent to which Pandora has failed with respect to building an actual data business beyond advertising, I'm baffled. And investors should be as well (despite the stock's epic, but now fading run).
The cynic in me says Tim Westergren has created a culture of us against them at Pandora. "Them" being the music industrial complex, particularly the cogs Pandora fights with most -- ASCAP, MusicFirst, the major labels (though they also partner) and a considerable segment of indie and big-name singers and songwriters (though quite a few also love Pandora). This culture discourages innovation on the data front because it would help an industry that refuses to see the value of Pandora the way Westergren and his disciples see it.
But that's just the cynic in me.
My straight-faced, non-cynic side also experiences bewilderment with respect to Pandora and data because, outside of taking it directly to artists, the company could generate millions of dollars in recurring and relatively stable revenue if it just unlocked the door on data.
Imagine a scenario where Pandora, in the name of goodwill, rolls out the artist dashboard and attendant heat maps Westergren has been talking about -- but not doing much with -- since 2008. That would be free to, let's say, indepedent acts. And it helps show that Pandora can walk the walk alongside what increasingly appears to be hollow talk of helping build a musician class.
But, from there, the real power of the data takes hold.
Pandora -- and this is all hypothetical because I don't think it's even on the company's radar -- creates a database for the major record labels (and large indies) as well as huge advertising agencies, big marketing agencies and (particularly consumer) brands that permits access to historical and real-time Pandora listener and music preference data.
Allow these groups to manipulate and filter that data in a self-serve platform they pay monthly or yearly (or whatever) licensing fees to access. Any of the above would and should be more than willing to pay a premium to see what's hot, what's not, what's about to take off and so much more on the basis of everything from geography to related affinity to -- if Pandora (or Google or Yahoo) got smart and bought Ticketfly -- concert-going and ticket-buying behavior. Truly no brainer stuff only limited by imaginations and inherent shortcomings of Pandora's data on the user demographics side.
But that's a smallish picked bone when you consider how the preference and activity component of the data -- coupled with demographics that appear to be working for advertisers -- can drive decisions labels, in particular, continue to make in the dark. In many cases, labels and brands simply do not go places music can take them because they do not have access to the types of data that can -- confidently -- get them there.
It's best to leave a deeper dive into that discussion for another day.
However, this exercise underscores the patheticism (my word) we're seeing at Pandora right now. Led by Westergren and the mishire (my word as well) of CEO Brian McAndrews, Pandora's on track to preserve its business in a mausoleum. While it's one thing to maintain focus on what brought you to the dance -- acting like a traditional radio player amped by the digital age -- it's entirely another to leave other potentially lucrative areas of the business on the table.
That's where Google -- and, though I'm not as confident with respect to how it would (or could) execute, Yahoo -- comes in. Done right, Google has the power to not leave vital stones unturned while respecting and maintaining the sanctity of the top-notch and ubiquitous consumer product Pandora has become.
No brainer stuff here. And, with Pandora feeling $22, the company requires a lifeline even if the folks who call the shots inside the building don't realize or want to admit it.
--Written by Rocco Pendola in Santa Monica, Calif.
Rocco Pendola is a full-time columnist for
TheStreet
. He lives in Santa Monica. Disclosure: TheStreet's editorial policy prohibits staff editors, reporters and analysts from holding positions in any individual stocks.