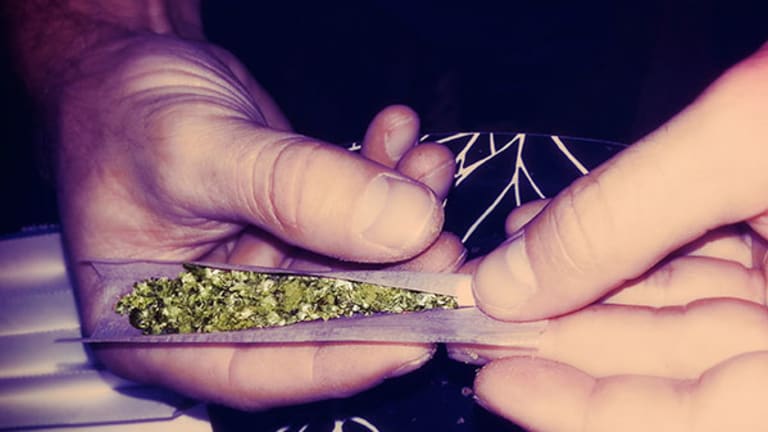 O.PenVape: 'Google of Marijuana' NOT Publicly Traded
O.PenVape, the Google of Cannabis Featured on CNBC, is a Private Company
Updated to correct Todd Mitchem title
NEW YORK (TheStreet) - Message to pot stock speculators: O.PenVape, the company featured on CNBC in a feature about the marijuana industry, is a private company and not publicly traded. So if you are buying shares in a pot stock this morning, it is NOT stock in O.PenVape.
On Wednesday evening, CNBC aired an hour-long feature 'Marijuana in America: Colorado Pot Rush,' which included interviews with a handful of pot-industry companies. O.PenVape, a pen cigarette that vaporizes hash oil, stood out as one well-positioned company in Colorado's green rush. The company's pen heats up a cartridge of hash-oil, making it a sort of e-cigarette of pot.
Chief revenue officer Todd Mitchem told CNBC O.PenVape sells its cartridges for as much as $40 a pop and that it receives about 270,000 orders a month. Mitchem also told CNBC, as they toured O.PenVape's offices, that he believes it will become "the Google of cannabis."
Given O.PenVape's business model, its growth, and a market opportunity that Mitchem described as growing to $14 billion, it's not a surprise pot stock speculators are likely to want to get a piece of the company.
Unfortunately, O.PenVape isn't publicly traded.
On their investor page, one can ask for details on potential investment opportunities. This was the response to my query, which stated that I wasn't an accredited investor.
Thank you for completing the O.PenVAPE Investor Information form. We will soon be launching a quarterly investor relations newsletter, and will include you on that distribution. In the interim, here is some basic information about our company and investment.
Investment
We are currently a private company, and our shares are not listed on any public exchange. Therefore, it is not now possible to purchase our shares in the public stock market. We recognize there is great investor interest in public MJ companies, even for those with little to no earnings or substantial assets. Our company has significant assets and a track record of strong revenue and earnings growth. Our future plans are to be listed on an exchange as a reputable cannabis company offering investors great potential for growth and ROI, and we look forward to making shares available to the general public at that time.
We at O.penVAPE take pride on our products, business, and culture. We are grateful for your inquiry, and look forward to sharing more information with you in our upcoming investor newsletter.
Sincerely,
The O.penVAPE team