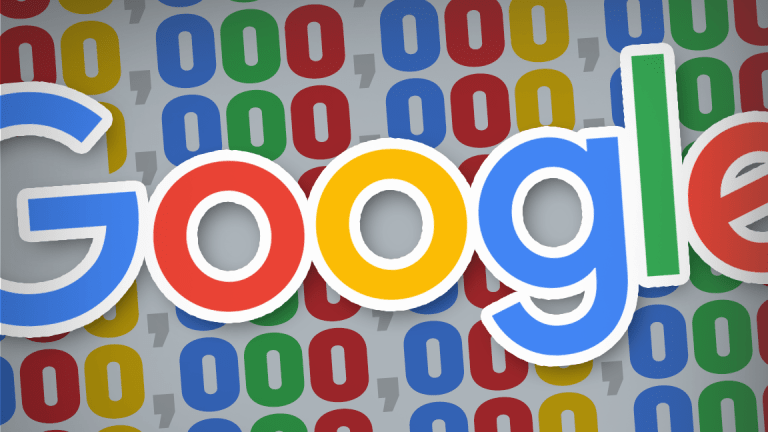 Google Delivers Impressive Quarterly Earnings: 8 Key Takeaways
A booming search business and lower-than-expected payments to ad partners helped Google deliver a strong earnings report.
Higher-than-expected revenue and lower-than-expected payments to partners spelled a pretty strong quarter for Alphabet/Google (GOOGL) .
After the bell on Monday, Alphabet reported Q2 GAAP revenue of $32.66 billion and EPS of $4.54. Excluding traffic acquisition costs (TAC - revenue-sharing payments to ad partners), revenue was $26.24 billion (up 25% annually), above a $25.58 billion consensus. Excluding the impact of a recently-imposed $5.07 billion EU fine (Google is appealing), as well as an $824 million boost related to accounting changes for equity investments, EPS was $10.58, above a $9.64 consensus.
Investors approve: Alphabet's Class A and Class C shares each rose over 3% in after-hours trading, and have made new highs. Here are some key takeaways from Alphabet's earnings report and call.
1. Search Ad Growth Remains Very Impressive
A quarter after rising 59% annually, paid ad clicks on Google's own sites and apps rose 58%. That easily offset a 22% drop in cost per click (average ad price) caused by a mix shift towards YouTube and smartphone search ads, and led total revenue on Google sites/apps (the lion's share of its ad revenue) to rise 26% to $23.3 billion before accounting for TAC.
As usual, Google declared mobile search to be the biggest driver for ad revenue growth on its own properties, and that YouTube was also an important contributor. However, this time, the company also indicated desktop (PC) search growth provided a lift.
2. Macro Trends Helped Google Out
It goes without saying that businesses tend to spend more on advertising when they're upbeat about macro conditions. And with businesses upbeat in the U.S. and elsewhere, the company saw strong top-line growth in all four of its geographic reporting segments.
In addition, though the dollar's recent strengthening makes this unlikely to continue, currency swings yielded a 3-percentage-point boost to revenue growth for the second straight quarter. The impact was especially strong in the EMEA region, where revenue rose 19% in constant currency (CC) but 26% in dollars.
3. TAC Expenses Grew Less Than Expected
Contributing to the EPS beat: TAC equaled 23% of Google's ad revenue, up from 22% a year ago but below a consensus of 24%. For Google's own sites/apps, TAC (boosted by a shift towards mobile ad sales and likely a revised deal with Apple (AAPL) ) grew to 13% of ad revenue from 11%. But for revenue from Google Network (third-party) properties, TAC fell to 71% of ad revenue from 72%.
On the earnings call, CFO Ruth Porat reiterated that Google expects TAC to continue growing as a percentage of revenue on an annual basis, but at a slower pace than before.
4. Google Is Eager to Talk Up AI's Impact on Ad Growth
Though it's normal to hear CEO Sundai Pichai trumpet Google's giant AI/machine learning investments, there was more of an emphasis this time on how these efforts are boosting Google's top line. Particularly for its search ad business, where the company has used machine learning to do things like help advertisers decide how much to bid for ad keywords, figure out which users to target and (more recently) even optimize the ad text that's shown on a particular search page.
New AI-powered ad solutions meant to make things easier for small and local businesses were also highlighted. "There's a lot of complexity you need to deal with as an advertiser," Pichai noted. "And increasingly we are using machine learning to do all the hard work and get them to focus on the business problem they are trying to solve."
5. Google's Non-Advertising Businesses Continue Growing Rapidly
The Google Other segment, which covers all of Google proper's revenue streams outside of ads, saw revenue rise 37% to $4.43 billion. That's slightly better than Q1's 36% growth; Porat indicated hardware sales, Google Play and cloud apps/services all saw healthy growth.
With regards to the Google Cloud Platform (GCP), seen as the #3 public cloud platform behind Amazon Web Services (AWS) and Microsoft Azure, Pichai indicated new disclosures would be made at the Google Cloud Next conference, which kicks off on Tuesday. He did state on the call that demand for GCP's machine learning services, seen by many as best-in-class, is growing rapidly.
6. Google Continues to Spend Aggressively
Thanks in large part to big investments in cloud data centers and the hardware going inside of them, Google's cash capital expenses rose 93% to $5.48 billion (suppliers such as Intel (INTC) , Nvidia  (NVDA) and Micron  (MU) can't complain). And thanks to big sales, marketing and R&D investments, operating expenses rose 24% to $10.9 billion, excluding the impact of the EU fine.
Headcount rose by 4,008 sequentially to 89,058. Porat's earnings call commentary gave little reason to think Google will take its foot off the pedal when it comes to spending.
Alphabet, Apple and Nvidia are holdings in Jim Cramer's Action Alerts PLUS member club. Want to be alerted before Jim Cramer buys or sells GOOGL, AAPL or NVDA? Learn more now.
7. Google Is Choosing its Words Carefully When it Comes to the EU Ruling
As he did last week in a blog post defending Google after the EU fined the company $5 billion over its Android bundling policies for Google Search and Chrome and ordered them to be changed, Pichai insisted Google's Android monetization strategy -- the OS is provided for free, and monetized via bundled apps and services -- has been a positive for consumers, developers and hardware makers alike. "I think overall [Android has] created more choice for everyone, not less," he asserted.
However, when asked how the EU ruling's business impact and how it could change Google's strategic approach to Android, Pichai said "it's too early to comment or speculate beyond what we've already said." If kept in place, there's a risk that the EU ruling could increase Google's European TAC expenses by giving phone makers the leverage to negotiate better revenue-sharing terms in return for continuing to pre-install Google Search and Chrome.
8. Google is Enthusiastic About Maps
"[W]e are continuing to see tremendous growth in Maps," Pichai said on the call, while noting user growth is above 50% in India, Indonesia and Nigeria. He also mentioned Google has used machine learning to add 110 million algorithmically-drawn buildings to Maps in 2018 alone.
And there's a lot of untapped potential to monetize Maps and its 1 billion-plus active users via local business ads. Pichai suggested Google will take a slow and gradual approach to monetizing Maps, which has begun showing ads for promoted places and business pages to some users, but also made it clear that it's a subject on his mind. "I've always felt Maps is a tremendous asset we have," he declared.
TheStreet's Eric Jhonsa, Zev Fima and Jeff Marks previously covered Google's earnings report and call through a live blog.