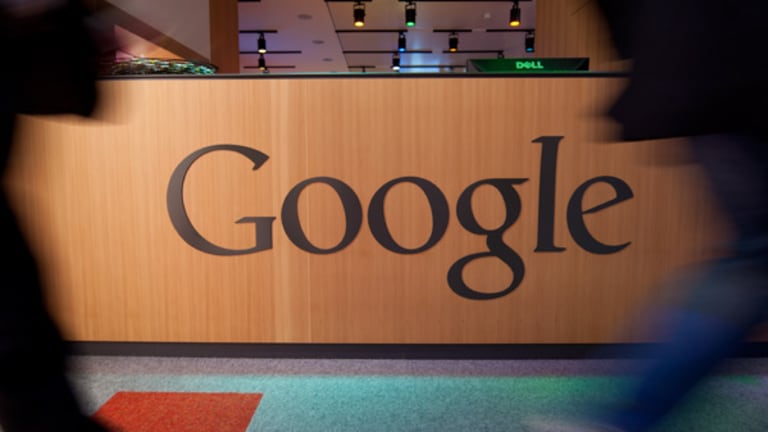 Google Lost $9.5 Billion Overnight. Buy!
Google CEO Larry Page moved decisively out of a money-losing device business to spend more on his money-making data centers.
Editor's note: This article was updated to include actual results at the bottom of the first page.
NEW YORK (TheStreet) -- Yes -- buy.
Even before Google (GOOG) - Get Alphabet Inc. Class C Report announced its $2.91 billion sale of Motorola Mobility to Lenovo yesterday, Jan. 29, TheStreet's Marc Courtenay was calling Google "the best tech company"  and said that this deal won't change his mind.
[Read: Google Earnings Preview: What Wall Street's Thinking]
Google announced the purchase of Motorola for $12.5 billion in August, 2011, and sold out at a loss of almost $9.5 billion. How is that a good deal?
Because Google has already gotten what it wanted out of Motorola: about 17,000 patents, with about 10,000 devoted to mobile technology. Despite the fact that many were standards-essential patents that proved of little value in court, Google has been able to use those patents to fend off Apple's (AAPL) - Get Apple Inc. Report efforts to push its Android system out of the market. And Android now has most of that market.
Also, mobile devices are a horrible business for companies not named Apple. I recently bought a Moto G phone, made in China but unlocked for use on any network, for just $199. A U.S.-assembled Moto X was priced at $399. Unlocked Apple 5c phones sell at Amazon (AMZN) - Get Amazon.com, Inc. Report for over $550. 
Here is another reason why Google made a good deal. When the company announces its earnings later today, the number I will look at is its capital expenditure.
Despite reporting a fine third quarter of 2013, with net income of $2.97 billion against $3.23 billion in the previous quarter, Google spent $2.29 billion in capital during the third quarter. It dramatically increased the capacity of its U.S. data centers and built new data centers in Belgium, Singapore and Taiwan. It also has a new data center in the works in Chile and an expansion at a Finland data center.
[Read: Facebook Delivers on Ad Revenue and Stock Gets Thumbs Up]
By way of comparison, IBM (IBM) - Get International Business Machines Corporation Report recently bragged about committing $1.2 billion to expand its global cloud footprint -- half what Google spent in one quarter.
Google capital spending for the fourth quarter came in at $2.26 billion, during a quarter where it had $16.858 billion in revenue and $3.376 billion, $10.08 per share, in net income.
At its current rate, Google's capital spending is approaching that of Intel (INTC) - Get Intel Corporation Report, a $13 billion annual bill that spooked investors when it was announced last year.
If Google can keep up this pace during 2014, it will be investing faster than AT&T's (T) - Get AT&T Inc. Report vaunted "Project Velocity," a wired and wireless network expansion announced at $14 billion in extra spending over three years. 
Despite this, Google continues to bring about $1 of every $5 in revenue to its bottom line. Its $7.14 billion debt load at the end of September was matched with $15.2 billion in cash, with $82.9 billion in equity. By contrast, Verizon (VZ) - Get Verizon Communications Inc. Reportcarries $1 in debt for every $2.40 in equity; and AT&T carries 80 cents in debt for each $1 in equity. Intel had $13.5 billion in debt against $20.1 billion in cash last quarter.
[Read: Scary GPS Tracking Devices Can Help Drivers Save]
More important, Google has been proactive in the Lenovo deal, not reactive. IBM walked away from a deal with Lenovo last spring, then settled this month for less than Lenovo's original bid. Google took an offer that looks bad on the surface, but likely would have been lower six months from now.
With this deal Google CEO Larry Page has defined himself as a decisive leader, willing to cut losses, and to focus on what will make his company money. At age 40, he rules American technology. That's the kind of leader you can bet on for the long run.
At the time of publication the author owned shares of GOOG and AAPL, but none of the other stocks mentioned.
This article represents the opinion of a contributor and not necessarily that of TheStreet or its editorial staff.