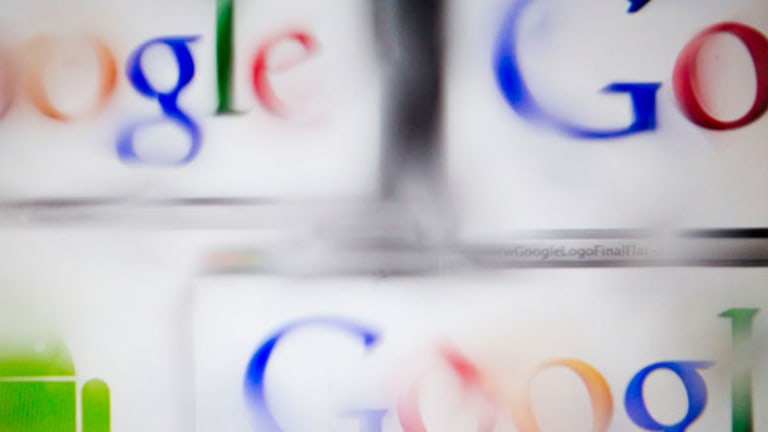 Google Is the Best Tech Company, Cisco the Worst
Google keeps finding ways to dazzle both the public and investors, while Cisco distinguishes itself as a disappointment.
NEW YORK (TheStreet) --When pressed to answer the question, "What do you think is the best and the worst of the big tech companies?", my response is immediate and clear.
On so many different levels Google (GOOG) - Get Alphabet Inc. Class C Report is the hands-down top dog of great technology enterprises. After the market closes on Thursday, the company with a share price over $1,100 will report its fourth-quarrter earnings and other key financial statistics. Those numbers should be impressive.
According to Yahoo! Finance, the analysts who follow Google are anticipating a healthy increase in both earnings per share and quarterly revenue. Depending on whether you use GAAP numbers or non-GAAP, the analysts' average estimate for EPS growth for the quarter is between 15% and 38%.
Sales growth and revenue for the last quarter of 2013 are also estimated to have increased by 38% from the year-ago quarter. No wonder on Jan. 13, Oppenheimer raised the one-year target price for GOOG shares from $1,067 to $1,220. This was on the same day Google announced an agreement to acquire privatelyheld Nest Labs for $3.2 billion in cash.
Earlier this month JPMorgan increased its price target to $1,305. With all the ways GOOG has to rake in enormous profits, it's a wonder the target price isn't higher. Google's mission is no less than "...to organize the world's information and make it universally accessible and useful." When you carefully study the company's Web page, which lists its products (it's a long page scroll to the bottom), you'd have to conclude it is well on its way to fulfilling that mission.
Another way to demonstrate why Google is the best big tech company today is through the use of a five-year chart.
With a 34% diluted quarterly year-over-year EPS growth rate and Google's staggering trailing 12-month (TTM) income from continuing operations, is it any surprise the stock has nearly quadrupled in the past five years? Unlike Apple (AAPL) - Get Apple Inc. Report with its relatively limited array of products and services, GOOG has mined deeply into everything from social networking to searching the Web to its powerful presence in the mobile and video spaces.
Have I mentioned Google's under-appreciated ownership of YouTube? With over a billion unique visitors per month and growth of over 50% in 2013, Google's video bonanza is earning fortunes for the company and shaking up the media world. It's like having a secret recipe for mega-success that will keep churning out truck-loads of earnings for this best-in breed, multifaceted business success story.
Perhaps the best I can say about the stock of Cisco Systems (CSCO) - Get Cisco Systems, Inc. Report is it's cheap. There are numerous reasons why. Although it doesn't report earnings  for its last quarter until Feb. 12, the "sharks" are already beginning to smell blood and are circling.

On Monday CSCO was downgraded to underweight from an already cautious neutral rating by JPMorgan's Rod Hall. The cut is based on the expected reduction in the company's emerging markets business and the impact of "software-defined networking" (SDN). The price target was reduced to $17 from $21. 
"We consider EPS impacts for Cisco against both our current 2014 earnings model and a possible 2017 model. We also consider two main scenarios which both involve 85% data center conversion to 'bare metal' hardware," he wrote. "In the worse of these two we add the assumption that 30% of campus switching also moves to bare metal. Across all of these methods calendar year EPS ranges from $1.41 to $1.82 in 2014 and from $1.66 to $1.90 in 2017. Our central case scenario outputs EPS of $1.67 near the bottom of this range. While our range is relatively wide we would point out that it implies negative EPS growth over the next few years for Cisco."
It appears CSCO fell behind the eight ball in its areas of core competencies. This is likely to challenge Cisco's dividend yield, which currently equals a payout ratio of at least 36%. The following five-year chart using same metrics as the GOOG chart above will help illustrate why CSCO receives my ignominious rating, even though I'm still long the stock.
At the time of publication the author had positions in GOOG, AAPL and CSCO.

This article represents the opinion of a contributor and not necessarily that of TheStreet or its editorial staff.
Marc Courtenay is the founder and owner of Advanced Investor Technologies, LLC, as well as the publisher and editor of www.ChecktheMarkets.com.
Courtenay holds a Master's of Science degree in Psychology from California Polytechnic State University, and is a former senior vice-president of Investments for two major brokerage firms. He's been a fiercely independent investment "investigator" and a consulting contributor to the investment publishing world for over 30 years. In addition to his role as an investment publisher and analyst, he serves as a marketing consultant to the investment media industries.
In his role as a financial writer and editor, he specializes in unique investment strategies, growth with income stocks, overlooked investment themes, tax-advantaged themes, risk management, technologies to capture gains and reduce losses, real estate related opportunities,effective wealth preservation techniques, and the use of ETFs for diversification and asset allocation. He also follows and frequently writes about technology, health sciences, energy and resource companies. Because of his training and background in Clinical Counseling and Psychology, he enjoys writing about investor behavior, the herd mentality, how to turn investment mistakes into investment breakthroughs and the stock market's behavioral trends and patterns.