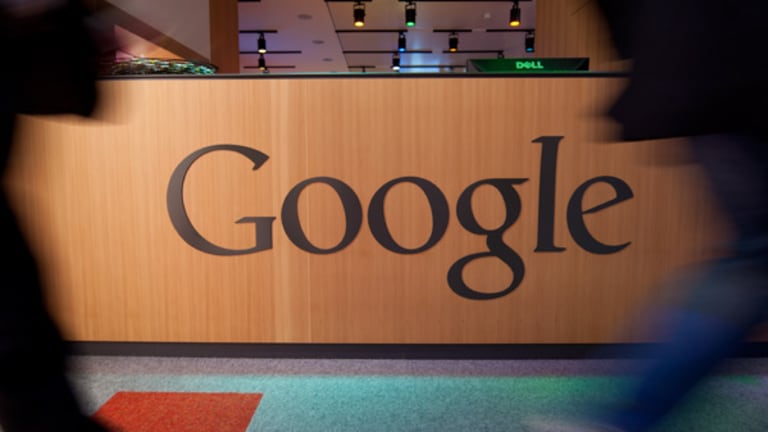 Google and Twitch: Making Sense of the Rumored $1B M&A Mega-Deal
Rumors are flying over Google's latest merger and acquisition plans for Twitch.
Rumors are flying over Google's latest merger and acquisition plans for Twitch.
NEW YORK (TheStreet) -- Rumors are swirling that Google (GOOG) - Get Report will bet big with Twitch.tv. As reported in Variety, a preliminary deal is taking shape for Google to buy Twitch for more than $1 billion. Google's latest M&A plans are apparently no secret, as the company snaps up disruptive technologies to shake things up.
"We completed another great quarter. Google's revenue was $15.4 billion, up 19% year on year," said Larry Page, CEO of Google. "We got lots of product improvements done, especially on mobile. I'm also excited with progress on our emerging businesses."
Google's stock was trading over $560 late Thursday, down about 0.25% for the day, and essentially flat for the year to date.
Google's video service YouTube will be transformed through the addition of Twitch's live video gaming platform, which has more than 45 million monthly viewers. Susan Wojcicki, a Google ad executive, was named CEO of YouTube earlier this year.
Making way for the rise of the "Second Screen" TV
So what might Google see in Twitch?
Twitch is a kind of ESPN for video games -- a network to discuss and showcase gamers' highlights. The company can provide new, compelling, immersive entertainment experiences, possibly to expand TV viewing to a second screen just as Twitch has done for gaming.
Plus the deal promises a growing audience. Millennials and gamers are a gold mine for advertisers. As of 2014, Twitch accounts for 1.8% of total U.S. internet traffic during peak periods. It's the fourth-largest site for Internet traffic during peak times in the U.S., behind Netflix (NFLX) - Get Report, Google and Apple (AAPL) - Get Report -- so Twitch may become a rival to the streaming giants.
User-generated content has the benefit that Twitch has very low up-front costs. Twitch currently has 6,100 broadcasting partners, with $5 monthly subscriptions granting users access to content, chat rooms and events.
Valuation measures could pose a difficulty for the company. Twitch's content is, for the most part, user-generated. The question at hand is the value of Twitch's user engagement and activity levels.
Will Twitch fit in with Google X or Google Ventures?
Google looks to acquire companies that can quickly scale up, that offer the right technology and talent, and that target a core functionality that will apply across Google's product offerings.
Google's big innovations are focused in two groups: Google X and Google Ventures. Google X is Google's semi-secret lab for its most advanced projects -- such as driverless cars and robotics. It has also been an active spot for acquisitions. Google Ventures operates as a separate entity from Google, and focuses in areas such as Life Sciences and Green Tech.
The mandate of Google X is to identify the most interesting organizations -- ones that move forward and solve big problems. One of its important deals was the Nest acquisition. That's typical of its buys, which focus on building out new product areas.
IDC research manager Lewis Ward told GamesBeat that Google has a pretty good history of giving its acquisitions space. "Google tends to have a very decentralized structure," he said. "The acquisitions that they make -- it typically isn't the case that they suddenly bring in new managerial layers to start telling the new company what to do." Ward continued, "Google seems very comfortable focusing on solving the problems of its subsidiaries -- even losing money in the process -- with the assumption that if it gets enough eyeballs, then some business model will end up working itself out."
Massive M&A
The search giant inked five acquisition deals this month alone.
According to Bloomberg, the company is in talks to buy Skybox Imaging. Google's Android OS started as an acquisition and has been highly successful. The recent $12.5 billion deal to sell the Google-owned Motorola handset business to Lenovo (LNVGY) also resulted in big success for the company.
Google has bought internationally as well. It acquired the U.K.'s DeepMind Technologies, an artificial intelligence company, for $650 million. Last year, Israeli mapping software company Waze was purchased for close to $1 billion.
So why Twitch?
The upside of a potential Twitch acquisition by Google would be a dose of growth and transformation.
Both companies are ready to deliver big returns to investors. A potentially high-growth company such as Twitch will produce high-yield results with long-term success. Returns could be five times more than the average medium-growth company.
Given Google's desire to become a leader in game development and to expand its Youtube business, Twitch seems to be perfectly in sync.
>>Read More: CBS Stock Has 40% Potential Upside -- and a Killer CEO in Moonves
>>Read More: Palo Alto Networks Is Too Good to Be Left Alone
>>Read More: Apple's Steve Jobs Would See Himself in Tech Pioneer Eren Niazi
>>Read More: Kass: Prepare for a Minsky Moment
At the time of publication, the author held no positions in any of the stocks mentioned.
This article represents the opinion of a contributor and not necessarily that of TheStreet or its editorial staff.