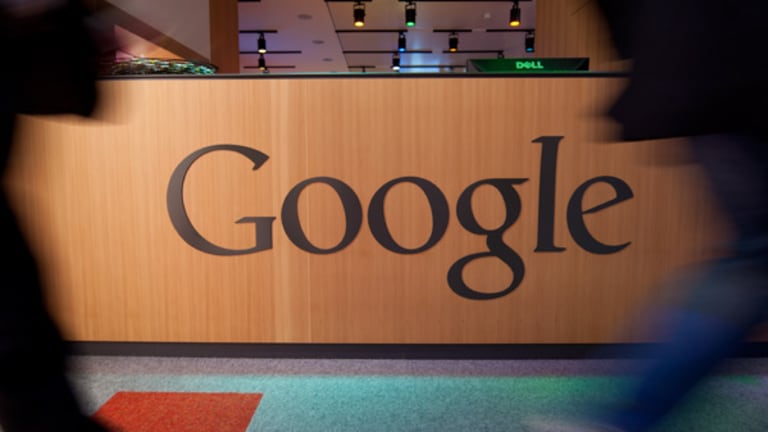 Google and the Department of Defense Fight the Cyber Cold War
Google's recent purchases of a robotics company, a drone company and a satellite imaging company make it a vital national defense asset.
NEW YORK (TheStreet) -- Google (GOOGL) - Get Alphabet Inc. Class A Report has now surely been enlisted into what I call the Cyber-Cold War.
Its purchase of Skybox Imaging completes a trio of defense-related acquisitions over the last year.
The other two pieces are drone-maker Titan Aerospace, bought earlier this year, robot maker Boston Dynamics, bought late last year. 
These are the big three technologies in the next stage of national defense.
Whether Google originally wanted to evolve into part of the defense establishment is not the point -- it's now a de facto part of that establishment. For investors, the policies of our defense establishment, and the politics behind them, are not the point either.
Google is not going after military contracts the way companies such as Lockheed-Martin (LMT) - Get Lockheed Martin Corporation Report, Boeing (BA) - Get Boeing Company Report or even General Electric (GE) - Get General Electric Company Report do. Instead it has bought technologies of serious military interest, and the Department of Defense's interest in that technology did not end with Google's purchases.
Google's search capabilities and cloud infrastructure are also essential elements in national defense. Control of cyberinfrastructure, and the talent that makes the most of that infrastructure, is now the very definition of national power.
That's why Russia has Yandex (YNDX) - Get Yandex NV Class A Report and China has Baidu (BIDU) - Get Baidu Inc. Report.
Google started with a mantra of "Don't be evil." So did the U.S., in different words, in the Declaration of Independence. What must be done to sustain a nation or business in a complex world always turns such black-and-white notions into shades of gray.
As the reality of Google's new turn toward robots, drones and spy satellites has sunk in, its shares have begun to go sideways, with (GOOGL) - Get Alphabet Inc. Class A Report down 2.02% and  (GOOG) - Get Alphabet Inc. Class C Report is down 3.2% so far this year, against a 3.8% gain for the Nasdaq.
What this tells me is that investors are now in the process of deciding whether this trend is a positive or a negative for the company.
I believe it's positive, but there are arguments on both sides.
Google's presence in defense-related activities carries advantages. It is not yet a major defense contractor, but Boston Dynamics has a contact with the Defense Advanced Research Projects Agency, whose DARPAnet evolved into today's Internet. 
Google has insisted it's not interested in becoming a defense contractor on its own, and there is good reason for that. Such a designation could carry threats to its base business, which is based entirely on voluntary trust from consumers worldwide.
Google led the move to encrypt emails to increase that trust.
Google is in the trust business. Are trust and security mutually exclusive? Or are they complementary, different sides of the same coin?
The capabilities of Skybox puts this question into sharp focus, literally. Skybox can identify objects less than a meter across based on satellite images. It could find kidnapped girls in Nigeria, the true capabilities of Iraqi militants in Mosul, the real situation on the ground in Syria or Russian gunmen in Ukraine.
Google would rather note that Skybox can also identify mall traffic patterns from examining parking lots, the activity of mines from looking at piles of tailings, and expected farm harvests by looking at crops growing.
The fact is it can do both.
There are far fewer than six degrees of separation between technology that is of economic value and technology that is of military value. Google crossed that line years ago, and its recent acquisitions merely acknowledge this fact.
What will that do to Google's reputation worldwide, and how might Google take advantage of its new tools without becoming a military tool itself, are the questions investors must now answer.
Google did not respond to a request for comment on this article.
At the time of publication the author owned shares of GOOGL and GOOG.
This article represents the opinion of a contributor and not necessarily that of TheStreet or its editorial staff.
Priceline Was a Winner for Investors Even Before OpenTable