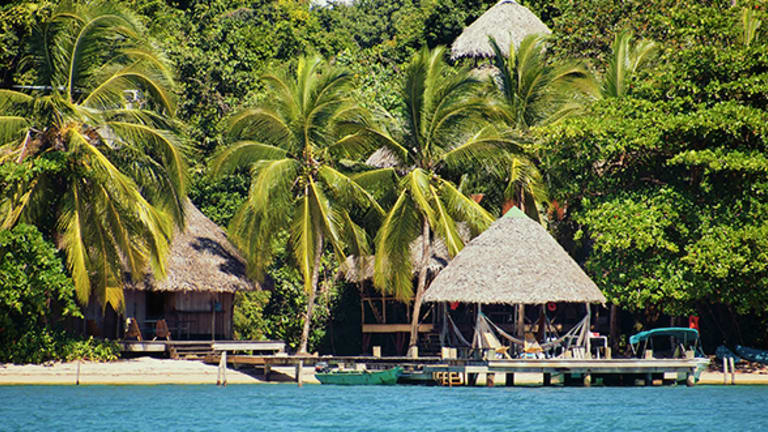 Good Works in Foreign Places: Why U.S. Expats Become Involved in Worthy Causes
Many expat Americans see a way to have more of an impact in their adopted countries than they could in their native land.
NEW YORK ( TheStreet) -- The U.S. shared first place in the World Giving Index 2014, according to the Charities Aid Foundation. It is the only country to be ranked in the top 10 for all three charitable behaviors covered by the organization's index.
Given this, it is not surprising that expat Americans would get involved in charitable and volunteering activities when living overseas. What is surprising, based on interviews with 500 expats for the website, Best Places In The World To Retire, and included in the study Expats: Expectations & Reality, is how central these charitable activities have become for expats. It is also surprising how significant the impact many of them are having.
Many of these expats became involved in worthy causes after seeing that they could have more of an impact than in their native lands. For example, Americans are often touched by their experiences with people who need help in their adopted countries. The result: Americans living overseas do more charitable activities than they intended to do before they moved. According to the Expectations & Reality study, while 31.4% of expat respondents said that they were seeking a life that was "more engaged in charitable activities," after they moved, 40.1% reported that they led more engaged lives, meaning that the reality of helping others increased after they moved abroad.
Among benefits, the U.S. expats said that they could see the results of their work more directly. When Darrel Bushnell helped to create the first lending library in Granada, Nicaragua, Puedo Leer, he worked one-on-one with the children he was helping. Bushnell said that for "many of the children, this was their first encounter reading books for pleasure. Many of these children have never had a story read to them, let alone read it themselves." When his expat neighbors donated books, or read to the children, they could see how each child benefitted. 
Kelly German, who lives in Ambergris Caye, Belize, explained that there is also a social aspect to volunteering. As expats move to a new home, they look for organizations to belong to as a way to meet others. But she said that they are also looking to help provide resources that local government is not large enough to offer -- resources that are taken for granted in the U.S. "From my experience, expats generally congregate around good works," German said.
This perpetuates an American trait of doing social good.The French historian Alexis de Tocqueville noted as much when he visited America in 1836. He described how Americans spontaneously formed associations to jointly pursue different endeavors.
Alfonso Galindo, who lives in the Merida, a city in the Yucatan, Mexico, said expats have more time to engage in charitable activities when living overseas. "In the US, many people just work to survive, so they don't have a lot of spare time or money. When they come to Mexico, many can afford to retire, and as a result, they have more time and much more disposable income. Some of that, they put to use in volunteering for good causes."

Former Las Vegas resident Jewel Hoff, who lives in Nicaragua, concurred. She said that that she had more time to think about how she could help others. "Moving to Nicaragua is healthier because you don't worry about your finances, you're more of a people person than you have ever been, and there are so many ways that you can help people."
Americans have created organizations similar to those formed in the U.S. to combat specific problems. For example, Amigos de Animales, in Boquete, Panama offers a spay and neuter clinic that treats more than 100 animals a day -- all by volunteers. 
Read about its work in Cindy Thomas' story, "Last Sunday of the Month, Boquete, Panama."
Some expats have devoted their lives to helping others. For example, Phil McGuigan, formerly a prominent lawyer in the U.S. and now living in Boquete, uses his organizational talents and network of contacts in the service of Chiriqui United, a charitable organization he founded. McGuigan receives donations from former colleagues that allow him to truck in containers of goods. Among other things, Chiriqui United provides daily school meals in underserved areas. "Your donations in time, money, or goods are appreciated, honored, and put to immediate good use," McGuigan said. "Unlike other organizations where you can't see the results of your good works, with Chiriquí United, you can. And, it's amazing".
Even small gestures can provide great rewards. These include impromptu actions spurred by nothing more than the possibility to bring happiness to a group. Consider Jewel Hoff, who sometimes passes out bubblegum that costs her little more than a dollar. "I pass it out to 25 kids and I get 25 smiles," Hoff said. "I get 25 smiles for less than 5 quarters! They're so happy over a piece of gum. You try to give an American 12-year-old a piece of gum, they won't look at you."
This article is commentary by an independent contributor. At the time of publication, the author held no positions in the stocks mentioned.