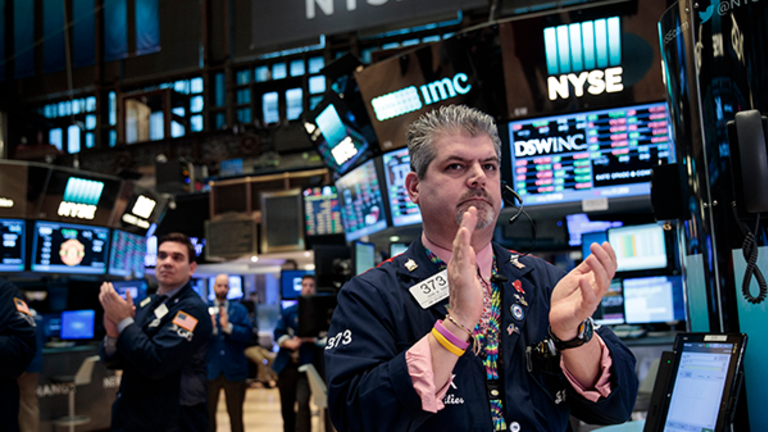 Good News Is Actually Good for the Stock Market: Market Recon
Second-quarter GDP revised higher, talk about tax reform and private jobs numbers are all positive.
"The markets are the world's greatest Rubik's cube. And I love solving puzzles." -- Rick Santelli
Rally Caps Concerns over rising tensions with North Korea still swirled as stocks opened in New York on Wednesday. Then two things changed. First, some positive macro-economic data crossed the tape. Second-quarter GDP growth was revised considerably higher. Within the headline were higher revisions for consumer spending that included beefed-up sales of both durable goods and non-durable goods. On top of that, ADP reported that 50,000 more jobs were filled in August than expected. As you might think, yields popped (small), and gold sold off (again, small) testing that crucial $1305 level. The probability of another rate hike this year, as priced in by the futures markets at the CME, moved up from 36% up to 41%.
Headwinds for equities? You would think. Unless good news is actually good for the marketplace. That would be nice. Unless the President of the United States starts talking about tax reform again -- which he did. With visions of lower taxes dancing in their heads, traders bought the market broadly. The S&P 500 rallied for the fourth day in a row, leaving the index down less than one percent for August. Biotechs and information technology led the way, but eight of the 11 sectors closed in various shades of green.
One other item possibly impacting equities over the last couple of days, and likely on into Thursday, would be the month-end portfolio rebalance. This occurs every month, and every quarter in differing shapes and sizes, depending which way the wind blew over the 30 days prior, and what kinds of mandates different pension funds and other types of funds have set in place. August had been better for fixed income than it has for stocks. By estimates that have been run past my desk by other traders, this puts the likely buy imbalance for equities at more than $5.0 billion for month's end. What is also likely is that this mandated purchasing has already started.
Ongoing Gang War
As I have already mentioned, the tech sector showed considerable strength on Wednesday. Semiconductor-type names were very strong. As you know, I love that group. They are the necessary cog in the machine for so much more, and that story developed further yesterday. Artificial intelligence, cloud computing, internet services. Where could I be going with this?
We went over the deal between Walmart (WMT) and Alphabet (GOOGL) last week. That news kicked the brewing gang war in this space up to the next level. Now, Amazon (AMZN) strikes a deal with Microsoft (MSFT) , announcing plans to allow Alexa and Cortana to work together, and to do it sometime this year. Amazon claims to have sold more than 11 million Echo-type devices. Microsoft claims that Cortana has more than 140 million monthly users, though the service is available on hundreds of millions of computers. As you might expect, there is much overlap.
I have Cortana available to me on the laptop that I am writing this morning note on. I never use it. There is an Echo device sitting on a bookshelf to my right. I almost never use that. I am probably not typical. I mean, I still do all of my economic analysis, and even my charting for the major indices in a marble notebook, and with a pencil (always with a handy eraser). Probably why I am more accurate than most. Still, my guess is that the numbers reported by the firms err to the high side when considering the near-term impact of such devices.
That said, Action Alerts PLUS charity portfolio holding Apple (AAPL) plans to join the fray with its HomePod this year as well. Siri can already be found on over a billion (that's with a "B") devices, mostly iPhones and iPads. Google Assistant, though not as large as Siri, can be found largely through cell-phones running the Android operating system, and then there is Samsung's "Bixby". Where does this end up? What further alliances will be formed, even among rivals? Gang war? You bet. Someone will be left standing without a chair when the music stops. Someone always loses. You can bet on that.
Ringing the Bell
The New York Stock Exchange is unique among financial markets. The closing bell at 11 Wall Street rings at 4pm New York time every day, as it does at the electronic exchanges. What's different at the NYSE is what makes it stand out, in my opinion. Each listed security has a Designated Market Maker (DMM) that is specifically assigned the responsibility to ensure orderly trading in that stock and the running of the closing auction in the given name.
For those who do not know the difference, the closing auction, though now electronic in nature, still resembles in function the old auction market. That means that through price discovery at a centralized point of sale, supply and demand are both met, and then priced by a human being based on the imbalance and the needs of the book, as well as the dealer.
Many stocks can be allowed to close automatically, but on days when the close might get a bit "hairy", the DMM has the option to close any stock manually if need be. Where am I headed with this? The SEC disclosed that the NYSE is seeking its approval to impose a delay in news disseminated by listed companies until 4:05pm ET. This would allow the closing auction to be completed in most cases prior to any news that might impact price discovery. This would include quarterly earnings releases.
How important are closing stock prices? Even though after-hours trading sessions are quite the norm these days, the closing price of a given security is still used to determine the value of both ETFs and mutual funds that are holders of these stocks. Given the added value that I see in the closing auction, the request seems reasonable to me. Just one guy's opinion.
Macro
08:30 - Initial Jobless Claims (Weekly):Expecting 237,000, Last Week 235,000. This item will be completely overshadowed (as usual) by the other, more highly focused upon data-points scheduled for release at this time. The four week moving average, which is how economists look at this one, is currently 237,750. There are virtually no economists out there above 240,000 or below 235,000 for this print.
08:30 - Personal Income (July):Expecting 0.3%, June 0.0% m/m.
08:30 - Consumer Spending (July):Expecting 0.4%, June 0.1% m/m.This data severely disappointed in June. That month, there was almost no growth in either income nor spending. The difference is that the lack of growth seen for income came as a total shock. Today, we expect to see positive movement for both. Something to keep an eye on? Spending growth has outpaced income for growth in three of the last four months.
08:30 - PCE Price Index (July):Expecting 1.4%, June 1.4% y/y.
08:30 - Core PCE (July):Expecting 1.4%, June 1.5% y/y. Normally, all measures of consumer inflation are considered to be high-impact events as far as market participants are concerned. So it will be with this one, only if we have some kind of a surprise. We have already seen July CPI data disappoint, on both the monthly and yearly lines. Hence, expectations are low today.
09:45 - Chicago PMI (August):Expecting 58.6, July 58.9. This series is wildly volatile. On that, there is no argument. What is interesting is that last month, that 58.9 number missed expectations, which broke a streak of five consecutive upside beats. Needless to say that business conditions in the Chicago area have been growing briskly since February.
10:00 - Pending Home Sales (July):Expecting 0.4%, June 1.5% m/m. Growth in pending home sales is expected to come back to Earth in July after that Moon-shot in June. That print broke a three-month string of month-over-month contractions in this space. Keep in mind that most of the rest of July's housing data points have come in a little sloppy.
10:30 - Natural Gas Inventories (Weekly):Expecting +24 billion, Last Week +43 billion cubic feet. Natural gas has traded sideways for two weeks now. This commodity has displayed an inability to sustain levels above $3.0 since mid-June, largely due to the soon-to-be 22 consecutive weekly inventory builds seen in this space.
11:30 - Fed Speaker.Dallas Fed Pres. Robert Kaplan is set to speak from Farmers Branch, Texas. Kaplan, who is a voting member of the FOMC, has been urging caution on further rate hikes of late due to the lack of consumer level inflation in the economy. Kaplan is expected to take questions from the audience.
Sarge's Trading Levels
These are my levels to watch today for where I think that the S&P 500, and the Russell 2000 might either pause or turn.
SPX: 2476, 2469, 2461, 2454, 2446, 2439
RUT: 1408, 1400, 1393, 1387, 1376, 1370
Today's Earnings Highlights (Consensus EPS Expectations)
Before the Open: (CPB) ($0.55), (DG) ($1.09), (GCO) (-$0.07), (TD) ($1.36)
After the Close: (COO) ($2.58), (LULU) ($0.35), (PANW) ($0.79)
Get Morning Recon delivered directly to your inbox each market day. Click here to sign up for e-mail delivery of Stephen "Sarge" Guilfoyle's Morning Recon, Jim Cramer's Daily Booyah! or other great free newsletters from TheStreet.
More of What's Trending on TheStreet:
At the time of publication, Stephen Guilfoyle was long AAPL, GOOGL, WMT, although positions may change at any time.