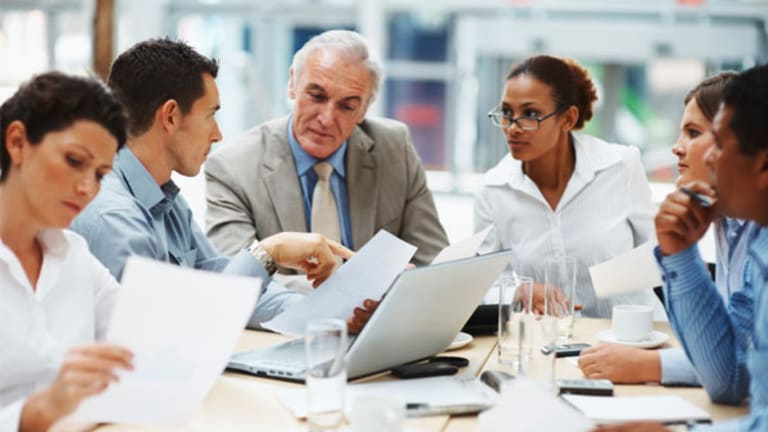 Goldman's Muddled Bank Report
Do Goldman Sachs analysts like banks or hate them? You'll never know from reading their latest report.
Do Goldman Sachs analysts like banks or hate them? You'll never know from reading their latest report.
NEW YORK (
)-- Did a
Goldman Sachs
(GS) - Get Report
analyst report cause the massive bank sell-off Tuesday? If so, it might be time to jump into the sector with both feet.
It would be easy to get alarmed about the Goldman report, which according to a spokeswoman was sent out to clients Monday ahead of the market close. The report says regulatory proposals "present about 20% risk to normalized EPS for banks."
That was the second sentence of the Goldman report, entitled "The regulatory headwind continues," and it was the angle
CNBC
went with Tuesday afternoon when Goldman's press team sent the note out to reporters.
On the question of whether the regulatory headwind is priced into the stock, however -- the only thing that matters to investors -- the note is far from clear. It states that "moves in
credit default swaps and options imply financials equity may be 6% too expensive." However, the Goldman analysts state they are "more sanguine" (that means "optimistic, or cheerful" to save you a trip to
dictionary.com
). Translation: Bank stocks are something less than 6% too expensive. Who knows? Maybe they're even cheap.
Another section of the 20-pp. report, however, gives a far different impression. It cites four regulatory proposals the analysts consider "likely to happen" that will reduce normalized earnings by 12% and are not accounted for by "Street". Assuming "Street" refers to Wall Street analyst estimates, the Goldman report is saying other analysts are 12% too high in their earnings estimates because they underestimate the impact of regulatory reform legislation. But it isn't really clear. If the Goldman analysts are saying that stock prices do not reflect analyst estimates, they should come out and say so, but they don't.
I won't single out the analysts by name. Who knows? Maybe their compliance officer took all the sense out of the report. I'm sure it's happened often enough. A spokeswoman said they weren't available to discuss the report.
Still, everybody listens to Goldman because of a widespread belief that they know more than the market. Actually, they do, but you aren't likely to tap into that knowledge by reading their publicly distributed equity research reports.
Nonetheless, those reports can have a big effect, and bank stocks sure took a beating on Tuesday.
Wells Fargo
(WFC) - Get Report
fell by 4.32%,
Citigroup
(C) - Get Report
dropped by 4.14%,
Bank of America
(BAC) - Get Report
lost 2.69% and
JPMorgan Chase
(JPM) - Get Report
lost 2.08%.
Still,
Morgan Stanley
(MS) - Get Report
fell just over 1% Tuesday -- less than all those other banks, and according to the Goldman report, it will see the largest negative impact from the regulatory reform proposals. The report estimates proposals likely to occur will chop 28% off normalized earnings for Morgan Stanley, versus just 8% for Wells Fargo. The biggest hit will come from changes to derivatives legislation proposed by the bill sponsored by Senate Banking Committee Chairman Chris Dodd (D.,Conn.). The bill will require many privately-negotiated derivatives to pass through a central clearing house, which would hurt margins on these products.
That's scary stuff for Morgan Stanley investors, but stuff we have known for several weeks at the very least. Goldman did not change its neutral rating on Morgan Stanley, and even though "neutral" is often Wall Street speak for "sell," Goldman's $36 price target for Morgan Stanley is well above Tuesday's $26.73 closing price.
What does it all mean? It means something you've hopefully known for a while now. If you're relying on Wall Street research to decide whether to be in bank stocks, you're in trouble.
--
Written by Dan Freed in New York
.