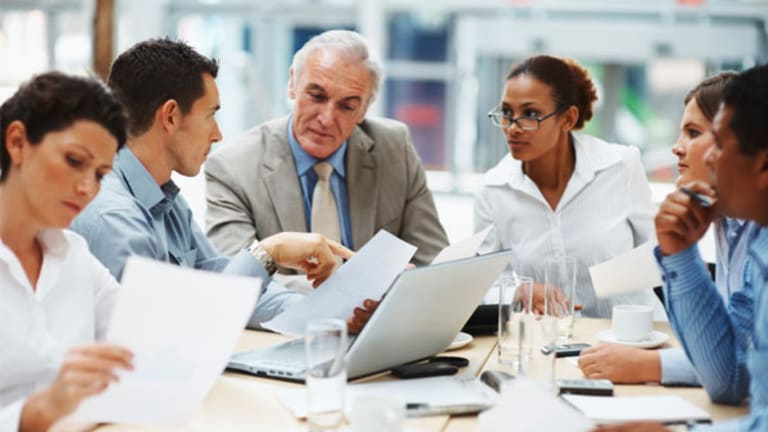 Goldman's Blankfein Is Model Leader: Opinion
Deeds and words are one for the Goldman Sachs' Lloyd Blankfein
October's third-quarter earnings statements underscored a formidable leadership problem for financial institutions. In today's world, success no less than failure can lead to crisis for businesses vilified as profiteers amid misery.
How can leaders lead when the better they do, the more fire they face?
If answers lie anywhere, they lie with
Goldman Sachs'
(GS)
Chairman and CEO Lloyd Blankfein.
2009 has been an extraordinary year in the great institution's history. Third quarter net income tripled while the second quarter saw the largest profit since Goldman Sachs went public. Commentator after commentator echoed analyst Michael Hecht, JMP Securities LLC in New York: Goldman Sachs' "biggest challenge and the thing that seems to get the most press is how much they put aside for comp expense."
It was in this difficult context that Blankfein worked his magic. Mid-second quarter, well
before
the announcement of unprecedented profit, Goldman Sachs published new compensation principles that, importantly, included higher bonus percentages deferred in stock payouts over a period of years.
Blankfein had said in April that his industry's compensation decisions looked "greedy and self-serving in hindsight." But he was already practicing foresight when, even as the November 2008 hurricane raged, Goldman announced that top executives would receive no bonus for 2008. That decision set a new tone.
UBS
(UBS)
, for one, immediately announced that its own top executives would likewise get no bonuses.
It's an old game called "Follow the Leader."
Blankfein's leadership lies in melding actions and words. When, for example, he called public anger over skyrocketing executive compensation not just "understandable" but even "appropriate," it was no hollow sop to political expediency. After all, Blankfein himself had already moved to reform compensation well ahead of any furor over posted earnings.
By awarding shares in lieu of cash, Blankfein is modeling a systemic change that's all about growth through reinvestment. Responsible growth-mindedness has always exempted business leaders like Bill Gates or Warren Buffet from compensation-related public hostility. Goldman Sachs' reformulated pay system suggests that the financial services can indeed rejoin that mainstream of American business, erasing the border that's been speciously drawn between Wall Street and Main Street.
Blankfein has also led the larger regulatory discussion that will happen with or without Wall Street's participation. Blankfein, because he's a leader, fully intends to participate and has done so throughout 2009, presenting a full regimen of needed regulation. Regulate securitization and derivatives, said Blankfein, lest we're compelled to abandon them altogether.
If substance bespoke leadership, so does Blankfein's style. In September 2009, he talked to
Corner Office
about working through the 2008 market meltdown by "making sure that everybody, at every point, understood what was going on...almost every day I would send a voicemail to the whole firm. I'd walk around the firm. I'd answer people's questions. I'd get e-mails and respond to them."
For leaders like Blankfein, deeds and words are always inseparable. They know that words alone are worse than useless while the impact of what you do depends on your ability to articulate the value of what you've done. Great communications is not about ordering communicators to "spin this." It's about anticipating the future to deflect its slings and arrows.
No one on Wall Street can escape the current storm but some are positioning themselves to weather it and reap the benefits of growth once the inevitable calm finally descends.
Richard S. Levick, Esq., is the president and chief executive officer of Levick Strategic Communications, a crisis communications firm. He is the co-author of Stop the Presses: The Crisis & Litigation PR Desk Reference and writes for www.bulletproofblog.com. Reach him at rlevick@levick.com.
At the time of publication, Levick had no positions in the stocks mentioned.