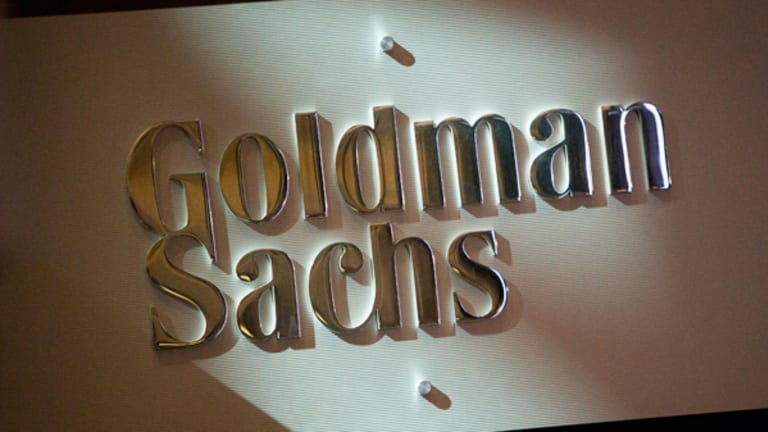 Goldman Women Say They Make Less Than Men Who Frequent Strip Clubs, Call Them 'Bimbos'
Even by the Wall Street standards of 20 years ago, the stuff recently revealed in the sex discrimination case brought against Goldman Sachs would have been astonishing.
This article was originally posted on TheStreet Foundation Web site on July 1, 2014
NEW YORK (TheStreet) -- Even by the Wall Street standards of 20 years ago, the stuff recently revealed in the sex discrimination case brought against Goldman Sachs (GS) - Get Goldman Sachs Group, Inc. Report by H. Christina Chen-Oster and her co-plaintiffs would have been astonishing.
There are the strip clubs. The guys who organize departmental golf games and don't invite the women. The liberal use of the word "bimbo" to describe Goldman women, many of whom graduate from the same Ivy League schools the men do. And, of course, the very discouraging numbers about pay and promotion.
But the biggest deal about Chen-Oster's brief filed in U.S. District Court for the Southern District of New York court on July 1 seeking class-action status is the redactions. Because even when women and their lawyers fight bitter battles to get their hands on important documents that expose discrimination, companies always seem to find a way to keep the public from hearing about the worst stuff.
That's not to say the 58-page Memorandum in Support of Plaintiffs' Motion for Class Certification doesn't give Goldman a big, fat black eye, because it does.
In one citation, Goldman's head of global leadership and diversity comments that an internal study of employee attitudes had "appalling" results on the issue of gender differences. In another, an internal document maps out "Talking Points for Managing Maternity Leave," and concedes that Goldman has "limited experience" managing professionals who get pregnant and that "we are not very good at it."
It's, of course, important to acknowledge that while Goldman's internal documents speak for themselves, specific allegations by the women have not been proven. And that Goldman, which will file a response to the brief sometime over the next week, denies the allegations.
"This is a normal and anticipated procedural step for any proposed class-action lawsuit and does not change the case's lack of merit," said Goldman spokesman David Wells in an emailed statement. Well, fair enough on the denial part, David. But there was nothing "normal" about the pay and promotion revelations that came from Goldman's own statistics.
Some background:
Along with two other women, Chen-Oster sued Goldman in 2010, saying that a male colleague made 50% more than she did even though she was a bigger revenue producer. She also said she was "sexually assaulted by a married male colleague" after a Goldman dinner one evening and that her career was set back after she reported it. The women, who sought class-action status, said Goldman pays men more than women.
The case has been winding its way through the court since then, reaching an important point last October. That's when U.S. Magistrate Judge James Francis said that Goldman had to turn over internal complaints that might be related to discrimination against women in its investment banking, investment management, merchant banking and securities divisions.
Goldman had called it a "fishing expedition" when the women asked to see the internal complaints, but, lo and behold, 133 complaints popped up after the judge said to cough up the evidence.
But it's the stuff in those complaints that make up most of the thick black lines that run through long sections of the women's July 1 brief.
Take, for instance, a section titled "Goldman condones the sexualization of women and an uncorrected culture of sexual assault and harassment," that begins on page 22. It's totally redacted until the seventh line of the next page, and the redactions continue into page 24, just after a little section that mentions strip club jaunts.
Ditto a section titled "Goldman tolerates and/or rewards men who engage in misconduct towards women." After an introductory sentence, there are four black lines running through the text, and two subsequent pages are completely blacked out.
Adam Klein, a lawyer for the plaintiffs, told me that the legal team has asked the judge's permission to release all the complaints to the public and the press, and that the judge said he might revisit the issue. Wells, the Goldman spokesman, said most of the redactions relate to information in the company's internal complaint files "that the court ordered us to produce over our objection." Wells said that Goldman believes the privacy of individuals should be protected "at least until the court has had an opportunity to decide whether information relating to them is admissible."
Despite the extensive redactions, the plaintiffs did get some new information out about associates and vice presidents nationwide since 2004, and in New York City since 2002.
Female vice presidents earned 21% less than their male counterparts, according to the brief, and female associates earned 8% less.
The Goldman data revealed that 23% fewer female vice presidents were promoted to managing director than their male counterparts. Between 2002 and 2011, women made up 27% of the associates and 21% of the vice presidents, according to the brief.
Today, women make up 17% of managing directors and occupy five out of 34 seats on the management committee.
If you're wondering how seriously Goldman takes its diversity mission, consider some of the sessions that have qualified as "training," according to the brief. In 2010, there were "Kick-off to the World Cup: Building the Future of U.S. Soccer," and "Team Everest: A Himalayan Journey." The brief said that employees are supposed to finish two hours of diversity training each year, but that between 2002 and 2007, between half and three-quarters of managers didn't attend.
Goldman hasn't had a chance to respond to allegations in a stack of declarations filed by current and former female employees July 1, so take these allegations for what they're worth.
Allison Gamba, who still works there, said she's a long-time, avid golfer, but is regularly excluded from golf outings. Shanna Orlich, who said in her declaration that she was fired in 2008, said she went to a holiday party in 2007 where a male managing director had hired female escorts clad in "short black skirts, strapless tops, and Santa hats" to socialize with the guys. Denise Shelley, who left in 2009, said "more than 20 times, I heard male traders at Goldman Sachs say the female associates and vice presidents were hired for sales for their attractiveness and not their intelligence and these women were 'bimbos.'"
Anyway, you get the idea. Even accounting for hyperbole by the plaintiffs, it isn't a pretty picture. You thought it was all over when the women at Smith Barney sued in the 1990s after the disgrace of "The Boom-Boom Room?" Well, you thought wrong. 
Susan Antilla is the Founding Fellow of TheStreet Foundation, a non-profit organization with the goal of supporting and expanding financial literacy for consumers through investigative journalism and custom research on high-impact financial topics. Susan Antilla is a freelance financial writer and contributor to
TheStreet.com
.
  She is author of
Tales From the Boom-Boom Room
, the 2002 book that exposed a culture of sexual harassment at financial companies, and has written about business for 3 decades. She received the "Best in Business" award for her Bloomberg View columns from the Society of American Business Editors and Writers in 2013 and 2014. In 2013 and 2014, she also received first prize for personal opinion writing from The Connecticut Press Club. The New York State Society of CPAs gave her the Excellence in Journalism award in 2013, and the Society of the Silurians, a New York press club, gave her the Excellence in Journalism award for her columns in 2012 and 2013. She writes for The New York Times DealBook and
. Antilla is an adjunct professor teaching journalism at Fairfield University.