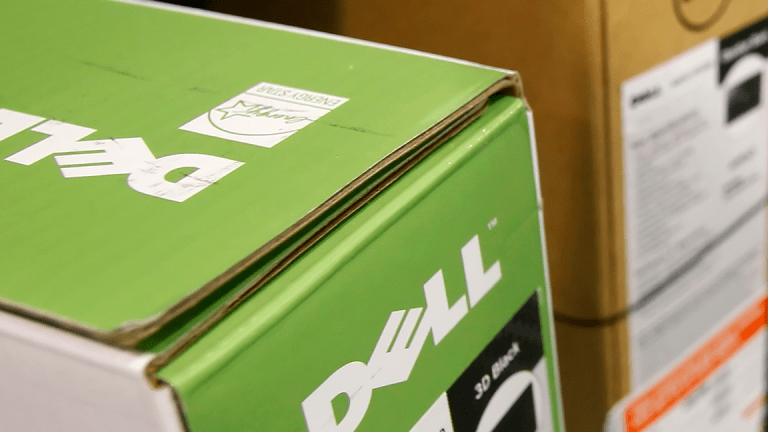 Goldman Warns of Correction; VMware Plummets on Possible Dell Deal -- ICYMI
Here's what you need to know for Monday, Jan. 29.
There are plenty of things investors don't like to hear but on Monday we heard two that really rub people the wrong way. One, a warning from Goldman Sachs (GS) - Get Report  that a market correction is coming and two, that a software company was getting ready to shift much of its revenue concentration to PC sales via a merger.
'Dude, you're getting a Dell' was a good thing back in 2000, in 2018, not so much. Shares of VMware (VMW) - Get Report  were down almost $25 apiece, or 16%, to $125.05 after reports surfaced that the PC maker and VMWare shareholder was seeking to get back to the public markets
The dip erased the gains VMware had enjoyed toward the end of last week as reports first pegged Dell as the buyer, with an assist from Silver Lake, the PE firm that helped Michael Dell take the company private in 2013.
While VMware floundered, the broader markets closed down across the board as investors weighed a busy earnings week ahead and heeded a warning from Goldman that a correction might be coming.
It's also possible folks were taking a little money off the table ahead of President Trump's State of the Union address Tuesday (who knows what could happen?) or shifting funds with big tech earnings on deck: Apple (AAPL) - Get Report  , Amazon (AMZN) - Get Report  , Facebook (FB) - Get Report  and Alphabet (GOOGL) - Get Report will all report this week.
"Our Goldman Sachs Bull/Bear Market Indicator is at elevated levels, although the continuation of low core inflation and easy monetary policy suggests that a correction is more likely than a bear market," Goldman's Peter Oppenheimer wrote.
No matter how you spin it, it was a rare losing day for the markets on Monday after we saw all three major indexes close at record highs on Friday. More fodder for the starving bears right now, I suppose.
This is an excerpt from "In Case You Missed It," a daily newsletter brought to you by TheStreet. Sign up here.
Photo of the day:The "Un-Cola"
Dr Pepper Snapple Group Inc. (DPS) and Keurig Green Mountain Inc. announced plans to merge into one company to be billed as Keurig Dr Pepper. The $18 billion-plus deal brings together a litany of brands both young and old. Dr Pepper Snapple, whose brands include 7 Up, Snapple, Schweppes and Sunkist, among others, traces its beginnings back to 1783 when Jean Jacob Schweppe created the world's first carbonated mineral water. Green Mountain, on the other hand, was founded in the early 1980s and has built its empire on the Green Mountain coffee brand and the Keurig K-cup technology almost exclusively. The 37-year-old coffee company backed by a German conglomerate will take over a controlling 87% stake in the combined entity. Above is a 7 Up ad, circa 1952 when the "Un-Cola" was its own independent company based in St. Louis. The 7 Up Company would merge with Dr Pepper in 1988. Read More
Read more from "In Case You Missed It." Sign up here.
More of What's Trending on TheStreet: