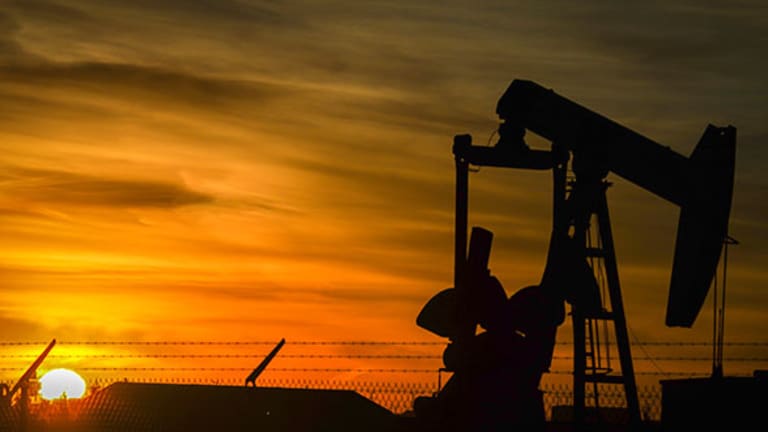 Goldman Sachs' Jeff Currie Sees $20 Oil? Not a Chance
Currie's thesis relies on a healing in Chinese economic indicators and a further tightening of U.S. shale production. TheStreet's Dan Dicker disagrees.
NEW YORK (TheStreet) -- Goldman Sachs' (GS) - Get Goldman Sachs Group, Inc. (GS) Report lead commodity guy, Jeff Currie, is good at making headlines -- he's done it for years. Recently, he did it again by allowing for the possibility of $20 a barrel for oil. But is that at all likely? I don't believe it is.
What's more interesting to me about the Goldman note that appeared late last week was the bearish tone for oil prices for the foreseeable future. For 2016, Currie lowered his median oil price expectation into the $40s, which was more interesting, bearish and bold a call than simply suggesting that oil could momentarily see a "two-handle," or any move in the $20s.
There's usually no one better than Currie -- and I have been in consistent agreement with his calls during the last several quarters. As oil dropped in price during the fall of 2014 and winter of 2015, Currie warned this swoon could be very long-lasting and advised tactical shorting of oil futures. When oil proceeded to rally from the low $40s to near $60 in the late spring, he advised clients to be wary of the sustainability of higher oil, predicting, as I did, a "double dip" in oil back down towards the interim lows.
But here, with this adjustment on 2016 median prices in oil, Currie and I part company. His thesis relies on needing to see a healing in Chinese economic indicators and a further tightening of U.S. shale production. Until those can be relied upon, Goldman Sachs expects oil prices to continue to lag.
I do not expect a major jump in oil prices either. But the yearlong 2016 prediction of $45 as an average price for oil is far too pessimistic. There are signs now that production, both in U.S. shale and elsewhere, is beginning to chip away at global production and that we are more likely to see today's oil glut turn into a tightening of supply well before 2016 is over.
I expected the blood-letting of reorganizations, fire sales and outright bankruptcies in U.S. shale producers to have been in much more evidence by now, and I still believe more of this is yet to come.
But U.S. shale is not alone in feeling the squeezing effects of low oil prices, nor is it the only source that will define global supply. There are indications that conventional drilling here in the U.S. as well as inside the OPEC member countries is beginning to dry up under reduced capital expenditure budgets. Oil sands production in Canada is slowing. Leases on long-term offshore projects in the Gulf of Mexico are at 30-year lows. "Refracking" of wells is at an all-time high, which delivers super-cheap oil from already drilled wells but takes development capital away from projects that would produce oil for several years (as opposed to the few months you can get out of a refracked well).
All of this points to a realignment of production that will simply not develop the oil supply needed to satisfy a still-growing demand for oil in 2016, and certainly for 2017 and beyond.
We are headed straight into another oil price boom, whose seeds are already being planted and can be seen -- if you know where to look.
This article is commentary by an independent contributor. At the time of publication, the author held no positions in the stocks mentioned.