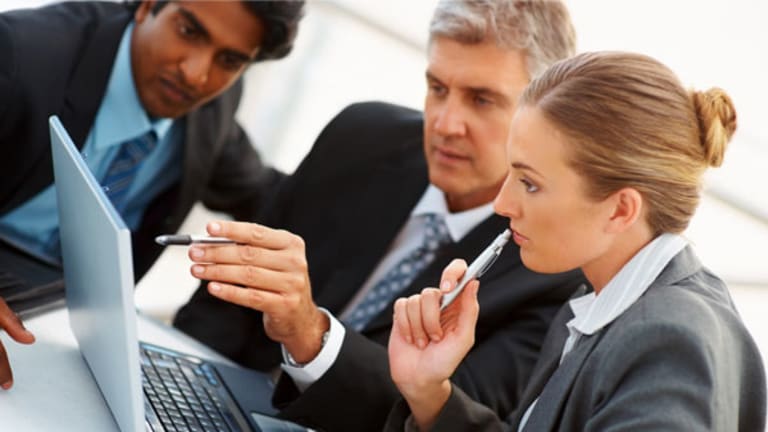 Goldman Sachs' Favorite Lapdog
The New York Fed and Goldman have so many ties its hard to keep up.
NEW YORK (
) -- News that the Federal Reserve Bank of New York is investigating
Goldman Sachs
(GS) - Get Goldman Sachs Group, Inc. (GS) Report
should come as a shock.
One doesn't ordinarily think of the New York Fed as a serious watchdog. After all, the Board consists of such dedicated banking industry reformers as Jamie Dimon, CEO and Chairman of
JPMorgan Chase
(JPM) - Get JPMorgan Chase & Co. (JPM) Report
, and Richard Carrion, his counterpart at
Banco Popular
(BPOP) - Get Popular, Inc. Report
.
William Dudley, the board's President and CEO, used to work at--where else?--Goldman Sachs. Treasury Secretary Tim Geithner, Dudley's predecessor at the New York Fed, acquired such a reputation for being a tool of the banks that he has repeatedly had to remind people that he never worked on Wall Street, never mind that he
nearly became CEO of Citigroup (C) - Get Citigroup Inc. Report.
Still, the New York Fed can claim to have been an active cop on the beat of late. In April, it announced enforcement actions against 10 banking organizations, including
Bank of America
(BAC) - Get Bank of America Corp Report
,
Wells Fargo
(WFC) - Get Wells Fargo & Company Report
, Citigroup,
PNC Financial
(PNC) - Get PNC Financial Services Group, Inc. Report
,
MetLife
(MET) - Get MetLife, Inc. (MET) Report
even Dimon's own JPMorgan, for "a pattern of misconduct and negligence related to deficient practices in residential mortgage loan servicing and foreclosure processing." The size of the fines, if any, are still to be determined.
It is unlikely that many people noticed these actions, since they are very similar to ones being pursued by attorneys general in all 50 states, and a host of other federal and state regulators. But you can't blame them for that.
The issue involving Goldman is also tied to mortgage servicing--specifically allegations by an employee of Goldman's Litton Loan servicing unit, which Goldman is shopping, that Litton conducted improper reviews before denying homeowner attempts to modify their mortgages under a government program, according to a
Financial Times
report on Thursday.
While the New York Fed may have turned into a patsy in the years leading up to the crisis, it actually has a decent history as a watchdog if you go back far enough. Gerald Gorrigan, who ran the New York Fed from 1985-1993, was sounding the alarm on derivatives long before they nearly blew up the financial system. Of course Corrigan now works for--you guessed it--Goldman Sachs.
Indeed, connections between the New York Fed and Goldman Sachs appear to be inexhaustible. Looking for Theo Lubtke, the New York Fed's post-crisis point man on derivatives reform? You'll find him at Goldman Sachs. And let's not forget Stephen Friedman, the Goldman Sachs board member and former New York Fed Chairman who made a tidy profit by buying Goldman shares while he and others at the regulator were deliberating about how to try and save the financial markets--and, of course, Goldman.
But Friedman's blunder, while apparently perfectly legal, led him to resign from the board. He was replaced with a union chief, of all people, and now Columbia University President Lee Bollinger.
Still, Dudley is in charge, and he does not appear to be as interested in reform as, say, Commodity Futures Trading Commission chief Gary Gensler, another former Goldman executive.
Goldman is in so much trouble with so many regulators it is hard to argue the New York Fed's inquiry will make any difference to the stock. Nonetheless, it is good to see the New York Fed rehabilitating its enforcement capabilities. How serious it is about doing so remains to be seen.
--
Written by Dan Freed in New York
.
Disclosure: TheStreet's editorial policy prohibits staff editors, reporters and analysts from holding positions in any individual stocks.