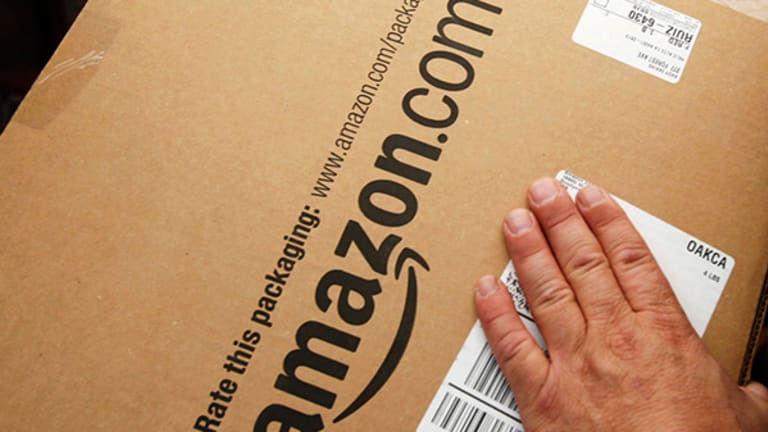 Goldman Sachs: Amazon Poised to Dominate Apparel Market
A brand-new report indicates that the e-commerce giant is set to outpace department store sales at an even faster pace than we'd already thought.
Analysts have been predicting that Amazon (AMZN) - Get Amazon.com, Inc. Report would outpace department store stalwart Macy's (M) - Get Macy's Inc Report  in apparel sales by the end of 2017. However, a brand-new report from analysts at investment bank Goldman Sachs (GS) - Get Goldman Sachs Group, Inc. (GS) Report suggests that this milestone may be even closer. This could net some investors some enormous profits.
According to the report, Amazon's apparel and accessories sales represent 20% of the online market, at an estimated $10 billion. This overshadows Macy's online sales by nearly two times -- the department store, which comes in second among online apparel and accessories sales -- pulls in only $5.2 billion.
The report, released yesterday, also predicts online apparel will continue growing at least its current rate of 20%. However, sales at brick-and-mortar stores are expected to drop off a cliff.
That means Amazon is on pace to quickly become the world's largest clothing retailer. And Amazon shareholders stand to profit the most.
Back in March, Macy's CEO, Terry Lundgren, said that Amazon lacks Macy's brick-and-mortar advantage when it comes to returns. "[Amazon's] going to have an interesting challenge when they start getting all those returns coming back online," he said. "The large, large majority of online purchases which are returned in our case come back to stores because they're so convenient. And so we at least have a shot at selling them something else."
But the analysts at Goldman Sachs would disagree. With more than 35% of millennials reporting that they purchase their clothing and accessories online, apparel e-commerce holds the key to retail's future.
"An additional $50 billion of sales will migrate online over the next four years, a revenue base equivalent to apparel and accessories sales for Macy's, Nordstrom, and Kohl's in all channels combined," the report said. "At that rate, online penetration of the apparel and accessories category will reach 25% in four years, with further adoption across the age and income spectrum." Millennials are going to lead the way, and Goldman Sachs expects other generations to follow.
The report partially credits the ability of brands to sell directly on Amazon's website through their own "storefronts" or straight to the company's buyers with the impressive sales figures. Goldman analysts estimate that Amazon currently represents 1%-to-4% of these brand's sales, but that this percentage is poised to increase.
"Many wholesale brands still do not sell directly to [Amazon], but access to more brands -- which we believe is coming -- supports further growth ahead.... We believe it is a matter of time before more brands end up selling directly on [Amazon], largely because they need to migrate to where consumer traffic is."
And clearly, the consumer traffic is on Amazon's site. And that's also where investors' profits will continue to be made. As the brick-and-mortar department stores continue to plunge in sales and value, the e-commerce giant should only grow larger, throwing off some attractive income for its investors.
---
85% Accurate Trader gives his Personal Guarantee: "Give Me 9 Minutes a Week and I Guarantee You $67,548 a Year." As you can see, Amazon is a great stock to own. But what if I told you there is a way to make $67,548 per year - or more - without stocks, just by following this simple step-by-step process? The trader who is sharing this secret has been right more than 8 out of 10 times, turning $5,000 into more than $5 million for himself. Click here to see how easy it is to follow his lead and collect thousands of dollars in "Free Money" every month.
This article is commentary by an independent contributor. At the time of publication, the author held no positions in the stocks mentioned.