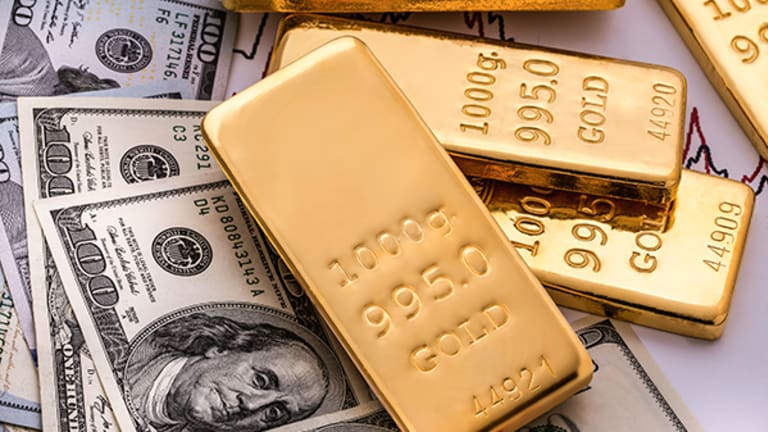 Gold Will Continue to Move Higher -- Use This Trading Strategy to Profit
The Brexit surprise has given gold some upward momentum, but there are other fundamental factors underpinning the yellow metal. Here's how you can profit.
Now that investors have had the weekend to digest the Brexit result, it seems there is even more uncertainty than in the immediate aftermath. The risk-off trading environment has benefited one asset: gold. The precious metal has pulled back from its highs of Friday and Monday, but it's still trading significantly higher than its levels before the Brexit results were announced.
Gold usually benefits from political or economic uncertainty, but historically the metal does not hold onto those rallies. The recent rally could be very different as the actual outcome may not be seen for some time but worries about that outcome are going to keep "tail risk" trades in vogue for professionals. 
Let's assume that gold is going to grind higher over the next month. This is based on the recognition that Brexit is not a "Black Swan" event but will take time to sort out. Based on that assumption, here's a trade for someone who is bullish and has no position in the metal. (These are using options on gold futures that trade at the Comex.)
Buy the call option with a $1,350 strike price for $21 and sell two call options with a $1,400 strike price at $10.50. This trade has a zero premium, so your upfront cost is zero, with a maximum profit of $50 if gold futures hit $1,400 an ounce (a level that's above all current forecasts). You stand to lose money if gold trades for more than $1,450 an ounce, but this is a one-month trade (the contracts expire on July 27) and obviously goes across the long July 4 weekend, which is good since it is selling volatility.
The volatility on the $1,350 call is 21%, and the volatility on the $1,400 call is 23%. There are a few reasons why I like this trade. I am bullish gold, but think we will see some dramatic gyrations in the equity markets over the coming week,especially with Standard & Poor's weighing in on the U.K.'s triple-A rating. We should also see some erratic dollar strength against the yen as there should be some fiscal surprises out of Japan and monetary movements from China. If the Chinese government does use some stimulative measures it will give some risk-on bets short term relief, and this could cause a shallow pullback in gold.
It might seem risky to bet on gold making further gains given how much it has rallied from its levels before the Brexit news broke, but gold is likely to be strong for a long time as the world comes to grips with more uncertainty in the fixed-income market. Even when the bookies had it pegged that the U.K. would vote to remain in the European Union, German bunds and Swiss 30-year bonds were slipping into negative rate territory. This was already the case in Japan and throughout Europe. Now on the back of the ineptitude of the European Central Bank and the Bank of Japan and a paralysis in the European banking sector, these rates will decline further.
Now, we have the Federal Reserve able to take the rest of the year off and watch U.S. interest rates in the front of the yield curve move closer to zero while the yield on the 10-year Treasury has broken below 1.5% and is pricing at levels that will keep pension funds and pensioners stretching for yield. This will weigh on consumer confidence, which is a huge uncertainty for economic growth.
Even before the Brexit vote, for several months it has been clear that negative rates and a lack of a coherent central bank policy combined with zero fiscal stimulus will underpin gold. Another source of worry has been the leverage on the European commercial bank balance sheets. Sure, we know the U.K. government will bail out Royal Bank of Scotland or Lloyds Bankingor, God forbid, Barclay's if it has to, and the Bundesbank will be there to prop up Deutsche Bank, but even a whiff of insolvency will lead investors to buy more gold.
This article is commentary by an independent contributor. At the time of publication, the author held no positions in the stocks mentioned.