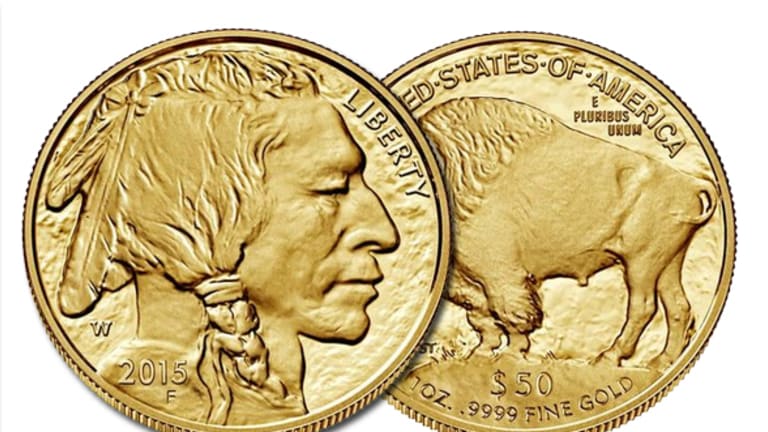 Gold Prices Will Soon Surge 50% Higher, This One Chart Reveals
Comprehensive technical analysis shows that gold is extremely oversold and is about to embark on a dramatic rally. Will you be ready?
Bearish sentiment toward gold has reached historic lows, while its price has fallen only 45% since its all-time high, around 1,925, in 2011. The last time gold futures were this oversold on a monthly bar chart was back in the 1997-2001 period, when monthly stochastics tested the 10% extreme oversold threshold several times in a row, without ever bouncing to the 90% extreme overbought threshold. This has occurred again, since 2013, with stochastics making their third test of that oversold extreme now. The green ovals at the bottom of the monthly bar chart below warn that a major low is imminent!
Click here to see the below chart in a new window
At the same time, the green oval in the price chart highlights a cluster of indicators of a mature downtrend. This cluster implies at least a 50% rise in the price of gold futures in the coming 12 to 24 months. First, the lower two-standard-deviation band (golden/olive line) is being tested, which controls 95% of normality and hasn't let prices close below it in 30 months. Second, the lower channel line of the channel that has controlled prices since July 2013 is also being tested (successfully, so far). It has supported price in the past six tests since the channel began. Third, although price is making a lower low vs. the price low of late 2014, stochastics are making a higher low. This condition is called a bullish divergence buy signal and represents the drying up of bearish energy as the final wiggles of price pattern wind themselves into completion.
The last time prices were down here was the spike/reversal of February 2010, when 1,044.50 was momentarily seen. So far, the low last week, which is the lowest price since that extreme in 2010, was 1,045.40 -- the perfect place to end the entire corrective decline off the peak price of 1,925. Making it even more perfect is the fact that there is Fibonacci time symmetry between the number of months the rise from February took until gold made its final high (19) and the number of months from that final high to the current low (51), a Fibonacci 38%. Couple that with the matching price lows, and the other extremes mentioned above, and you have the makings of a huge rally.
The labeling at the 2001 peak has two alternatives. Either wave (3) of 1-circled ended there, implying the current low as the end of wave (4) of 1-circled, and the target for wave (5) of 1-circled will be 2,300 +/-300 (as the blue arrow's path to new all-time highs forecasts). Or the 2011 peak is wave (5) of 1-circled, and the current low is implied to be wave 2-circled, or part of 2-circled. If it's all of 2-circled, wave 3-circled projects toward 4,000! On the other hand, if only part of 2-circled is bottoming here, then the blue arrow's path into the 1,600 +/-100 zone (bright pink box within the larger light pink box) is the bounce target before the next decline takes prices toward 775 +/-100, a few years hence. Either of these last scenarios requires at least a move from this month's 1,045 low toward the 1,600 zone, nearly a 50% explosion higher.  
While each of these scenarios provide for multimonth to multiyear rallies in gold, there is another alternative count that cannot be ruled out yet. That would be for a quick plunge, now, to the dark green uptrend line, drawn off the 2001 low in price, and catching every low in gold since then. That plunge would meet that line around 825, if occurring in the next couple months. However, this alternative is not required, and it doesn't have a high probability ranking, as it would require price to move down to the eight-standard-deviation band below the 200-day moving average. That would be a statistical anomaly so extreme that it would match the Dow's extreme this past Aug. 24.
Therefore, our objective decision support engine strongly suggests that all selling actions be curtailed, and buy stops be used to protect shorts, as well as establish longs, at the 1,110 level.  On the other hand, if lucky enough to get another test of 1,000 +/-30, shorts should be covered and longs established there, too.  
Carpe metallum ... Seize the metal!
For more of this kind of analysis, try our many DSE-based services with a free week of full-access to our highest level membership. Special pricing is available for TheStreet.com readers who subscribe AFTER a no-obligation, complimentary trial week.
This article is commentary by an independent contributor. At the time of publication, the author held gold.