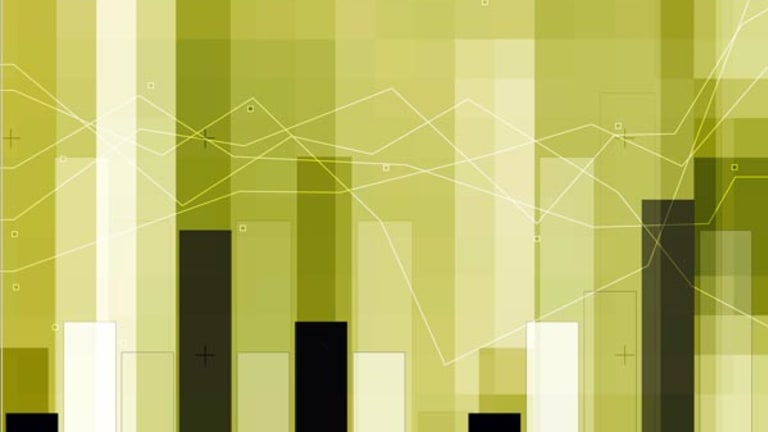 Gold Prices: Where Will They Finish 2011?
The experts weigh in on where gold prices will trade in 2011. Take our poll and see where other readers of TheStreet think gold prices will finish the year.
(Gold poll updated with 2011 price targets from U.S. Gold.)
NEW YORK (
) -- The answer to the question "where will
go in 2011" is one of the most sought after predictions on Wall Street.
Gold prices rose 400% in the past decade and made a record breaking run in 2010, rising 26% and hitting an intraday high of $1,637.50 an ounce.
There are many factors that move the gold price
. In 2010, one of the most popular reasons was investors buying gold as a hedge against financial disaster in Europe as European Union nations like Greece and Ireland teetered on the brink of default. The response by most governments, one of the biggest offenders being the U.S., was to print money. As paper currencies declined in value, the price of gold rose.
But 2011 has been dicey for gold, with prices getting smacked with double-digit selloffs and rallies. The common culprit has been labeled "rebalancing," where traders who bought gold at the end of the year to show they owned it dumped it in 2011 to book a profit. The same traders jumped back into gold from February through April as violence exploded throughout the Middle East and North Africa region and Japan contended with its worst disaster since World War II.
Technical traders then dumped gold and ran in the first week of May when gold prices tanked 3.35%, only to pick up steam again as the U.S. flirted with default. An 11th-hour deal by Washington avoided complete Armageddon, but the threat of a downgrade and slowing global growth still remain. The gold price is getting no rest from volatility.
Vote: Where will gold prices finish in 2011?
The
SPDR Gold Shares
(GLD) - Get SPDR Gold Shares ETF Report
now holds 1,263 tons of gold, close to where the GLD ended its record run in 2010 of 1,280 tons. There are still many analysts warning of a deep correction. Jon Nadler, senior analyst at
Kitco.com
, had been calling for a 20%-40% selloff in all assets in the case of a default. Jeff Clark,
Casey's
senior precious metals analyst, predicted that gold could see a 5% correction if Washington avoids a default, which would bring prices down to $1,550 an ounce.
The biggest longterm headwind for gold prices is rising interest rates. Although the
Federal Reserve
will most likely not raise interest rates until 2012, if the U.S. sees a spike in yields -- due to a credit rating downgrade -- then interest rates could rise, a defacto rate hike of sorts.
The European Central Bank and China have been fairly aggressive with tightening monetary policy in 2011 and more rate hikes are expected. If real interest rates turn positive -- the interest rate minus the inflation rate -- the main reason for holding gold, because it holds more value than paper currencies, could disappear.
But for now investors and research analysts alike think the tide won't turn against gold anytime soon.
Deutsche Bank
says gold is on track to challenge $1,653.50 an ounce, a resistance area, while
JPMorgan Chase
raised its gold price forecast for the fourth quarter to $1,800 an ounce. JPMorgan, which now accepts gold as collateral, cites seasonality, that is strong physical buying from India in the fall, and rising debt levels as the two catalysts for record gold.
"Some people may argue that $1,600 an ounce is the top of the bubble," wrote analyst John Bridges in the report. "But we suggest that unless governments control their debt levels, investors' fear of paper currencies will drive gold higher." The current debt ceiling plan does nothing to cut the deficit but just cuts spending enough to justify paying its current bills.
The same sentiment was echoed by
Dundee Capital Markets
, which wrote that a weaker dollar and lack of trust in paper currencies would "generate sustained demand for bullion." Dundee has raised its 2011 god price forecast to $1,526 an ounce but more significantly its 2012 price target to $1,750 from $1,573 an ounce
Other experts echo this bullish sentiment.
Big time investor, Jim Rogers, stands behind his long term $2,000 gold price prediction
.
"It'll probably be much higher than $2,000 in the
next decade but maybe even sooner, I don't know. But to me it seems pretty clear that it'll go to at least $2,000. If you adjust the old high back in 1980 for inflation, gold should be over $2,000 now."
Congressman Ron Paul think the government will lose control of the dollar and push gold to astronomical levels. "You'll see gold at maybe $5,000 to $10,000, and then they'll say we have to do something and then that's when countries resort to something of real value to regain the trust ... I think we're going to come to our senses before that
however," but Paul gave no time frame.
Gold mining executives are a little more conservative. Chuck Jeannes, CEO of
Goldcorp
(GG)
thinks gold could spike to $1,700 in 2011. "With all the financial uncertainty, with the European debt crisis, and what's going on in the U.S. right now, the gold price has continued to perform
and ... we are just heading into the time of year where we normally see demand increases from the Indian wedding season and restocking for the holidays."
Jeannes has previously said that its important to consider highs adjusted for inflation, which could push the price as high as $2,300.
Jeff Pontius, chief executive officer of
International Tower Hill
(THM) - Get International Tower Hill Mines Ltd. (Canada) Report
believes that prices could reach as high as $2,000 an ounce in the longer term as the U.S. dollar continues to lose ground.
"Gold will ultimately go above $2,000 and I think its going to go in steps" said Sean Boyd, CEO of
Agnico-Eagle
(AEM) - Get Agnico Eagle Mines Limited Report
who had previously forecast gold prices at $1,600 for 2011.
CEO of
U.S. Gold
( UXG), Rob McEwen, says gold prices will hit $5,000 an ounce in 4-5 years.
Now that the experts have weighed in, we'd like to know what you think. Take our poll and find out where readers of
TheStreet
think gold prices will finish in 2011.
--
Written by Alix Steel in New York.
>To contact the writer of this article, click here:
Alix Steel
.
>To follow the writer on Twitter, go to
.
>To submit a news tip, send an email to:
.
Readers Also Like:
>>15 Ways Oil Prices Will Crimp Your Budget
>>Buffett Lays Out Blueprint for Future
TheStreet Wins Four SABEW Journalism Awards   Creative Use of Online Media: The Shanghai Numbers
  Best Investigation: The Shanghai Numbers
  Best Feature Writing: The Pirates' Toll
  Best Opinion/Column: Adam Feuerstein's Biotech Coverage
Disclosure: TheStreet's editorial policy prohibits staff editors and reporters from holding positions in any individual stocks.