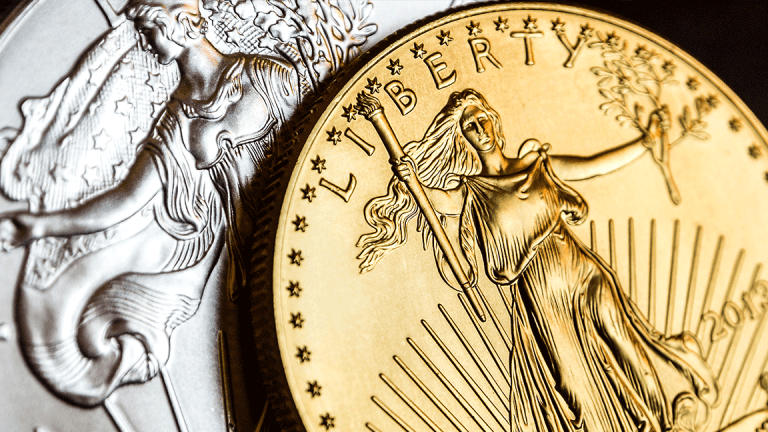 Participants in a new Kitco News gold survey look for the precious metal to build on its gains next week, citing the soft U.S. jobs report released Friday and technical-chart momentum.
Comex February gold topped the $1,300-an-ounce level on the final day of 2017 and has remained above this so far in 2018. The metal, helped by a soft U.S. dollar much of this week, temporarily bounced from overnight weakness Friday when the government reported that the U.S. economy added 148,000 jobs in December, down from the average of 232,000 over the previous two months. Still, observers describe the report as constructive for gold overall since the data should mean the Fed does not accelerate the anticipated pace of monetary tightening.
Shortly after 11 a.m. EST, February gold was up 0.8% for the week to $1,320 an ounce.
Twenty market professionals took part in the Wall Street survey. Eleven, or 55%, called for gold to rise. There were five votes, or 25%, saying gold would fall, with the remaining four votes, or 20%, neutral or calling for a sideways market.
Meanwhile, 775 votes were cast in an online Main Street poll. A total of 477 voters, or 62%, looked for gold to climb in the next week. Another 217, or 28%, said lower, while 81, or 10%, were neutral.
For the year 2017, Main Street ended up being right 31 of 50 times for a winning percentage of 62%.Wall Street forecasters collectively were right 30 of 51 times for 59%. (There were two weeks without a Main Street poll and one week without a Wall Street poll).
Bob Haberkorn, senior commodities broker with RJO Futures, figures gold has more upside potential, with fundamental support coming from the softer-than-expected U.S. nonfarm payrolls. "Gold technically has $1,350 in its sights, the way it's trading now," he added.
Ralph Preston, principal with Heritage West Financial, also said higher, suggesting gold could make a run at $1,400 this year. "There is nothing in its way right now," he said.
Kevin Grady, president of Phoenix Futures and Options LLC, said he is short-term bullish since there appears to be a "persistent" major buyer any time prices have pulled back lately. Otherwise, he says, he might be more nervous about the fact so many bulls are already in the market, often seen as a sign of a potential pullback when these players exit. As an example of this, he pointed out that based on Friday's preliminary data, there had been a rise of some 87,000 open positions in gold futures during the metal's run higher in recent days.
Meanwhile, Mark Leibovit, editor of the VR Gold Letter, said he is "looking for a retracement" after a roughly $90 rally in gold from the December low to the December high.
Sean Lusk, director of commercial hedging with Walsh Trading, also figures gold could pull back modestly on profit-taking after the big run run-up. "Gold is a little overbought technically, but nobody wants to be short over the weekend," he says. Dips are likely to be bought, although the market may need a fresh catalyst to push significantly higher, he added.
"This is a pretty sizeable gain...in a short amount of time," Lusk said. "The market, to me, is getting a little top-heavy up here. That could beget a little profit-taking in the market."
Colin Cieszynski, chief market strategist at The Fundamental Technician, is in the neutral camp for next week, looking for consolidation in the $1,300 to $1,325 area.
"Gold has had a nice run lately and is overbought on the RSI [Relative Strength Index], so it's technically due for a normal rest within an uptrend," he said. "USD [U.S. dollar] is stabilizing despite the soft nonfarm payrolls report, while Bitcoin appears to be coming back under accumulation."
Reporting by Allen Sykora Kitco.com.
Watch the replay of Jim Cramer's full NYSE live show:
More of What's Trending on TheStreet:
This commentary comes from an independent investor or market observer as part of TheStreet guest contributor program. The views expressed are those of the author and do not necessarily represent the views of TheStreet or its management.