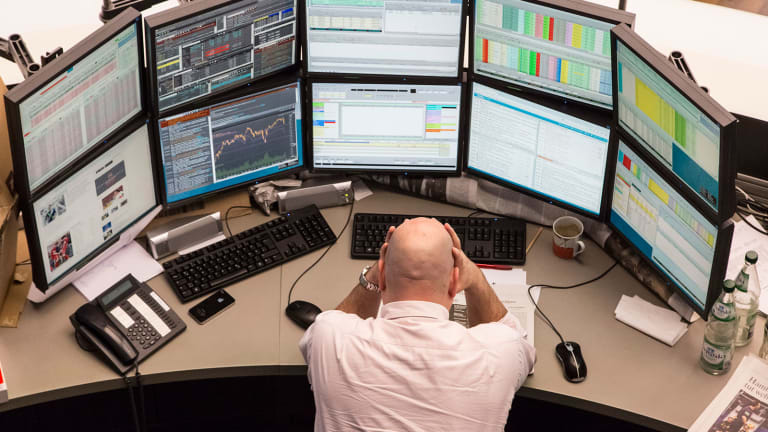 Gold Opens the Second Half With Another Buying Wave
Both technical and macro buyers are predicting that gold prices will continue to rise..
Gold futures continue to see more inflows as we start the second half of the year. Both technical buyers and hedge funds put new money to work in a busy pre-July 4 Friday.
We had been worried about about a rally in gold futures causing a rush for a wing vol, a way out of a call with high volatility. The upward spike in gold futures prices on Friday (to a high of $1,344.30 for the August contract traded at the Comex) kept implied volatility of options muted as some market participants sold call options against the underlying length. That meant that traders sold calls against futures that they already purchased
Futures contract trading volume on the Comex on Friday was equivalent to 20 million ounces, and volume in front month call options are picking up. 
The GCQ $1360 calls have been the main option interest with close to 2,000 contracts being bought and sold down .5% vol.
The most interesting thing in volatility skew (this is the difference in implied volatility among out-of-the money options, at-the-money options and in-the-money options) is how an event generating risk such as Brexit has been digested so the call skew has dissipated.
The view that gold is going to be "stronger for longer" has caused six month/one year implied volatility, which had been trading at a 2% premium last Friday, to move to a discount. Longer-term plays have been starting to buy longer-term wing calls, a way out of the money, or low delta calls. 
The large block trades that went through were mostly 1x2 in one-year and two-year periods. There were two trades in particular of note.
The trades were similar except there are different expirations. The front like is being bought so 4000 contracts of the December 2017 $1300 calls/ and the back leg (dec 17 $1510 calls) are being sold 2x or 8,000 contracts The second trade was for June 2018 (expiry May 24, 2018) buying 5500 contracts of the $1250 calls against selling 9500 contracts of the $1475 calls, which is a ratio of 1/1.75. Both ideas are playing a slow grind upwards.
Both trades saw macro hedge funds on buy side and were for zero premium. Obviously, both trades are also short vega and are based on the assumption that that gold is going to grind higher over the coming months.
This will be he fifth weekly gain for gold, and we should reiterate the fundamental reason why the precious metal should continue moving higher.
News that the International Monetary Fund was so negative on the outlook for Deutsche Bank sent its stock price to its lowest in 30 years. I continue to view large commercial banks on the continent as possibly having to do equity offerings to bolster their balance sheets.
The main impetus continues to be central bank policy as Bank of England Governor Mark Carney indicated that the BOE will ease rates to quell fears of a ban[king crisis post-Brexit. This has initially helped British banks Barclays and Lloyds recover with RBS struggling still.
In addition, Stanley Fischer, the vice chair of the Federal Reserve, has indicated that despite the U.S. economy continuing on the right path, the Fed s going to wait and evaluate the Brexit fallout.
In May he was one of the officials who was leaning toward a summer interest rate increase and even floated the possibility of a 12.5-basis-point rise. Now, however, he seems to have his bags packed for a long vacation.
Gold and gold funds will continue to make big headlines. The SPDR Gold Trust (GLD) - Get SPDR Gold Shares Report  exchange-traded fund is likely to continue to climb on further inflows, and the ETF that tracks the large-cap gold-mining stocks, the Market Vectors Gold Miners ETF (GDX) - Get VanEck Gold Miners ETF Report , was making new highs for the year on Friday on heavy volume.
It seems that portfolio managers are going to keep safe havens in their portfolios as we see from Japanese and German government bonds, which continue to hit new highs, pushing yields further into negative territory.
Now the U.S. 10-year Treasury is threatening 1.4% on more safe haven buying, so gold could increase as a portion in some investors' risk-off strategies.
The gold rally has masked an even more dramatic move in silver. Gold is 26% higher so far this year, but silver is now 41% higher in 2016 following this week's moves. The past two days alone have seen silver rise almost 7% (11% since the referendum vote) on enormous volume.
Silver futures historically trade 20,000 contracts a day, but this week they have averaged 60,000 contracts, or the equivalent of 300 million ounces per day. The average silver price over the past year has been $15.40 an ounce but silver futures are now at $19.40 an ounce.
Unfortunately, silver has been such a boring, range-bound precious metal for so long that options volume has been minuscule and the implied volatilities in the front have moved very slightly to the upside. Besides a lack of profile, silver has an identity crisis about whether it is a high-beta precious metal trade to gold or an industrial metal dependent on economic activity.
Obviously, low interest rates and inept central bankers are helping to move global investors to buy physical commodities that they are capable of storing, and silver has one of the lowest barriers to entry for small investors to stockpile.
Despite the sanguine Chinese PMI coming in at 50 and the Caixin PMI coming in at a weaker-than-expected 48.6 (analysts were expecting 49.2), copper and the rest of the base metal sector are pushing ahead on light volume. Copper implied volatility, which was 2.5% lower on Thursday to its lowest level in a year, is being pressured by Chinese speculators selling downside puts. 
The Chinese speculators are all long everything from iron ore to copper as they expect the People's Bank of China to cut the nation's reserve requirement ratios, or RRR, a key tool of monetary policy. There is speculation that it may come for the wrong reason as the Chinese corporate bond market is not recovering due to excessive margin.
In natural gas, we still like that $3.00/$3.25 call spread that expires July 27. Inventories should continue to be drawn down as hot weather in the West and Midwest persist. Producers added only 42 billion cubic feet yesterday, less than the expectation of 48 billion.
Crude oil has recovered after Thursday's sharp selloff at the end of the session. It seemed there was some end-of-the-quarter liquidation from a hedge fund as some funds of funds were reallocating. Crude oil bulls are hoping for an impasse on the Norwegian oil worker strike deadline at midnight Friday. Iraqi exports fell in June as domestic usage increased. 
This article is commentary by an independent contributor. At the time of publication, the author held no positions in the stocks mentioned.