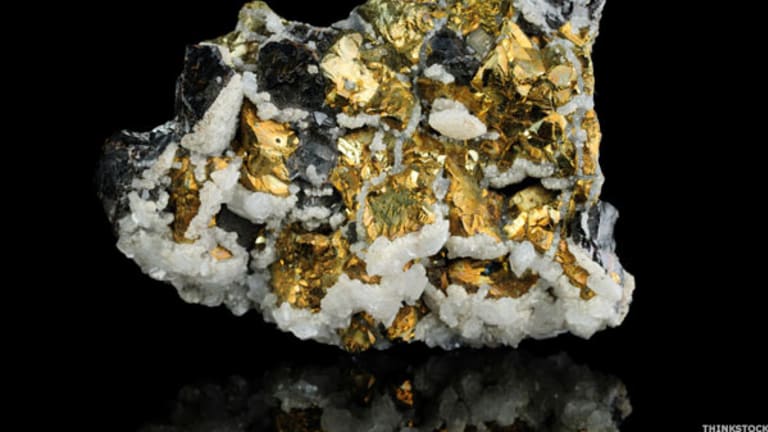 Gold's Rebound in 2014 May Still Have Legs
After years of disappointment, miners may now be rotating back into favor.
NEW YORK (TheStreet) -- Securities that lag one year often recover during the following twelve months.
A case in point is the Market Vectors Gold Mining ETF (GDX) - Get VanEck Vectors Gold Miners ETF Report, which lost 42% in 2013 as the S&P 500undefined surged 32%. Moving into 2014, the GDX has gained 21% while the S&P 500 has dropped 1.1%. Even more striking is the Market Vectors Junior Gold Mining ETF (GDXJ) - Get VanEck Vectors Junior Gold Miners ETF Report, which is up 31% this year after declining 53% in 2013.
Both gold ETFs fell on Wednesday as minutes from the Federal Reserve's last policy-making meeting revealed that central bank members are considering a change to the benchmark interest rate as unemployment gradually declines.
Read: Golden Gate Capital Strikes Gold in Diamond Deal
GDX owns more mature, larger cap companies that actually produce gold. Holdings include Barrick Gold (ABX) and Gold Corp. (GG) , which have 13% and 12% weightings in the fund respectively. GDX is a global fund with a 65% allocation to Canada, 12% to the U.S. and 8% to South Africa.
The companies in GDX are relatively mature, and the fund has a trailing dividend yield that was just under 1% when it paid last December.
GDXJ owns small-cap and mid-cap stocks. According to the fund's fact sheet, these companies "hold real property that has the potential to produce at least 50% of the company's revenue from gold or silver mining." That, of course, means mines that have yet to produce gold.
Read: Gold Prices Dip as Investors Await Tapering Clues from Fed Minutes
Canadian stocks dominate GDXJ, with a 65% weighting, followed by 19% to Australian companies. Interestingly, Australian stocks only have a 4% weighting in GDX. GDXJ pays no dividend.
GDX started trading in early 2006, a little over a year after the SPDR Gold Trust (GLD) - Get SPDR Gold Trust Report became the first ETF to offer investors access to gold bullion in a brokerage account. Before GLD, investors wanting some sort of gold exposure in a brokerage account would look toward a mining company. When GLD started trading, it offered a choice that previously did not exist.
GLD attracted assets perhaps at the expense of the gold miners. GLD and GDX tracked closely without much price appreciation for a short while, but then diverged. In 2008, GLD began to dramatically outperform. While demand for GLD may have contributed to the lag in mining stocks, rising energy costs also contributed to the decoupling.
While costs for mining gold vary from mine to mine, costs are dependent to a large degree on energy costs. Those of course increased dramatically in 2008, when West Texas Intermediate Crude traded up near $150 per barrel.
If it is less profitable for a mining company to extract gold, then the price of the company's shares can go down with no effect on the price of the underlying metal. That appears to have happened in 2008.
Labor is also an important component in the cost to mine gold. Labor unrest over wages has been especially pronounced for the last few years in Africa, which produces 28% of the world's gold, according to VisualCapitalist.com.
What could be causing the turnaround this year?
There are several factors. Energy costs have generally come down over the last six months, despite a recent spike for crude oil over the last week.
Read: Mutual Funds That Thrive When Stocks Sink
Additionally, there is a dynamic related to less profitable mining activity. Less gold tends to be pulled out of the ground, which reduces the amount of gold supply available for sale. That in turn puts upward pressure on the price of gold. If costs stabilize and the price goes up, then profitability for the miners can start to increase, causing the price of the shares to increase.
Further complicating this relationship is the fact that pure perception -- not fundamentals -- can push prices higher.
Or it could be more simple even than that.
After more than two years of serious declines, GDXJ was down 80% from its 2011 peak to its 2013 trough. A real bottom may have finally been reached. Although the gains of the last two months might seem big, both GDX and GDXJ are still down more than 60% from their respective peaks.
At the time of publication, the author held GLD, but no positions in any of the other stocks mentioned.
This article represents the opinion of a contributor and not necessarily that of TheStreet or its editorial staff.