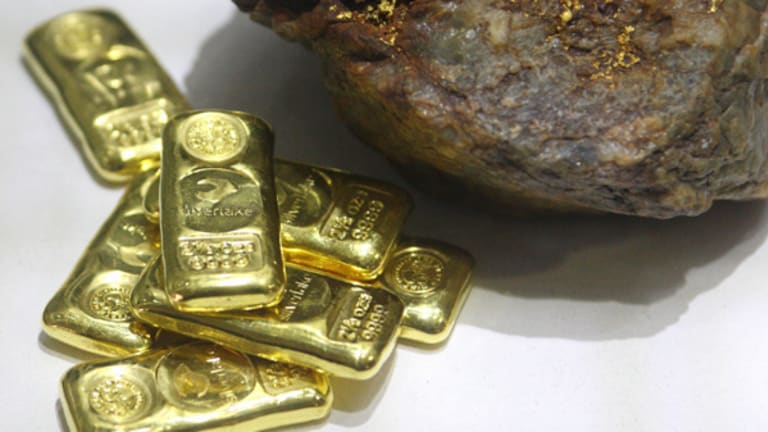 Gold Miners Still Trying to Dig Out
Shares of gold miners received a boost from the Fed announcement, but that won't be enough to improve their long-term fortunes.
NEW YORK (TheStreet) -- Gold futures and shares of gold-mining companies took a sharp turn higher Wednesday after the Federal Reserve surprised the market by announcing a continuation of bond purchases, currently at $85 billion a month.
The
Market Vectors Gold Miners ETF
(GDX)
, which tracks shares of gold miners, climbed almost 9%, while the widely followed
SPDR Gold ETF
(GLD)
, which is backed by physical gold, gained more than 4.3%, its largest one-day increase since 2012.
Gold's rally may be too little too late for gold miners
Newmont Mining
(NEM)
,
Anglogold Ashanti
(AU)
,
Barrick Gold
(ABX)
and
Goldcorp
(GG)
, which are stuck in a downward trend.
Wednesday's spot gold prices provided miners a reprieve to catch their collective breaths after GDX, the ETF that tracks their stocks, neared the lows of 2008.
The Fed announcement, however, is unlikely to boost the price of the yellow metal high enough to give the miners a sufficient spread between production costs and the price at which they can sell gold on the open market.
One significant headwind facing gold bulls and miners is a one-two punch from India, one of the world's largest consumers of gold.
First, India's currency, the rupee, is trading near its weakest levels against the dollar in more than 10 years. Thursday morning it took 61.93 rupees to buy a greenback.
To put that into context, when gold hit its 2011 highs, it took only about 45 rupees to purchase a buck.
This means that for Indian consumers, gold is still trading near all-time highs.
The second punch comes from the Indian government, with a 50% tax increase for gold jewelry imports this week, as reported by
Reuters
.
India in part raised the tax as a domestic protection measure, but it also wants to diminish the crippling balance of trade that has sent the rupee crashing.
Imported jewelry is a relatively small percentage of the overall bullion India imports, but the tax increase is part of an overall government pattern of trying to decrease gold imports.
Unlike investors in spot gold, investors in gold-mining stocks are not yet ready to enjoy Wednesday's spike.
Andew Su, CEO at brokerage Compass Global Markets,
that the average cost of producing an ounce of gold has jumped to more than $1,000, up $500 from 2007.
The problem facing mining companies is that production costs are rising faster than selling costs.
Gold investors are able to profit while the metal spikes higher, but concerns about when the Fed will start tapering will soon become front and center in the attention of investors.
Investors in stocks of gold-mining companies should consider taking profits while the excitement about higher gold prices is still in the air and before news returns of renewed activism by mine workers demanding increased wages.
With production costs increasing, it's no surprise that Barrick and other miners have laid off workers as some mines no longer can operate profitably. Absent a significant move higher in the price of gold, don't expect gold miners to reverse their bearish trend.
At the time of publication, Weinstein held no positions in securities mentioned.
This article is commentary by an independent contributor, separate from TheStreet's regular news coverage.
Robert Weinstein is an active trader focusing on the psychological importance of risk mitigation, emotion and financial behavior of market participants. Robert co-founded the investing blog
, where he writes a journal about his trading activity and experiences.
In addition to
TheStreet
, Robert also contributes to
Real Money Pro
, providing real-time trading ideas for stocks, options and futures.