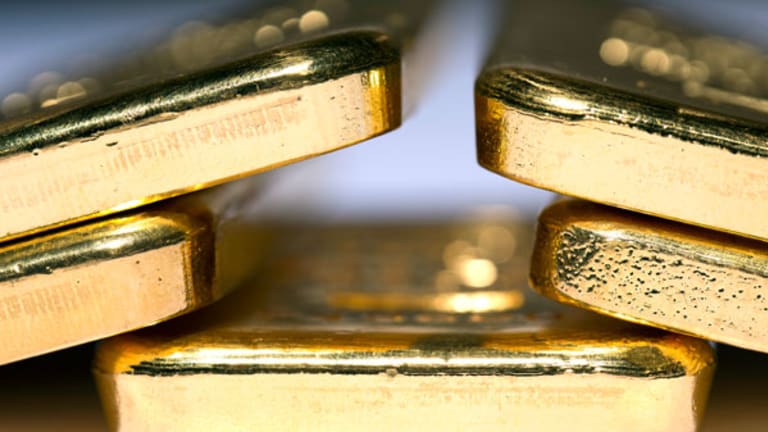 Gold Might Test the Lows of Its One-Year Price Range
Gold is expected to show a minor bullish trend this week but is not expected to break the $1,368.89 resistance level.
NEW YORK (TheStreet) -- Gold has long served as portfolio insurance against political and economic shocks.
Many investors stocked up on gold in the wake of the financial crisis of 2008, eventually driving it to an all-time high of $1,920.76 an ounce in September 2011. But the yellow metal later saw a decline of nearly 39%, falling to $1,180.26 in June 2013.
Does this mean that gold's strong run has ended and the yellow metal has lost its precious shine as a safe haven? The answer to this is not straightforward, and various factors play a role in answering this question.
Is Gold Still Worth It?
For general investors it is important to understand what gold brings to a portfolio. To put it simply, it is a perfect hedge against economic uncertainty. Investors become nervous during periods of uncertainty and shy away from assets such as stocks and bonds but turn toward gold. Gold is the perfect insurance policy against inflation, and investors should consider putting about 7% of their portfolio into the precious metal.
It is important to note that investors become nervous and invest in gold after periods when financial markets are flooded with credit and supported by asset price inflation. Both trends were in place before the 2008 financial crisis, and these trends tend to signal that a bullish run in gold is coming.
The U.S. Federal Reserve has kept the federal funds rate at a low level for years and has engaged in quantitative easing with the aim of preventing deflation and spurring economic growth. But much of the stimulus has been channeled into equities, boosting the stock market, while some areas of the economy haven't recovered as well as many had hoped.
As of June 2014, the unemployment rate has yet to fall below 6.1% and the U.S. inflation rate has increased to 2%. Although the inflation mark is still within an acceptable range, the all-time high S&P 500 and the unemployment figure indicate an increased probability of a significant correction in the stock market.
Is Gold About to Experience Another Bull Run?
Though the yellow metal had a bearish run last year, much of the downward pressure had been due to the rally in the stock market. It's a common norm: When something goes up, something else comes down.
The equity market flourished at the expense of gold. But would it be correct to say that the new highs in the stock market were a result of a truly improved economy? Clearly, that's not the scenario. Consumer sentiment has not yet increased up to a satisfactory mark. The U.S. economy is still weak.
Does this mean gold is all set to bounce back for correction following a financial burst? First, a financial burst of 2008 intensity is unlike. The fundamentals do not support this.
Gold futures in the Comex division of New York Mercantile Exchange could rise to $1,525 an ounce, however, according to Kitco.
That won't happen overnight. Second, the recent unemployment figures, nonmanufacturing purchasing managers' index and early tapering of the Fed's quantitative easing program have made investors more optimistic about the U.S. economy.
Additionally, the Fed intends to keep the interest rates low in an attempt to promote economic growth and reduce risk chocking of the economy. Whatever the case may be, not all risk can be eliminated. An economic slowdown is not yet out of the question, which continues to make gold an attractive investment.
Short-Run Case: The Fundamentals and Technicals of Gold Futures
Gold traded to the upside after breaking a major resistance level at $1,334 an ounce. The move was mostly in favor of the bulls due to the news about Portuguese bank problems.
In addition, the upward move was also propelled by political tension in Middle East crises: Israel-Hamas, Israel-Gaza and Ukraine-Russia. However, it is yet unclear whether the upside surge was a result of new buying positions or stops triggered on the resistance level. It must be noted that the market closed lower at $1,338.21 after placing the previous week's high at $1344.91. This suggests that stop losses were triggered. An important level to look for is $1,334, which is the new support level. If gold traces back, it is expected that it will trade within the range of $1,309.69 to $1,334 per ounce for the next week.
Should the price fall to the $1,309 level, there is likely to be new buying. The $1,313.63 level is a major 50% Fibonacci level. Another important level to look for is $1,322.57, the center line of Bollinger Band or 20-day moving average. A successful defending within $1,322.57 to $1,330 will indicate that bulls are coming in with new buy positions.
For this week, investors are also advised to keep an eye on key U.S. data including retail sales, industrial production, unemployment claims and the preliminary University of Michigan Consumer Sentiment reading. In addition to this, new data are also expected from the world's second-largest gold buyer, China, which is set to release its GDP and industrial production figures.
Should the gold market move upward, the first resistance level to look for is $1,355 per ounce followed by $1368.89 and $1,389.54.
In sum, it is expected that gold will show a minor bullish trend this week but is not expected to break the $1,368.89 resistance level. But gold is expected to fall in the next week and will remain at a low price in next month.
At the time of publication, the author had no positions in assets mentioned, although positions can change at any time.
This article is commentary by an independent contributor, separate from TheStreet's regular news coverage.