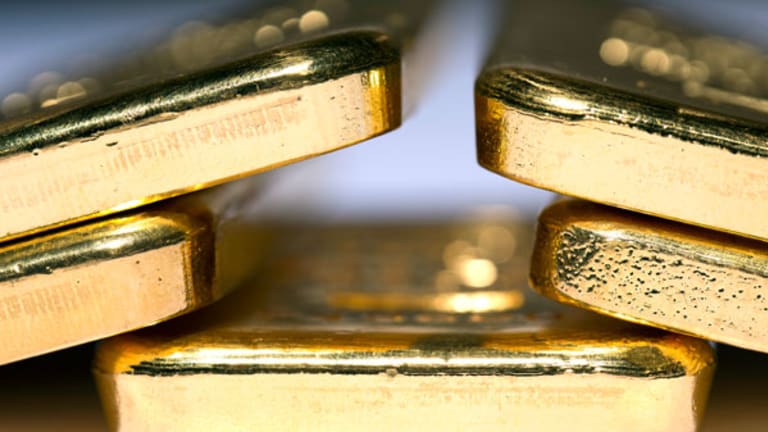 Gold: Building a Base or Just Chopping Like Crazy?
It's another choppy week with no real direction. Textbook breakouts are failing, and it's very hard to catch a winner in the precious metals market.
It's another choppy week with no real direction. Textbook breakouts are failing, and it's very hard to catch a winner in the precious metals market.
NEW YORK (TheStreet) -- It's another choppy week for markets, with no real direction. It's still very hard to catch a winner. We saw one stock we've been eyeing for a while build a super base. It broke out Thursday on heavy volume -- usually a blueprint for success. But it turned around and failed the breakout right away on Friday.
You know the market remains dangerous if textbook breakouts still fail. The precious metals markets are chopping around as well and are not anything to write home about.
I remind you that not trading is trading. Sometimes you just have to wait for setups. That is still where we are. It takes time to build nice bases which can move stocks.
Let's check the metals charts and see what moves would constitute a breakout or breakdown.
Gold (GLD) - Get Report rose 0.26% for the week as it just chopped around in its range. There is nothing to do until we break out above $1,320 or break down below $1,280.
To me it looks like we will move higher out of this nice, developing base. I love this flat base. It should lead to a nice upside move when we break out higher. But I do not know when that will be. It could be right away or it could still be a few weeks. Until the move begins there is no point in trying to trade it unless you're a day-trader.
We did see some decent moves on a daily basis in this base last week, but those moves reversed the very next day. So being quick and not greedy is key if you are trying to trade the moves. As as so often happens, the moves generally come in overseas action while I'm fast asleep.
Unless you can trade futures and don't sleep, gold is a tough metal to trade right now.
Patience is so important to success and it is needed now.
Next up: silver.
Silver (SLV) - Get Report grabbed a tiny 0.94% gain this past week and remains choppy. We are seeing a flat base come more into view now, with ranges between just under $19 and $20 on the upside.
Until we move either way there isn't much to say.
My guess is that gold will lead the next move, not silver, since it has a much longer and stronger base. Time will tell.
Platinum (PPLT) - Get Report gained 2.34% this past week as it broke out of its large triangle pattern on heavy volume. This is a very nice breakout for sure.
Platinum hit simple resistance at recent highs, which happens more often than not. A few more days are needed before we break out above $1,490, and as long as we stay above the $1,450 level, this chart remains bullish. Buy areas would be support near $1,450 or a breakout with good volume above $1,490. It was not a bad move if you took the breakout.
I talked about this nice pattern last week, but I thought it would take some time to resolve. I was wrong, and platinum moved quickly.
Timing is hard sometimes, but as long as you have the right pattern drawn on the chart, you are ready for the breakout. Take the trade as soon as the chart pattern appears, whether you are expecting it or not.
Next up: palladium.
Palladium (PALL) - Get Report grabbed 1.79% on the week and remains strongly in an uptrend channel. See how palladium bounced strongly off the lower end of this uptrend channel? That is great, and tells us the uptrend is still strongly in place.
Buying near the lows, at the 21 day moving average, has worked and will continue to do so -- until it doesn't.
Thank you very much for reading. You can find out more about what I do for members at http://wizzentrading.com.
>>Read More: Why Apple and Google Ended Their Thermonuclear Rift
>>Read More: AT&T's Bid Flunks Verizon Dividend Test
>>Read More: Google Is Close to a Deal for Twitch
At the time of publication, the author held no positions in any of the stocks mentioned.
This article represents the opinion of a contributor and not necessarily that of TheStreet or its editorial staff.