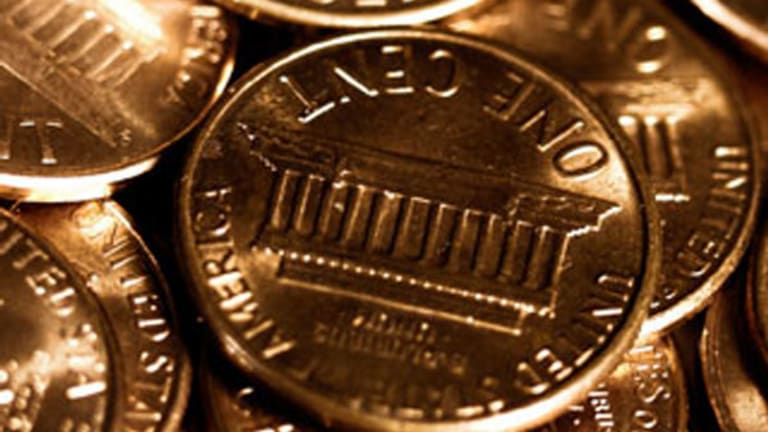 GOFF: A Penny Stock I Warned You About
Hope you were not left holding the Goff bag in this penny stock we warned you about.
Goff's One-Day Chart

NEW YORK (
) --
Goff
(GOFF)
closed down 37.39% Tuesday, at 36 cents a share, on around 60 million shares traded. In Wednesday morning trading, the stock lost another dime, to 26 cents, off 28.06%. In our
, we warned you not to go long in GOFF. We said shorting it would be more beneficial. We were right!
Tuesday morning's
Goff press release
put the axe to the stock. What is interesting is, the release states "potential" to find 20 million ounces of gold, in the very first paragraph. Interpretation: There is no gold and no money. Therefore, traders sold it and a panic selloff ensued!
Also see: Who's No. 1? Ford Says Focus, Toyota Says Corolla >>
In the recent press release, you can also see that Goff is pulling from a publicly available data, Columbian Geological Survey, to determine the "potential" to find this gold. Looks like fools' gold to me.
you can see Warwick Callasse bought the company and became the CEO, CIO, CFO and Treasurer -- all for the grand price of $25,000. He now owns about 108,000,000 shares of the company. Stocks had gone from 13 cents to 65 cents; boosting his shares to a value of around $30 million to $50 million. He is 30 years old, according to the 8k filing. Not a bad month for Callasse.
As the stock rose and rose, I'm sure profit-taking happened and shareholders sold their shares. Then on Tuesday, April 9, the stock got hammered on the news, as everyone sold their shares and left thousands of bag-holders with this worthless stock.
Goff's Five-Day Chart
Be careful trading penny stocks. Some of them are truly wealth killers, unless you can be on the right side of the trade. Never buy-and-hold stocks with any resemblance to GOFF.
For more information on how to trade legitimate "penny stocks," priced between $2 and $10, check out
Also see: Zynga Set to Rocket, but Beware Other Penny Stocks >>
--
Written by Ben Brinneman in Charlotte, NC, owner of C Squared Trading.
At the time of publication, the author held no positions in stocks mentioned, although positions may change at any time.
This article is commentary by an independent contributor, separate from TheStreet's regular news coverage.
Trader Ben Brinneman, featured on MarketWatch, Bloomberg and Reuters, resides in Charlotte, NC and is the owner of
. Ben Brinneman started his career trading bonds for U.S. Bancorp and was an analyst for a wealth management firm. He was mentored by some master traders on the stock market and how to profit week in and week out. After assembling custom trading plans for other traders and friends, it was at that point he decided to create C Squared Trading, and teach other retail traders and investors the methods that had brought him success trading in the stock market.
Brinneman and his team have taught hundreds in a one-on-one mentorship setting via Skype or live in Charlotte. C Squared Trading's mentorship programs are built for those that are serious about learning how to maximize their trading by learning from an expert trader in a live setting.
You can also follow some of their free trades and tips on
. Please visit
for more information on its mentoring program.