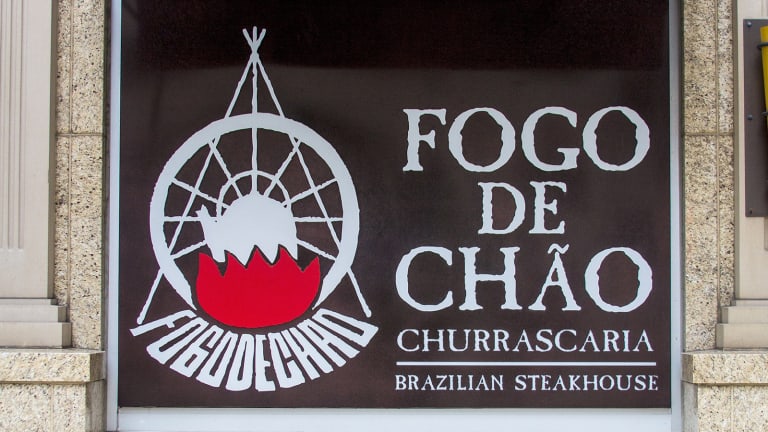 Publish date:
Go With Fogo? Shake Shack? Restaurant Chains Offer Savory Opportunities
Restaurants are now going digital with ordering and payments, creating a potential for increasedd profits. Here are questions you should ask before investing.
Restaurants are now going digital with ordering and payments, creating a potential for increasedd profits. Here are questions you should ask before investing.
NEW YORK (TheStreet) -- If you want to buy a restaurant stock, or a restaurant-related stock, now's the right time to do it.
Consumers are eating out in droves. While fast food icon McDonald's (MCD) - Get Report has been received extensive criticism about its menu and pay for entry-level employees, mid-sized companies marketing themselves as healthier alternatives have been more successful. Witness the successful IPOs of Brazilian chain Fogo de Chao (FOGO) and burger specialists Shake Shack (SHAK) - Get Report, which are both still trading above their initial share prices. 
These companies and others have been able to address public demand for higher-quality fare and create more efficient business practices through their use of the latest technology. New ordering systems are proving especially effective. 
As of 2014, they accounted for $12 billion in annual revenue for restaurants. That number is expected to double in the coming years with consumers becoming increasingly reliant on mobile apps.
Also, restaurants are aggressively marketing their services.
One company behind this innovation is MenuDrive, which allows restaurants to take orders and payments online, and make gift card purchases and reloads. Restaurants that don't take advantage of these tools will not remain competitive.
To be sure, this doesn't mean every restaurant that uses mobile apps is a good investment.
It's important to look at other factors that can make or break a restaurant's digital initiatives and its overall performance.
Before you purchase a restaurant stock, consider the following:
Check the Company's Fundamentals
Calculate the company's free cash flow by deducting the capital expenditures from the cash flow from operations. If the difference is large enough that it'll allow companies to expand its current roster of restaurants, it's probably a good buy.
If a restaurant can keep its selling, general and adminstrative expenses under control, that's also a good sign. You can find this information in the profit and loss -- or income -- statement. 
In addition, you should look carefully at same-store sales, which companies track on a quarterly and yearly basis. They are also accessible in corporate financial statements. Steady improvement is, needless to say, a good indication that the organization is doing things right. 
Other numbers to consider as they would be for other industries: Look at book value per share, price-to-earnings ratio and price-to-sales ratio. All these together will provide a complete picture of a restaurant company's financial health.

Start With Established Brands
The share prices of Domino's (DPZ) - Get Report, Papa John's (PZZA) - Get Report and Chipotle (CMG) - Get Report have made sizeable gains over the past year because they have been able to provide great service and serve consumer tastes. They have also been around for a while so have a record of success. This is not to say that lesser-known brands don't hold promise as Fogo de Chao and Shake Shack suggest. But if you're looking for a surer bet, you would do better to invest first in more established companies. 
Invest In Companies That Offer Online Ordering Services
Companies that serve restaurants may also offer good investment opportunities.
Electronic payment solutions such as VeriFone Systems (PAY) and Vantiv (VNTV) are good buys.
In fact, they're probably better buys than most restaurant stocks, because they benefit directly from the increasing number of restaurants that require their services.
If an online ordering system can leverage the so-called network effect, it's worth looking into.
Think Like a Consumer
To know what restaurant stock to buy, ask yourself questions like:
Why you should patronize an establishment?
Whether the company provides user-friendly technology or is the online buying experience overly challenging? 
If the quality of the food outweighs a restaurant chain's deficiencies? 
These questions aren't foolproof, but they can help in your decision about which stock to buy. 
This article is commentary by an independent contributor. At the time of publication, the author held no positions in the stocks mentioned.