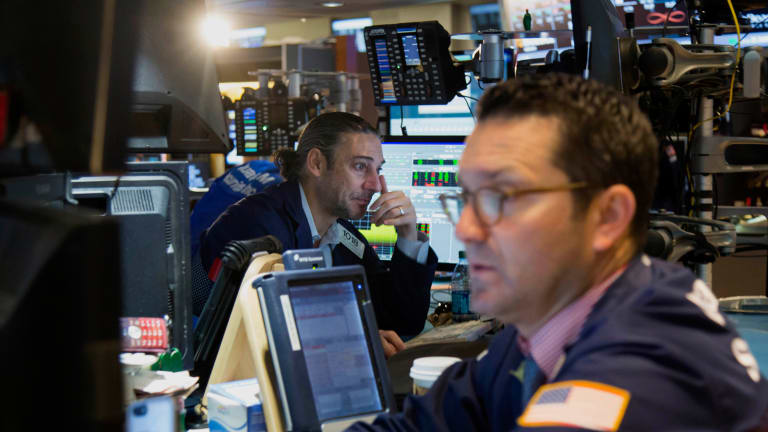 Go Away From the 'Sell in May' Strategy, Cramer Says
The seasonality argument is a 'wives tale' or a 'ditty,' though your broker may be fond of it.
The seasonality argument is a 'wives tale' or a 'ditty,' though your broker may be fond of it.
One of the best-known canards of equities investing is the shopworn saying "sell in May and go away."
(Maybe we ought to update the aforementioned, as perhaps the term "canard" has gone the way of the buggywhip or push-button transmission. Let's say that "one of the best-known memes of equities investing ....")
Either way, disregard it, Jim Cramer says.
"It's a wives tale," Cramer, the manager of the Action Alerts PLUS charitable trust portfolio said in an interview from the floor of the New York Stock Exchange. "It's a ditty ... a poem."
According to the revered Stock Trader's Almanac -- the venerable trove of equities treasures -- a $10,000 investment in the Dow Jones Industrial Average in 1950 would have swelled to $2.4 million by close of 2014 using the "best six months" strategy. That same $10,000 stake in the worst six months would have been in the red by 2014. (A straight "buy and hold" strategy that ignores seasonality would have gleaned a little over $800,000, according to the Almanac, though, keep in mind, that's over a 65-year horizon.)
So ... wait -- seasonality works? Yeah, well ... no, Cramer said. "It hasn't worked very well in a long time."
Keep in mind that that same mythical $10,000 investment in Apple made in 1980, when the company had its IPO, would have returned a comparable $2.5 million. And that in 35 -- not 65 -- years.
Apple is a holding in Jim Cramer's Action Alerts PLUS Charitable Trust Portfolio. Want to be alerted before Cramer buys or sells AAPL? Learn more now.
A USA Today article that Cramer referenced in the interview described this kind of rampant seasonality as "extreme market timing" and "overkill."
If nothing else, think of the capital gains hit you'd take for selling an entire portfolio every May 1. Not to mention the trading costs. Seasonality may be the best thing that ever happened ... to your broker.
Instead of cashing out, think of rotating. "We're in a roving bull market," Cramer said. Currently metals and mining, as well as the broader industrials, are doing well, whereas recently health care was the market leader. "I care about certain cycles doing well," Cramer concluded.