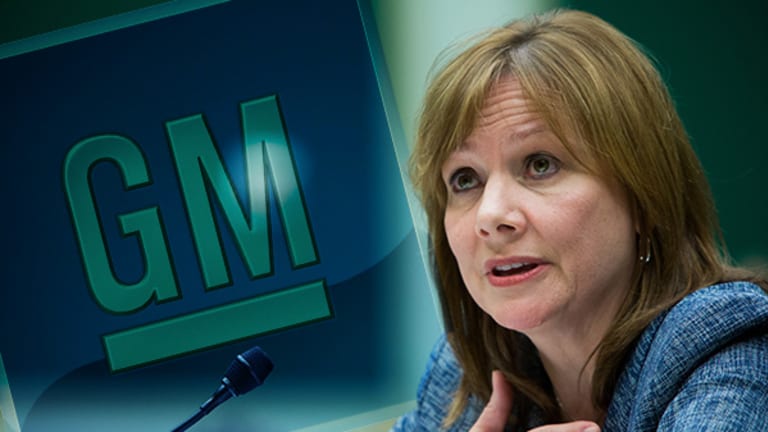 GM Stock Suffers More Blows; Jim Cramer Calls It 'Painful'
GM's shares dip, perhaps responding to faulty ignition woes. Jim Cramer says, "We have been severely disappointed in how the company's doing. It is a painful stock to be sure."
DETROIT (TheStreet) -- General Motors (GM) - Get Free Report shareholders just can't catch a break.  
On, Monday, The Wall Street Journal reported that federal prosecutors are moving toward filing criminal charges against the automaker in connection with a defective ignition switch that's been linked to about 100 deaths in accidents involving Chevrolet Cobalts and other GM cars.
And Sergio Marchionne, chief executive of Fiat Chrysler Automobiles (FCAU) - Get Free Report, approached GM's CEO, Mary Barra, by email about a possible collaboration or merger of the two automakers, only to be told that GM wasn't interested, The New York Times reported over the weekend.
The news about a possible criminal case on the horizon served as just the latest blow to GM shares, which were lower on Tuesday and have remained roughly flat for five years. GM's share price on Tuesday at the market's close was $35.52, having declined .50% for the day. GM's share price has been a frustration for investors who bet that the company would prosper once its balance sheet was relieved of billions in legacy costs through the 2009 bankruptcy and government bailout. The company is still recovering.
Though GM sells only slightly fewer cars than Toyota Motor Corp.  (TM) - Get Free Report, the industry leader, its stock market value is about a fourth of Toyota's.
"My first question about GM is, Can Mary Barra reverse the decades of underperformance that characterized the old GM?" said Brian Johnson, managing director for Barclays Capital PLC, in an interview.
Still, he maintains an "overweight" or buy rating on the stock.
Of the 20 equity analysts that rate GM stock, 12 rate it a buy or strong buy; six call it a stock to hold and two have rated it as a stock that will underperform the market. The analysts' consensus has eroded slightly in the past three months, as one analyst fewer is recommending GM as a buy and one fewer analyst is following the stock.
Here's what The Street's Jim Cramer had to say about the stock, which is part of his Action Alerts Plus portfolio:
"We own General Motors for the trust and have been severely disappointed in how the company's doing. We hold on for the yield and the possibility that Europe can get better but it is a painful stock to be sure."
Exclusive Look Inside:
You see Jim Cramer on TV. Now, see where he invests his money and why General Motors is a core holding of his multimillion dollar portfolio. Want to be alerted before Jim Cramer buys or sells GM? Learn more now.
Barra testified before Congress last year in the ignition switch case, only a few months after her promotion to the top job. She asserted that the automaker is now a "different" and improved company than the one that failed to bring the defect to light.
Investigators have said GM knew about the defects for more than a decade. It wasn't immediately clear if the government will charge individuals in the case, how penalties might be assessed and whether GM is likely to contest the prosecution.
But a settlement of criminal charges may bring resolution closer to another gloomy chapter in the history of the automaker.
The overture from Fiat Chrysler, if it happened as reported, wouldn't be surprising since Marchionne has openly urged more cooperation and partnerships among automakers.
GM's dismissal of an overture might suggest that the automaker has decided it has plenty on its plate, such as trying to put the ignition switch controversy behind it.
In March 2014 the U.S., signaling its intent to be more aggressive on automotive safety regulation, fined Toyota $1.2 billion to settle criminal charges that it had hid safety defects connected to claims of unintended acceleration.
Toyota executives had insisted early on that they had hidden nothing and had acted deliberately and responsibly to get to the bottom of cases in which customers reported that their vehicles accelerated uncontrollably even when they had their foot on the brake.
But Toyota faced the possibility of a long and potentially disastrous criminal trial if it decided to contest the government's charges -- an prospect that GM may face as well.
This article is commentary by an independent contributor. At the time of publication, the author held no positions in the stocks mentioned.