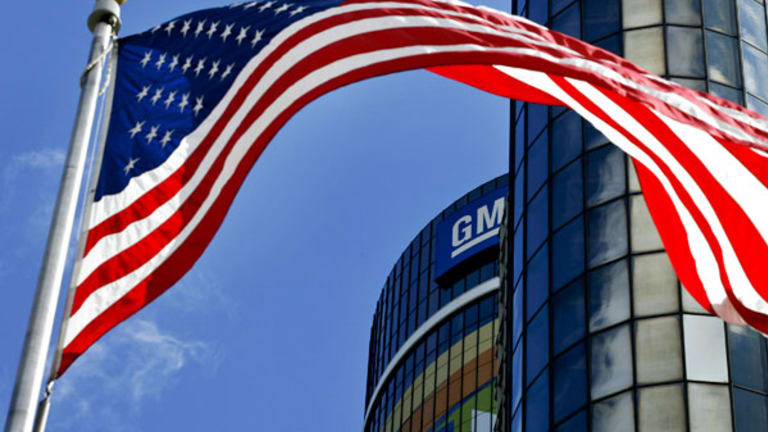 GM Isn't Alone in the Race to the 200-Mile Electric Car
New rumors don't change my view: GM will have two different plug-in electric car platforms in the next one to three years.
A few days ago, the Internet was again abuzz with rumors about a future electric car from General Motors (GM) - Get General Motors Company Report.  The claim was that it would have 200 miles of range, be available by the end of 2016 and be part of the Chevrolet Sonic nameplate.
In essence, this is only a variant of rumors based around seemingly inconsistent statements from then-outgoing GM CEO Dan Akerson last December.  I analyzed these inconsistencies on Dec. 16.
This time, it's really not a lot better, except for one thing:  LG has recently said that it will have a battery capable of providing 200 miles of range by 2016.  LG is GM's current battery supplier, but LG also supplies a long list of other automakers.
To understand what GM's situation is in the area of plug-in electric cars, let's first review what the company offers today.  One pure electric GM car is offered mainly in California and Oregon: the Chevrolet Spark.
Two plug-in electric cars with range-extenders are offered nationally and, in some cases, in other countries:  Chevrolet Volt and Cadillac ELR.
Many people got -- negatively -- excited by the suggestion that GM would offer its next-generation pure electric car under the Chevrolet Sonic umbrella.  The Chevrolet Sonic is GM's second-smallest car sold in the U.S., to the tune of approximately 100,000 per year.  It is viewed as a "cheap car" -- especially by those who haven't driven it.
The other small Chevrolets sold in the U.S. -- Spark and Cruze -- sell to the tune of 50,000 and 300,000 per year, respectively, in the country.  Collectively, they have all seen huge sales increases as they were introduced in various stages over the last three years.
They are also well through the midlife of their product life cycles.  All-new replacements are expected in the next one to two years.  From this standpoint, if GM wants to make its electric drivetrain cars as part of any of these platforms, they will all be a lot more attractive than they are today.
I obviously don't know this for a fact, but it shouldn't take a rocket scientist to figure out what GM's approximate electric car plans are for the next one to three years.  This should be exactly the same as I pointed out in my December article.
At its core, GM likely has two separate plug-in cars planned for release in the next one to three years:
First, a plug-in hybrid to replace the current Chevrolet Volt and Cadillac ELR.  The main feature of this car is to have an electric range of approximately 40 miles, and then a gasoline engine adding normal car range after that.
Let's call this car the Volt 2.0.  It will basically do the same thing as the current Volt, except it will be refined (interior, suspension and NVH [noise, harshness and vibration]) and cost-reduced.  In an ideal world, GM would like to sell some version(s) of this car for $30,000 to $35,000 while making its standard margin profit.  It is widely assumed that GM is losing money on the current Volt, which starts at $35,000.
Most industry observers think GM is taking close to $8,000 in cost out of the Volt, for this all-new 2.0 model.  In addition, GM could of course offer this platform in additional body styles, where prices and margins would be better.  Most industry observers assume that the first version of this Volt 2.0 will be introduced at the Detroit Auto Show in January 2015 and enter production a few months thereafter.  That seems reasonable, but I can't verify the timing.
That leaves us with the second, and far more difficult, electric GM car.  This would be a 200 mile range pure electric car that could be sold at a profit for as little money as possible.
It is obvious that GM would need to make this 200-mile EV a reasonably attractive one, and it could not afford to offer it at a price any higher than any competitor.  Presumably, GM would like to offer it for several thousand dollars less than anybody else, except perhaps Nissan (NSANY) and Hyundai.
I envision the initial version of this car to be broadly attractive, appealing to the mainstream market.  Whether the battery comes from LG or from any of other several possible suppliers, we just don't know at this point.
The bigger question is the timing.  Many industry participants are racing to be able to produce a 200-mile mainstream pure electric car by 2017 at the latest.  To reach this goal and plant the flag will be a source of major prestige among the automakers.
Of course, any automaker could hold a press conference right now, today, and make claims about being the first to announce a 200-mile electric car that will be delivered sometime in the future.  That's easy.  Talk is cheap.  The issue is who will be able to actually deliver this car in volume -- many tens of thousands of cars -- and profitably so.
Unlike a few years ago, when the infancy stage of electric cars was clothed in lots of kumbaya and "we are all friends" attitudes, the gloves are now off among the automakers.  It has become increasingly hard to figure out what is talk and what is real.  Some automakers give almost no hints as to their intentions, and those who make statements may be trying to smartly mislead the competition.
After all, why would an automaker give the competition any clues?  In May 1944, did Gen. Eisenhower give Field Marshal Hermann Goering a call to tell him to reposition his troops for the D-day invasion?  Of course not.
If I were in charge of an automaker, I would seek to conceal my intentions, and induce my competitors to look in all the wrong places.  Let them waste R&D dollars on less promising projects, while I go ahead and finalize what I am really believing will sell the most.
That leads us to the big question regarding the 200-mile pure electric car: the timing.  It's the same question we could ask from Nissan, Ford (F) - Get Ford Motor Company Report, Volkswagen (VLKAY) and all the other automakers.  You can of course make a 200-mile pure EV today, if you thought that you could sell it profitably at the intended target price.
The issue is to deliver such a 200-mile pure EV profitably, however.  At what price would that be, and when?  Few people in the industry suggest you can make such a car in volume by the end of 2016, but perhaps it can't be ruled out.
Let's say it's 2017.  Perhaps not all 200-mile EVs will be the same?  I don't mean acceleration, fancy interior, or some other non-range metric.  I mean in terms of defining 200 miles of range.
What I mean here is that you could have two cars delivering 200 miles of range when they are new.  However, after 10 or 20 years of use, and 200,000 miles under the belt, the remaining range could differ widely between two otherwise similar cars that were both 200-mile cars when new.  One may have lost 25% range, but the other one may have lost 40% of range.
The point here is that in the race to the 200-mile car, it may be tempting for an automaker to deliver a 200-mile car whose battery degrades faster than a competitor's car.  This would be shortsighted, of course, but it could happen, and the car might be on the road for many years before we found out.
The bottom line is this:  It appears likely that GM will be competitive in electric cars in the years to come.  Specifically, logic suggests it looks to offer two separate cars -- one plug-in hybrid (Volt 2.0), and, subsequently, one pure electric car with 200 miles of range.  If I were GM, I would tell us about them as late as possible.
At the time of publication, the author held no positions in any of the stocks mentioned, although positions may change at any time.
This article is commentary by an independent contributor, separate from TheStreet's regular news coverage.