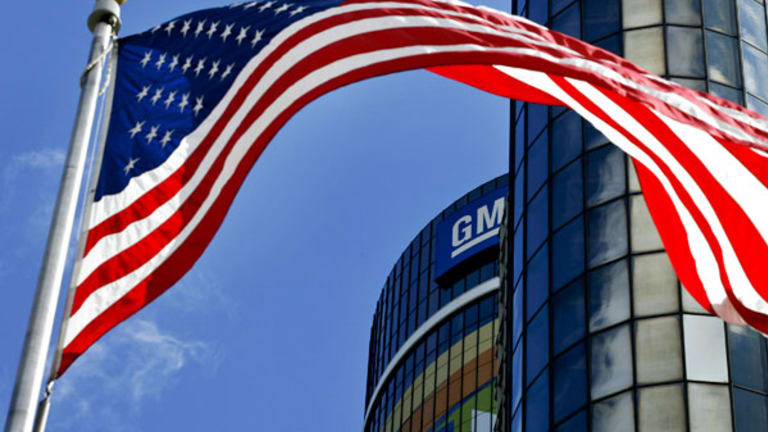 GM Becomes a Business Story Again
When General Motors was under bankruptcy protection, many people assumed the company would never become 'just' a business story again. They were wrong.
NEW YORK (
) -- When
General Motors
(GM)
was in the throes of bankruptcy, almost five years ago, it was assumed the company could never become "just" a business story again.
The assumption is proving to be wrong.
GM is once more striding the globe, winning in some places, losing in other places, but generally moving forward on behalf of shareholders.
The company is still trailing
Toyota
(TM)
in total auto sales, but
. GM sold 7.25 million vehicles worldwide during the first nine months of this year, vs. 7.41 million for the Japanese company.
GM is also stepping up in other markets. It is pushing Chevys in China alongside a state-owned partner,
SAIC Motor
, and GM says the two partners are considering opportunities in Indonesia. GM is talking about developing Opel cars for the 2018 model year in Europe on its own, as its alliance with
PSA Peuguot Citroë:n
of France frays.
Not all of the news is good. Majority-owned
General Motors India
is facing a huge fine over alleged corporate fraud involving emissions testing going back to 2005. Vehicles have been recalled and some employees fired.
But in general, as the company prepares to announce earnings this week, indications are positive again. Analysts are expecting earnings of 94 cents a share for the quarter ending in September. The June numbers were $39.08 billion in sales and diluted normalized earnings of 83 cents a share.
Of the 19 analysts now following the stock, 16 have it listed as a buy or overweight, because GM has beaten estimates by 10% in the last two quarters, making its price-to-earnings ratio of nearly 13 look cheap.
GM shares are up more than 23% so far this year. That's less than the 35% gain by
Ford
(F)
. But GM shares have had a "motivated seller" in the form of the U.S. government, which is still holding shares obtained in the bailout. The hope is that once the government is out the stock can run ahead.
After three years on the job, CEO Daniel Akerson is now being asked for his "leadership lessons," and reporters are not being ironic. Akerson came from the
Carlyle Group
to GM in July 2009 as part of the buyout, and his income will be limited until the government sells the last of its stake, possibly by April.
Akerson, who turned 65 last week, is reportedly looking at four potential successors, all of whom are considerably younger and all of whom presently work at the company.
Still, the bailout will leave a permanent mark on GM, especially because the government has only gotten back $36 billion of the $51 billion invested in the company and now expects to lose $10 billion on the deal once all shares are sold.
Our Peter Morici is still upset over unions gaining what he has called
"confiscated" property in the bailout.
But the Obama administration is caught between a rock and a hard place. The sooner it sells its shares, the more the buyout winds up losing, but the longer it holds shares, the more critics will call the company "Government Motors."
History will say the bailout helped the President's re-election, with the administration claiming it saved 1.4 million jobs, not just at GM but at Chrysler and their suppliers. "Bin Laden is dead but GM is alive" became the 2012 equivalent of
Tippercanoe and Tyler Too
. Some may always call GM a Frankenstein monster. But it's very much alive.
The bottom line is that GM's days as a political story are headed for the rearview mirror. It's going to become "just" a car company again. A great, big car company.
At the time of publication, the author owned no shares in companies mentioned here.
This article is commentary by an independent contributor, separate from TheStreet's regular news coverage.
Dana Blankenhorn has been a business journalist since 1978, and a tech reporter since 1982. His specialty has been getting to the future ahead of the crowd, then leaving before success arrived. That meant covering the Internet in 1985, e-commerce in 1994, the Internet of Things in 2005, open source in 2005 and, since 2010, renewable energy. He has written for every medium from newspapers and magazines to Web sites, from books to blogs. He still seeks tomorrow from his Craftsman home in Atlanta.