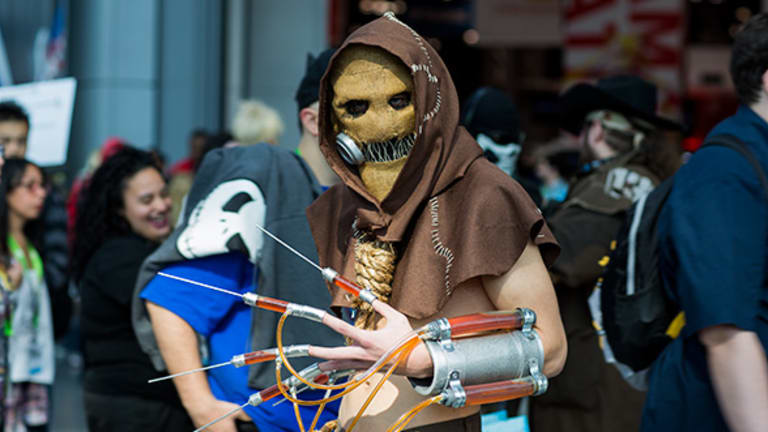 The Global Stock Market Is Now Worth a Record $76.3 Trillion - And That's Terrifying
Risk on, that's for sure.
Global equity markets hit another record Friday, taking the collective value of stocks higher than the dollar value of the world economy for the first time in history.
Bloomberg's World Exchange Market Capitalization index pegs global equity values at a record $76.3 trillion, a tally that tops the $75.3 trillion figure the International Monetary Fund uses to value the global economy. Both figures are record highs (although the IMF number is fluid and based on end 2016 data) and suggest stock values outstrip the value of the economies in which they operate for the first time.
This has some investors, including KKR & Co., unnerved.
"Today, almost all our work streams suggest that asset prices across most parts of the global capital markets are somewhere between fair value and expensive," the group's macro strategy team wrote in a detailed research paper published late Thursday.  "From a cycle perspective, we believe that we are mid-to-later cycle in some of the more developed markets, including the United States. Consistent with this view, our base case remains that we have some form of an economic pullback in 2019."
The world's fourth-largest private equity group is also forecasting a "mild" U.S. recession in the next two years that would have similar attributes to the contraction seen in the early 2000s as opposed to collapse that followed the global financial crisis.
KKR's team thinks slowing consumption from millennials, who will spend their cash on "experiences over things", will lead to deleveraging and argues that global financial assets "are somewhere between fair value and expensive."
"Our base view continues to be that the U.S. dollar is in a near-term lull before its last rally, likely driven by a U.S. recession in 2019," KRR's Henry McVey wrote. "From a valuation perspective, the U.S. dollar now appears overvalued on a real effective exchange rate basis while most other currencies are either undervalued or close to fair value, suggesting the longer-term trend is in favor of a weaker U.S. dollar."
The dollar index, which measures the greenback's strength against a basket of six global currencies, is trading at 95.38, its lowest levels in 10 months as investors trim bets on faster rate hikes from the U.S. Federal Reserve as inflation slows and economic data points to uneven growth.
What's Hot On TheStreet
More issues for food makers: As if food makers such as Kraft Heinz (KHC) - Get The Kraft Heinz Company Report and grocery retailers like Kroger (KR) - Get Kroger Company (The) Report and Walmart (WMT) - Get Walmart Inc. Report didn't have enough issues on their plate thanks to Amazon's (AMZN) - Get Amazon.com Inc. Report advances.
A significant demographic headwind could add further pressure on the packaged food and grocery store sectors in the years ahead, according to Wolfe Research analyst Scott Mnushkin. The U.S. government reported recently that the fertility rate in the U.S. (births per 1,000 women) hit a record low of 62.0 in 2016, with the number of births down about 1% from the prior year. With births declining and immigration slowing, population growth in the U.S. has stalled.
For the aforementioned sectors, Mnushkin points out, it's critical households are formed in order for demand to materialize. The fact that's not happening at a decent clip is troublesome.
All eyes on Apple's iPhone 8, per the usual: Barclays analyst Mark Moskowitz is not buying the projected "super cycle" in Apple's (AAPL) - Get Apple Inc. Report stock after the tech titan releases its highly anticipated iPhone 8 later this year. Amid reports that the highly anticipated smartphone may not include wireless charging, enhanced 3D technology, or Touch ID, Moskowitz contends that the phone's OLED display, the lone headline feature, won't be enough to convince consumers to upgrade.
"With OLED, we struggle to see the incremental benefits visually that would inspire a customer to replace an adequately-performing device," he noted.
Hard to argue with this one: Count Foursquare co-founder and executive chairman Dennis Crowley among the big fans of Amazon's surprise move to acquire Whole Foods (WFM) for $13.7 billion in mid-June.
Crowley, who built the location intelligence company into a service with 50 million monthly active users across its two apps since founding the company in 2009, spoke with TheStreet'S Natalie Walters at the company's hip headquarters in Soho, New York.
"I can see what Amazon is trying to do there," Crowley said. "I think it's super brilliant." As for what Crowley is up to at FourSquare right now, check out TheStreet this weekend.
Apple is a holding Jim Cramer's Action Alerts PLUS Charitable Trust Portfolio. Want to be alerted before Cramer buys or sells AAPL? Learn more now.
Visit here for the latest business headlines.