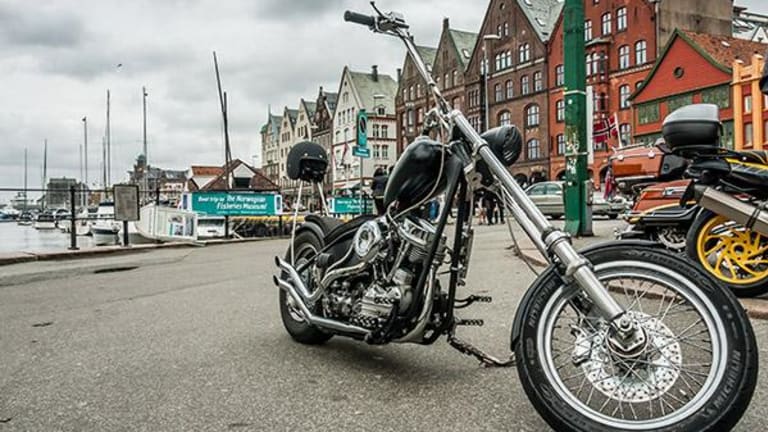 Harley-Davidson CEO: We Just Did Something Huge
Harley-Davidson managed to claw back market share in the U.S. after over a year of dealing with tough competition.
Updates with comments from Harley-Davidson's CEO.
Even as it navigated challenging conditions in the U.S., Harley-Davidson (HOG) - Get Report managed to achieve one important thing: It got people to choose its new bikes over its competitors'.  
On Thursday, Harley reported market share in the U.S. rose two percentage points to 49.5% as it started to gain traction with bolstered marketing efforts and several new products. The company said it found success with newer bikes in the lower-priced cruiser and sportster categories. Considering Harley's market share has been under pressure for over a year due to aggressive discounting from Japanese bike manufacturers such as Honda (HMC) - Get Report , the improvement in the second quarter stood out. 
"It's huge," Harley-Davidson President and CEO Matt Levatich told TheStreet when asked about the market share gain. He added, "I think yes, we did take share from them [Japanese bike makers] and some European competitors." 
Investors chose to focus on the U.S. share gain as opposed to a mixed quarter overall for the legendary bike maker. Shares rose about 1% in recent trading.
Harley's worldwide sales fell 1.9% year over year. Earnings rose 7.6% from a year ago to $1.55 a share, beating Wall Street estimates by 1 cent. U.S. sales fell 5.2% from the prior year. In the first quarter, U.S. sales fell slightly. International sales rose 4.3%, fueled by increases in Canada, Europe and the Asia Pacific regions.
The sluggish consumer spending backdrop in the U.S. that hurt Harley's U.S. sales, as well at other consumer-oriented companies such as Starbucks (SBUX) - Get Report and McDonald's (MCD) - Get Report , found its way to Harley's outlook.
Harley now predicts full-year shipments of 264,000 to 269,000, down from a prior estimate of 269,000 to 274,000. Operating margins are now pegged in a range of 15% to 16% compared to a prior outlook of 16% to 17%.
Said Levatich of the current operating environment in the U.S., "If you look at unemployment rates they are low, but then you step back and look at things it feels very cautionary. That is why we took the step to bring down our shipment and inventory levels by the end of the year because there isn't anything that suggests, woo-hoo, we are off and running."
Harley plans to debut its 2017 models to dealers in August.