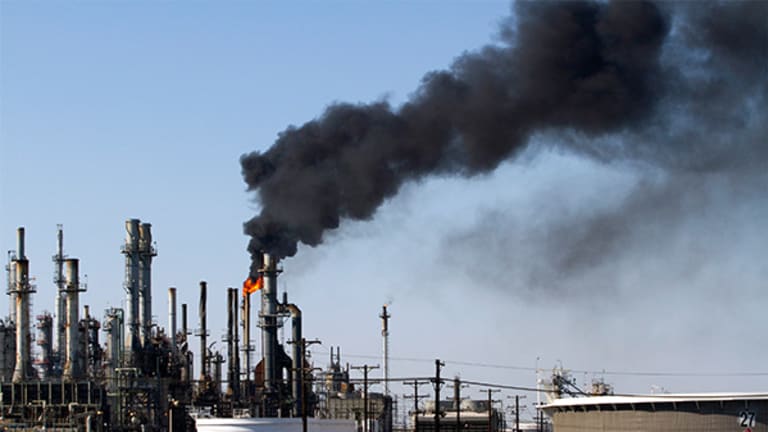 Global 'Oilmegeddon' Is on the Way -- Here's How to Play the Oil Crash
Saudi Arabia is trying to convince its recalcitrant OPEC peers to cut production, but chances of success are slim. Here's how to profit from the free-fall in energy prices.
Are we witnessing the Fall of the House of Saud? The royal family in Saudi Arabia must regret the ruinous price war it launched in a misguided attempt to bankrupt U.S. shale oil producers and other rivals.
By throwing open the spigots, it helped create a severe supply glut that has pushed oil prices to 12-year lows. A strong dollar is exacerbating the crisis in the energy patch. The International Monetary Fund now estimates that revenue-deprived Saudi Arabia could run out of cash reserves in five years. Persistent woes among energy stocks are sending investors looking for promising growth plays in other sectors, notably biotech.
Producer nations such as Venezuela and Nigeria heavily rely on oil to fuel their economies, which is why they've so far resisted Saudi Arabia's desperate entreaties to curtail production.
Saudi Arabia on Sunday announced discussions between its energy ministers and their Venezuelan counterparts to discuss plans to cut production and boost prices. But the unfolding talks increasingly appear fruitless, further weighing on oil prices with no end in sight to the decline. U.S. crude oil prices now hover at $30 a barrel, about 71% lower than their midsummer highs in 2014.
Energy strategists at Morgan Stanleypredict that oil will fall below $20, a prospect that should terrify not just the energy sector but global investors everywhere. But remember the old Wall Street adage: Buy when there's blood in the streets.
There's an easy way for you to make money from the continued plunge in oil and gas prices, without the enormous risk of trading complex and time-sensitive options: ProShares UltraShort Oil and Gas ETF (DUG) - Get ProShares UltraShort Oil & Gas Report , an inverse exchange-traded fund that's designed to generate a daily performance that corresponds to twice (-2-times) the opposite of the daily performance of the Dow Jones U.S. Oil & Gas Index.
data by
The Dow Jones U.S. Oil & Gas Index measures the performance of the energy sector, with holdings that include oil drilling equipment and services, coal, and major oil companies. Components include Anadarko Petroleum, Apache, Chesapeake Energy, Chevron, EOG Resources, Halliburton, Kinder Morgan, and Marathon Oil -- in other words, energy stocks that are eminently worthy of short positions.
With net assets of $41.79 million, the Pro Shares UltraShort Oil and Gas ETF has gained 61.88% over the past year and 15.17% year-to-date, compared to returns of -9.54% and -10.80% for the S&P 500, respectively. DUG's expense ratio is a reasonable 0.95%.
The nifty aspect of this inverse ETF is that you can buy and sell it just like a stock. The fund enables you to make money from further declines in oil and gas prices, without dumping inherently strong energy and exploration giants that may be in your portfolio, such as Chevron, Exxon Mobil or ConocoPhillips.
By purchasing DUG, you can hedge your portfolio by making a bearish play on oil and gas prices, but at the same time you can avoid taking brutal losses on any long positions you may have in energy.
As we've just explained, there's no relief in sight for the beleaguered energy patch. But we've found a small-cap biotech "rocket stock" that's about to take off. UCLA researchers are stunned by a Nobel Prize-winning cancer breakthrough that's proven in clinical trials to eliminate lethal forms of cancer with a single dose. One innovative company owns the patent to this life-saving treatment. Now trading at about $5 a share, the stock of this company is projected to surge 2,700% on an imminent FDA announcement. To download the full report, click here.
John Persinos is editorial manager and investment analyst at Investing Daily. At the time of publication, the author held no positions in the stocks mentioned.