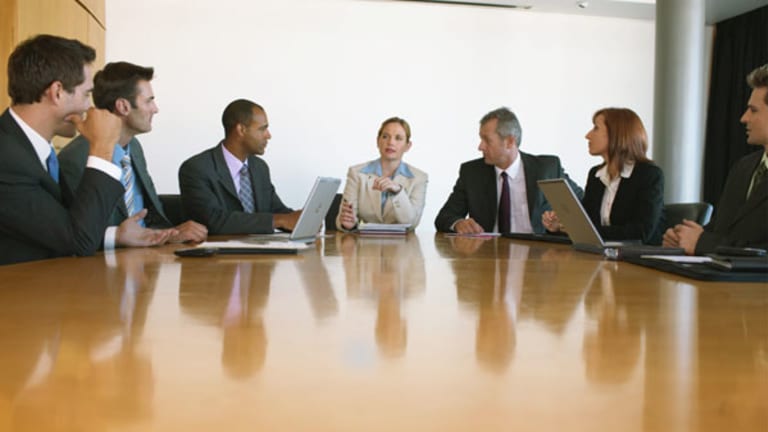 Global Macro: When Bernanke Speaks, We All Listen
Investors eagerly await Bernanke's comments on Wednesday, as central banks continue to roil markets.
NEW YORK (TheStreet) -- Global markets have been rattled the past few weeks by uncertainty over central bank stimulus.
In late May, the
Federal Reserve
released what looked to be foreshadowing comments about an end to quantitative easing, and more recently the Bank of Japan failed to relieve the volatility that had crept up in Japanese markets. With central banks playing such an important role in the daily movements of financial markets, anything they say or fail to say is sure to incite a fury of activity.
This week Fed Chairman Ben Bernanke will speak on Wednesday, and investors hope he clarifies his statements from last month in order to bring back stability to world markets. The Fed may be the first to rein in stimulus among the world's major central banks, but actual tightening does not look to be a viable solution until possibly 2014.
The first chart to study below is of
S&P Equal Weight ETF
(RSP) - Get Report
over
SPDR S&P 500
(SPY) - Get Report
, which measures the
S&P 500's
market breadth. When the pair moves higher, it signals that a majority of the stocks in the S&P are taking part in the rally, a bullish indicator.
Also see: 3 ETFs for Determining Your Stock Allocation>>
The pair has traded sideways much of 2013, a testament to the uncertainty investors have felt as equities have reached record highs. The two variables that have most contributed to equity markets strength this year have been central bank stimulus and solid company performances.
Corporate performance has been pretty steady, but with earnings season over and the potential end to central bank stimulus, investors have taken profits and moved to the sidelines.
The pair below has pulled back into its consolidation region as investors have taken profits at all-time highs, and chosen to wait for reassurance from central banks before reentering. It is likely that this pair will pull back even further leading into an economic heavy week for the U.S. and of Bernanke's speech on Wednesday. If Bernanke gives the reassurance that investors are looking for, this pair should continue move higher and risky assets across the world will benefit.
Currency markets have similarly played an important role in determining investor sentiment over the past few weeks. A stronger yen led to volatility in Japanese equities, and uncertainty over the Fed's next policy move led to U.S. dollar weakness.
The chart below is of
DB USD Index Bullish
(UUP) - Get Report
over
CurrencyShares Swiss Franc Trust
(FXF) - Get Report
. The Swiss franc has acted as an alternative safe-haven currency to the yen, as volatility has shaken all Japanese assets.
Fear over the Fed's next move has sent dollar bulls to the sidelines and led to a strong selloff in the pair below. Although the Fed will probably be the first central bank to tighten policy, this pair should continue higher this week based on a clearer outlook from the Fed.
The International Monetary Fund urged the U.S. on Friday to clean up its fiscal mess and continue monetary support for its economy. If the Fed heeds this advice and continues to support its economy, U.S. dollar volatility will fall and buyers should reenter the market.
The final pair is of
Barclays TIPS Bond Fund
(TIP) - Get Report
over
Barclays 7-10 Year Treasury Bond Fund
(IEF) - Get Report
, which measures inflation expectations in the
Treasury
market.
Foreign investors have been fleeing U.S. debt because of fear of rising rates and diminished bond value. Similarly, inflation-protected securities have witnessed large outflows as investors don't see a need in hedging against inflation now.
Also see: Top 10 Travel Sites>>
U.S. growth has remained tepid and inflation indicators consistently underperform Fed expectations. Until inflation becomes a concern, inflationary assets such as Treasury Inflation Protected Securities (TIPS) and gold will have little demand.
Lack of inflation gives central banks little reason to tighten monetary policy just yet. Central banks can still promote growth and a stronger labor market, as prices increase at a sustainable rate.
It is prudent to keep an eye on the ever-increasing Federal Reserve balance sheet, but this week's comments do not look like an appropriate event for Bernanke to hint at changing monetary policy.
At the time of publication the author had no position in any of the stocks mentioned.
Follow @AndrewSachais
This article is commentary by an independent contributor, separate from TheStreet's regular news coverage.
Andrew Sachais' focus is on analyzing markets with global macro-based strategies. Sachais is a chief investment strategist and portfolio manager at the start-up fund, Satch Kapital Investments. The fund uses ETF's traded on the U.S. stock market to gain exposure to both domestic and foreign assets. His strategy takes into consideration global equity, commodity, currency and debt markets. Sachais is a senior at Georgetown University earning a degree in Economics.