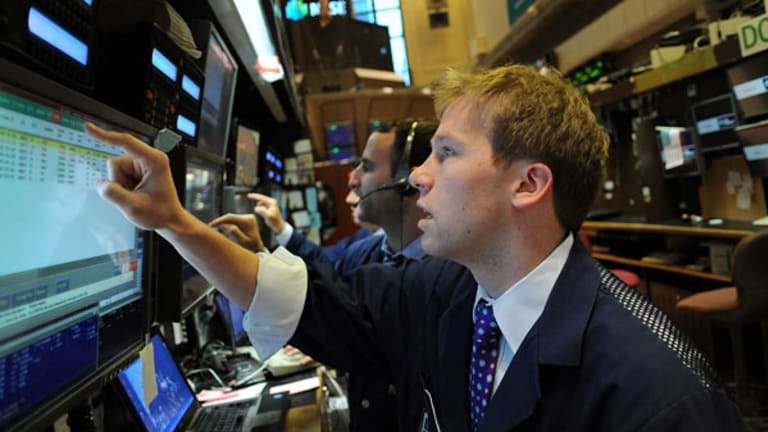 Global Macro: U.S. Yield Curve Steepens and Risk Assets Benefit
As the yield curve steepens in the U.S., equities and other risk assets push higher.
NEW YORK (TheStreet) -- Equity markets rebounded sharply on Tuesday after a long holiday weekend.
Economic data were better than expected, showing strong consumer confidence and a spike in housing prices. As sentiment continues to rise and the fear of an early end to quantitative easing subsides, risk assets should continue higher.
Although the economic picture in the U.S. has picked up considerably throughout 2013, we are still far from the kind of fundamental strength needed to have a self-sufficient market. Markets look to be realizing this notion and acting accordingly.
Below is the first chart of
Barclays 1-3 year Treasury Bond Fund
(SHY) - Get Free Report
over
Barclays 20+ year Treasury Bond Fund
(TLT) - Get Free Report
. This pair represents the U.S. Treasury yield curve. When the pair moves higher it signals that short-term notes are outperforming bonds farther down the yield structure and is bullish for the economy.
>>Also see: Yahoo! Has Room to Grow >>
Weak demand pervaded the U.S. debt auction on Tuesday, which pushed yields up towards yearly highs. The chart below signals that the yield curve, too, is nearing a breakout.
Investors' movement out of longer-term bonds and fixed income in general means that risk assets should benefit greatly. Whether improved economic data are bringing confidence back to the markets or investors are selling bonds foreshadowing an end to QE, funds look to be seeking out higher-yielding assets at this time.
The next pair is of
Guggenheim S&P 500 Equal Weight ETF
(RSP) - Get Free Report
over
S&P 500 ETF
(SPY) - Get Free Report
. This pair measures market breadth, or the amount of participation by stocks in the index. A rally where the indicator below moves higher signals strength.
Increased volatility in the market and equity index pullbacks have brought this pair lower, but there looks to be signs of support. The pair settled today around its 50-day moving average and is primed for a break higher.
As investors become more inclined toward risk, equities should show strength.
>>Also see: Your Top Bets for a High-Paying Job in 2020 >>
The release of U.S. GDP data on Thursday and a stronger consumer -- as seen today in consumer sentiment data -- should boost the reading. Stronger GDP should push the yield curve higher as well as equities.
At the time of publication the author had no position in any of the stocks mentioned.
Follow @AndrewSachais
This article was written by an independent contributor, separate from TheStreet's regular news coverage.
Andrew Sachais' focus is on analyzing markets with global macro-based strategies. Sachais is a chief investment strategist and portfolio manager at the start-up fund, Satch Kapital Investments. The fund uses ETF's traded on the U.S. stock market to gain exposure to both domestic and foreign assets. His strategy takes into consideration global equity, commodity, currency and debt markets. Sachais is a senior at Georgetown University earning a degree in Economics.