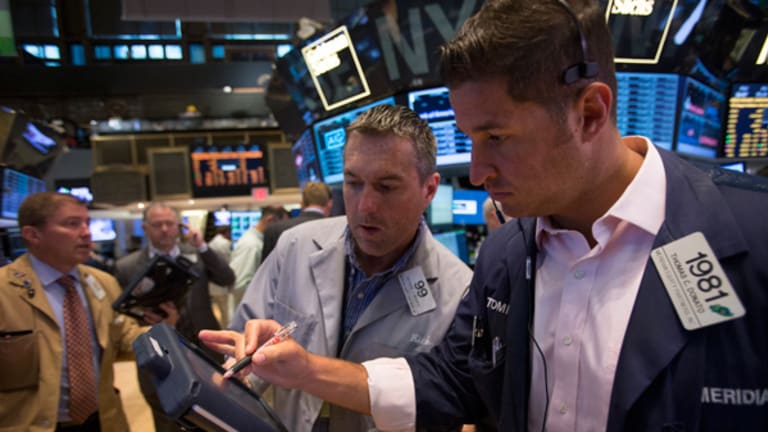 Global Macro: Trading the Information Void
Here are some charts to watch until the Fed provides more clarity on its tightening plans.
NEW YORK (
) -- The summer is coming to an end, which means we are on the last leg of light trading volumes and uncertainty over monetary policy.
As close as we are to the end, we are not in the clear just yet. The
Federal Reserve
meetings don't start for another few weeks, which means investors are left filling the information void by trading on perception rather than hard facts.
The lack of clarity has pushed volatility higher and led to a multiweek downturn in U.S. equities. The
SPDR S&P 500
(SPY) - Get SPDR S&P 500 ETF Trust Report
seen below shows a break lower after consolidation at record highs, but the market has since stabilized.
Lighter volumes will continue to exaggerate price swings, and with both durable goods and Gross Domestic Product numbers out this week, extreme readings in either direction could cause large moves to the downside.
Read: Low-Volatility ETFs for the Long Term
The issue with economic data in the current environment is that all readings are subject to any form of interpretation. If the data are wildly good, then investors can either view them as positive for economic stability, or view them negatively as justification for tighter monetary policy.
On the other hand, a very negative number could be viewed negatively as signaling economic weakness or positively as justifying further stimulus.
In either case, investors are left in the dark about what will happen. This has led to increased volatility in the market, especially since the much anticipated September Fed meeting is quickly approaching.
Read: Onyx Pharma CEO Turned $1 Billion Into $10 Billion With Amgen Takeout
The chart below is of the CBOE Volatility Index, better known as VIX. The VIX bottomed in mid-August, then as equities spiked lower, the VIX inversely gapped upwards.
An exchange-traded security that closely tracks the price movement of the VIX is
iPath S&P 500 VIX ST Futures ETN
(VXX) - Get iPath Series B S&P 500 VIX Short-Term Futures ETN Report
The VIX sits at elevated levels, but it still looks to have room for a move higher if markets react negatively to economic data this week. Expect volatility to continue in an upward trend.
The last chart is of
PowerShares DB Commodity Index Tracking
(DBC) - Get Invesco DB Commodity Index Tracking Fund Report
. This commodities basket carries the most weight in energy and precious metals.
Oil has seen a steep rise as geopolitical tension in North Africa quickly elevated the past few weeks. The premium tied to this has been a major reason for the large move in price.
Read: Should I Get a Reverse Mortgage?
Gold too has seen a large run-up in the past few weeks. Both a weak dollar and falling equity markets have pushed funds into the precious metal.
The price action in commodities remains strong, but the index is moving toward on major resistance levels.
A stronger dollar could push the index lower, but if that is accompanied by falling equity markets and continued strife in North Africa, it is uncertain where the index will go.
Keep an eye on this commodities basket over the next few weeks to gauge how investors integrate the new outlook on monetary policy and their feelings on commodity market strength.
At the time of publication, Sachais had no positions in securities mentioned.
Follow @AndrewSachais
This article is commentary by an independent contributor, separate from TheStreet's regular news coverage.
Andrew Sachais' focus is on analyzing markets with global macro-based strategies. Sachais is a chief investment strategist and portfolio manager at the start-up fund, Satch Kapital Investments. The fund uses ETF's traded on the U.S. stock market to gain exposure to both domestic and foreign assets. His strategy takes into consideration global equity, commodity, currency and debt markets. Sachais is a graduate of Georgetown University, where he earned a degree in Economics.