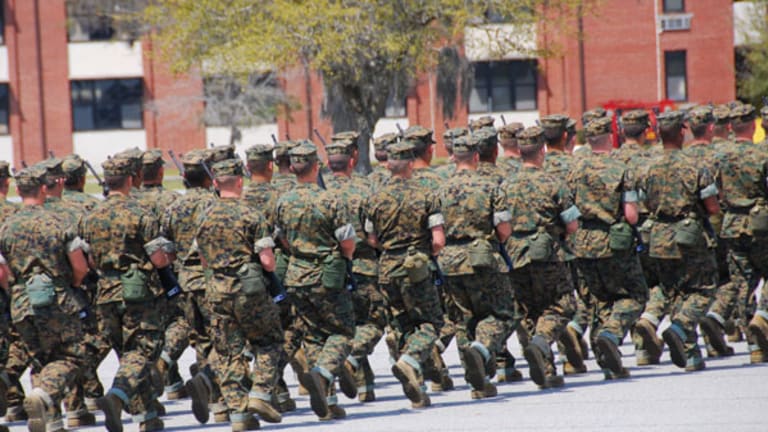 Global Macro: Focus Turns to Syria
The Syrian conflict has major implications for global financial markets as an air strike by the U.S. seems imminent.
NEW YORK (TheStreet) -- As investors await the Federal Reserve's policy meeting in September, the Syrian conflict is filling the void in influencing trading.
Syrian rebels are trying to overthrow Syrian President Bashar al-Assad. Western powers have been hesitant to arm the rebel forces out of fear that al Qaeda powers may procure weapons that end up in the rebels' hands.
Now, however, Western powers have threatened to intervene because they believe Assad's government has used chemical warfare. Military action seems imminent
A Western attack would have global implications, especially considering Russia -- Assad's largest arms supplier -- opposes intervention.
Read: Syrians Hack The Times
Below is an analysis of a few markets affected by the violence in Syria and the subsequent rhetoric.
The first chart is of
CurrencyShares Japanese Yen Trust
(FXY) - Get Invesco Currencyshares Japanese Yen Trust Report
. The yen is perceived as a safe-haven currency that attracts bidders during times of fear and uncertainty.
Although the Bank of Japan has gone to great lengths to devalue the currency and provide monetary support, global fear surrounding a range of issues has led to yen strength.
Read: Is Fadebook for Real?
The yen is trading in a multi-month consolidation range, and with the developments in Syria, it gapped higher. Look for further geopolitical uncertainty to result in stronger price moves higher in the Japanese currency.
The next chart is of
iShares MSCI Turkey Invest Market Index
(TUR) - Get iShares MSCI Turkey ETF Report
. Turkey borders Syria and has seen a large inflow of refugees during this time of civil war. Its proximity to the violence as well as its emerging-market status has dragged price action down to yearly lows.
The emerging-market status relates to the negative impact of higher U.S. interest rates and to investment outflows in emerging markets lately.
The financial and political implications should continue to weigh on the Turkish economy and lead to further financial market weakness. A resolution to the Syrian conflict, however, could be very bullish for the Turkish exchange-traded fund in the short term.
The last chart is of
United States Brent Oil
(BNO) - Get United States Brent Oil Fund LP Report
. Brent crude has spiked higher, to the top of its up trending channel due to the Syrian conflict.
The North African/ Middle Eastern region provides many trade routes for oil. A disruption of those routes could greatly reduce the supply of oil, and thus has boosted the price of Brent crude.
Read: When to Contact Your Tax Pro
Very little fundamental reasoning backs the move higher, since global demand is still not what it used to be, and thus a resolution to the Syrian conflict could lead to a rapid decline in crude oil prices.
At the time of publication the author had no position in any of the stocks mentioned.
Follow @AndrewSachais
This article is commentary by an independent contributor, separate from TheStreet's regular news coverage.
Andrew Sachais' focus is on analyzing markets with global macro-based strategies. Sachais is a chief investment strategist and portfolio manager at the start-up fund, Satch Kapital Investments. The fund uses ETF's traded on the U.S. stock market to gain exposure to both domestic and foreign assets. His strategy takes into consideration global equity, commodity, currency and debt markets. Sachais is a graduate of Georgetown University, where he earned a degree in Economics.