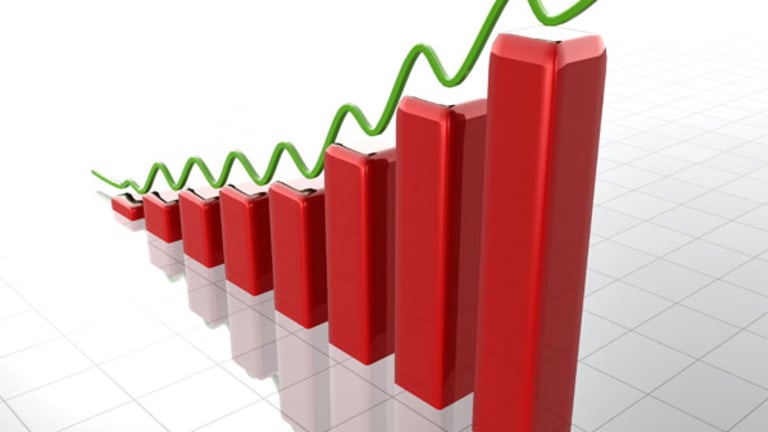 Global Macro: Look for More Consumer Demand in Growth Number
The U.S. fourth-quarter growth figure should be strong because of improved consumer demand and a contracting trade gap.
NEW YORK (TheStreet) -- The U.S. fourth-quarter gross-domestic-product growth figure -- released tomorrow -- should be above 3% as consumer demand likely increased and the trade gap contracted in the final three months of the year.
Consumer spending continues to move higher off of its bottom during the 2008 financial crisis. Consumers account for around two-thirds of economic activity, making personal consumption a very important indicator of the overall economy.
In December, real consumer spending rose 2%, versus estimates for a 1.4% advance. The robust number showed that even with poor weather, consumers weren't deterred from going out and spending.
[Read: Why Wall Street Got Apple Wrong -- Again]
Additionally, the U.S. trade gap contracted in the fourth quarter. The trade gap measures net exports and is added to the economic growth figure. When a country runs a trade surplus, the number is added to growth, and when a country runs a deficit, the number is subtracted from the figure.
The U.S. continues to run a net trade deficit, but lower oil prices and a stronger U.S. dollar have led to a contraction in the deficit. Oil prices were lower because of diminishing risks in the Middle East and an increase in supplies.
Meanwhile, a stronger U.S. dollar made imports relatively cheaper. The Federal Reserve cut stimulus in December, leading to an increase in bond yields. The higher yields led the market to bid the dollar higher versus its foreign competitors.
[Read: 3 Stocks Under 10 in Breakout Territory]
If the Fed continues to reduce bond purchases in 2014, then a stronger dollar could lead to a further narrowing of the trade gap.
Furthermore, less inventory expenditures in the fourth quarter may have weighed on growth, but should make the overall number a better representation of economic activity. Large inventory spending in the third quarter accounted for about 1.5% of the 4.1% growth figure. That was an extremely large percentage and will not likely be repeated.
Inventory spending does show business activity, but says nothing directly about the consumer. It is possible that the added inventory sits on shelves unused and wasted.
[Read: T-Mobile and Sprint Both Want to Be Your Bank]
The Fed will have its eye on the composition of the growth figure. More sustainable consumer spending will allow the central bank to cut bond purchases, even as the inflation figure remains lethargic.
If the economy can prove resilient in the face of higher rates, the Fed will be more inclined to tighten policy throughout the year.
US Real GDP Growth data by YCharts
Follow @macroinsights
This article represents the opinion of a contributor and not necessarily that of TheStreet or its editorial staff.