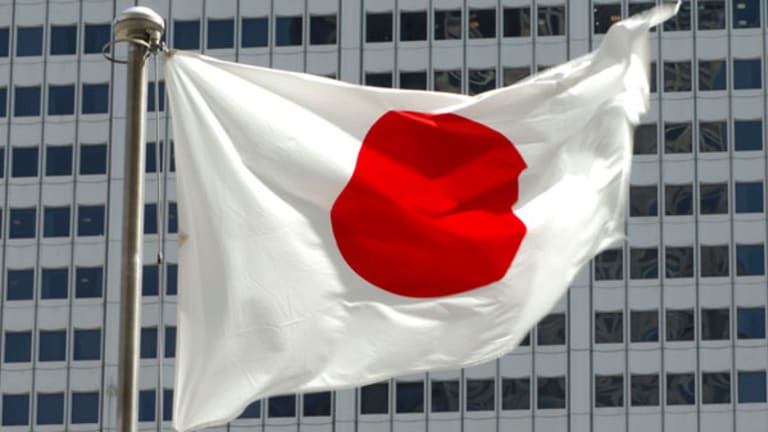 Global Macro: Japan Juices Loan Program
The central bank, worried about growth, extends loan program that was set to expire next month.
NEW YORK (TheStreet) -- Precidian MAXIS Nikkei 225 Index ETF  (NKY) led global equities higher on Tuesday as the Bank of Japan extended its loan program through 2015. The program had been expected to end next month.
The new terms of the program double the size of funds available from 3.5 trillion yen to 7 trillion yen and keep the borrowing rate at 0.1%, which should boost bank profits. The Nikkei index -- led by banking stocks -- jumped 3.1% higher on the news.
[Read: Jim Cramer: My Momentum Monsters]
Meanwhile, Guggenheim CurrencyShares Japanese Yen Trust  (FXY) - Get Free Report fell through the day as investors saw the move by policymakers as a precursor for more central bank aid.
Both Japanese growth and industrial production figures fell below estimates this week, leading to questions about the Japan's economic recovery. If economic data continue to come in below expectations, the BOJ may be forced to ramp up stimulus spending.
[Read: 5 Stocks Rising on Unusual Volume]
In the U.S., SPDR S&P 500 (SPY) - Get Free Report advanced only 0.1% on Tuesday, as disappointing New York manufacturing and U.S. housing numbers weighed on investor sentiment.
The U.S. numbers added to the case for the Federal Reserve to possibly rethink reducing stimulus at its next meeting and also pushed PowerShares DB US Dollar Index Bullish  (UUP) - Get Free Report lower on the day.
[Read: Good News, Bad News in Savings and Credit-Card Debt]
The weather has been blamed for recent U.S. economic weakness, but if the numbers don't improve during the spring, Fed Chairwoman Janet Yellen may be forced to reconsider the current path of the central bank's policy.
At the time of publication, the author had no position in any of the funds mentioned.@MacroInsights
This article represents the opinion of a contributor and not necessarily that of TheStreet or its editorial staff.