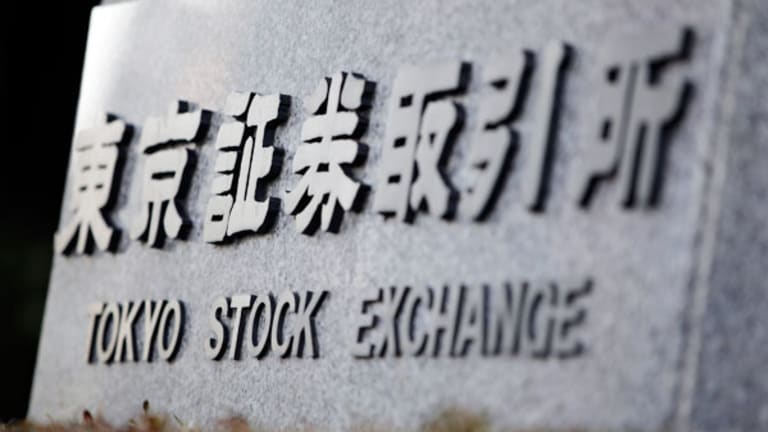 Global Macro: Japanese Markets Overshoot Expectations
Japanese markets corrected as uncertainty crept into investors' minds.
NEW YORK (TheStreet) -- Weaker U.S. data on Thursday pushed the dollar down and equity markets higher. The belief that the Fed is less likely now to reign in easing because of weaker than expected data has buoyed risk assets.
The fear that U.S. easing could let up has rattled global financial markets as of late and added an element of uncertainty that has been largely absent throughout 2013. Japan too has seen added volatility as global demand has come into question.
Last week, when questions began to rise as to the timeframe of U.S. easing measures, Japan equities saw a sell-off and the yen spiked higher.
The pair below is of MAXIS Nikkei 225 Index ETF (NKY) over Total World Stock Index ETF (VT). Japanese equities have vastly outperformed world markets as the economy pursues drastic monetary and fiscal stimulus. It has been said that irrational exuberance overtook the Nikkei and prices propelled higher, overshooting fair value. A correction was long overdue, and with the introduction of Federal Reserve uncertainty and weaker Chinese data, the Nikkei got its pullback.
Also see: Microsoft Heads for Clouds in China >>
The price movement has returned to its trend line, and has not damaged its intermediate uptrend. Japanese policy remains in place to fend off deflation, which should maintain the fundamental thesis of weaker yen and stronger equities.
Also see: Procter & Gamble: CEO Regression Comes at a Big Price >>
The next pair is of CurrencyShares Japanese Yen Trust (FYX) over DB USD Index Bullish (UUP). This pair measures the strength of the yen over the U.S. dollar. The yen acts as a safe-haven asset in times of investor fear and got a boost higher as doubt over U.S. stimulus crept into markets last week. The Bank of Japan maintains its simulative policy, and with weaker U.S. GDP and unemployment data, it is unlikely the Fed removes its lifeline just yet. The dollar should continue to show strength with the yen trending lower as stability returns to markets.
The last chart is of a 10-day moving average for DB Japanese Government Bond Futures ETN (JGBL). Japanese bonds have seen a broad sell-off as the yen has drastically weakened and equities have raced higher. Higher rates, as a result of the bond sell-off, have spooked markets, and along with a few other variables, have enacted a correction in Japanese assets.
There is not an issue with rising rates, as long as the move higher is justified by economic improvement. This does not look to be the case just yet as core consumer prices continue to fall in Japan.
Also see: How to Negotiate Your Way to a Better Credit Card >>
As stability returns to markets the yen should continue lower as the Nikkei continues its uptrend. Rates should pull back a little, but the U.S. nonfarm employment data due out next week could leave markets at elevated levels of fear until then.
At the time of publication the author had no position in any of the stocks mentioned.
Follow @AndrewSachais
This article is commentary by an independent contributor, separate from TheStreet's regular news coverage.
Andrew Sachais' focus is on analyzing markets with global macro-based strategies. Sachais is a chief investment strategist and portfolio manager at the start-up fund, Satch Kapital Investments. The fund uses ETF's traded on the U.S. stock market to gain exposure to both domestic and foreign assets. His strategy takes into consideration global equity, commodity, currency and debt markets. Sachais is a senior at Georgetown University earning a degree in Economics.