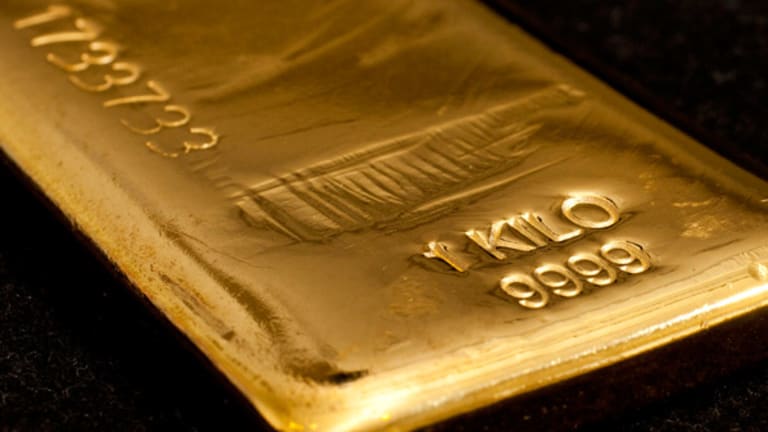 Publish date:
Global Macro: Gold Completes Head-and-Shoulders Pattern
Hawkish sentiment from the Fed minutes pushes gold towards yearly lows.
Hawkish sentiment from the Fed minutes pushes gold towards yearly lows.
NEW YORK (TheStreet) -- Gold completed a bearish head-and-shoulders pattern on Wednesday as the October Federal Reserve minutes were viewed as more hawkish than anticipated.
The Fed minutes showed that the central bank may use guidance in future to keep rates low instead of continuing bond purchases. Investors took this as a sign the Fed may taper monetary easing within the next six months.
The news led to a strong selloff in gold and equities as rates spiked higher.
Read: Instagram Comes to Windows Phone, Kinda
Monetary stimulus has never been proven to achieve economic growth, which has birthed the belief that more transparency from the central bank could accomplish just as much.
Although the market has taken this as a sign of a more hawkish Fed, this does not indicate that core interest rates will be raised any time over the next year.
Economic data have been strong of late, showing signs the U.S. government shutdown was not as harmful as many had predicted. The pace of the recovery, however, does not provide resounding confidence the economy no longer needs Fed support.
Meanwhile, gold completed its bearish head-and-shoulders pattern on the daily chart with Wednesday's close, pushing prices toward yearly lows. The chart shows that the commodity reached its previous bottom in July as the initial news of tapering became fully digested by markets.
Read: Fraudulent Debt Collectors Always Ring Twice
The move lower in gold is setting up to be choppy. Currency investors are left with very little fundamental data to base trades, with central banks across the globe essentially adopting a zero-rate policy to reach economic recovery.
With investors having to guess which economy is doing the best from unstable monthly data, gold will most likely be volatile in its short-term moves while ultimately moving lower in the months to come.
This article was written by an independent contributor, separate from TheStreet's regular news coverage.
Andrew Sachais' focus is on analyzing markets with global macro-based strategies. He takes into consideration global equity, commodity, currency and debt markets. Sachais is a graduate of Georgetown University, where he earned a degree in Economics.