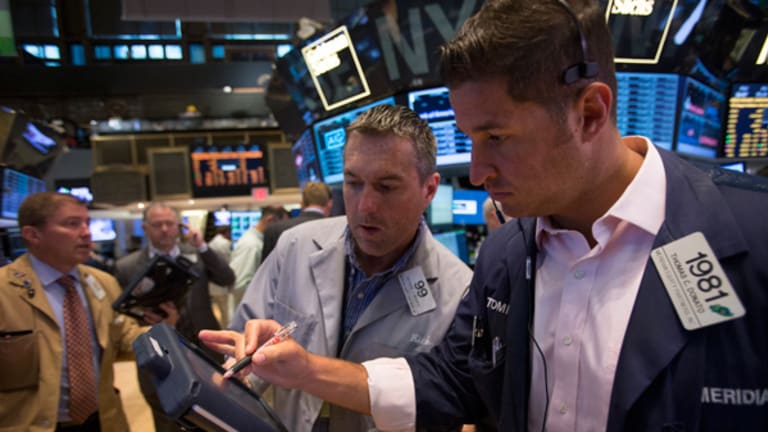 Global Macro: Fed, Tech Earnings to Test Equities
A Federal Reserve and tech earnings this week may send stocks lower.
NEW YORK (TheStreet) -- U.S. equities will be tested this week at record highs as the Federal Reserve meeting and earnings from major technology companies may send stocks lower.
Fed monetary stimulus and strong momentum from tech companies have pushed equity markets to record highs in weeks past.
The Fed is expected to keep policy accommodative till 2014 due to the consequences of the government shutdown and the slow recovering labor market. The issue is not whether the Fed tightens this week, because it probably won't, but rather, what kind of guidance it will provide.
Read: What Is Apple's Implied Move Post Earnings?
If the Fed gives a hawkish tone and leads investors to believe it is not fully committed to stimulus relatively deep into 2014 once the government shutdown reverberations have subsided, then the market may see this as a sign to sell.
On the other hand, if the Fed acknowledges the economy's weakness and makes it clear that stimulus is indefinite at this point, then that could keep the market at its lofty levels.
Strong tech earnings, meanwhile, have kept sentiment elevated in the recent run to equity highs. Companies such as
Amazon.com
(AMZN)
and
Microsoft
(MSFT)
have outperformed expectations and helped the
PowerShares QQQ
(QQQ)
keep its strong uptrend.
Read: Fund Managers Pick Small Cap Stars
This week,
Facebook
(FB)
and
Apple
(AAPL)
release their earnings. If they outperform expectations, then there is no reason for a selloff and equities could again close on fresh highs for the week.
The technical outlook for the market remains positive. Late last week, the
SPDR S&P 500
(SPY)
pushed higher, as pictured below. The move looked strong and helped push the index out of a multi-day consolidation.
Read: Cost-Effective Hybrids
Although one could make the argument for equities being overbought, there's no reason for a correction just yet. But a catalyst could emerge this week.
At the time of publication the author had no position in any of the stocks mentioned.
Follow @AndrewSachais
This article is commentary by an independent contributor, separate from TheStreet's regular news coverage.
Andrew Sachais' focus is on analyzing markets with global macro-based strategies. Sachais is a chief investment strategist and portfolio manager at the start-up fund, Satch Kapital Investments. The fund uses ETF's traded on the U.S. stock market to gain exposure to both domestic and foreign assets. His strategy takes into consideration global equity, commodity, currency and debt markets. Sachais is a graduate of Georgetown University, where he earned a degree in Economics.