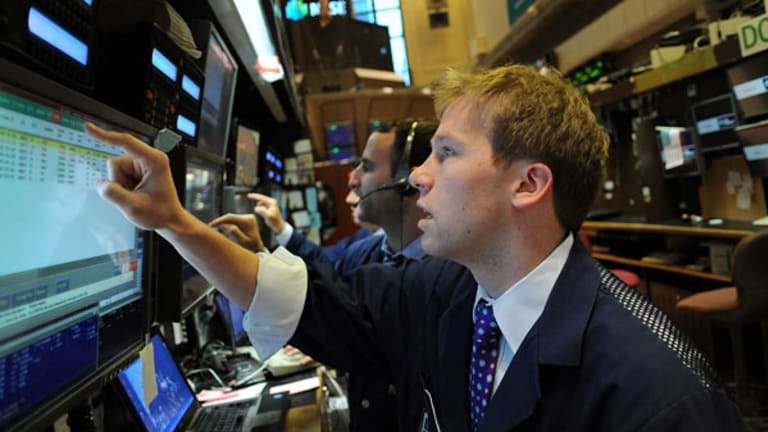 Global Macro: Fed Leaves Investors Wondering
In the aftermath of the Fed minutes, investors are in uncharted territory as they wonder how and when the Fed will exit its massive bond-buying program.
NEW YORK (TheStreet) -- In the aftermath of the Federal Reserve minutes, markets may be volatile in upcoming days as the Fed enters unknown territory in regards to exiting its massive bond-buying program.
While the minutes weren't surprising - the Fed wants to see a considerable pick-up in the jobs market before it pulls out of monetary easing completely, it needs a united front and set plan for the smoothest exit possible. In the meantime, investors will be wondering about the Fed's strategy.
The first chart below is of
iShares Barclays TIP Bond ETF
(TIP) - Get Report
over
iShares Barclays 7-10 Year Treasury
(IEF) - Get Report
. This cross measures inflation expectations derived from
Treasury
market price action.
Inflation and commodities have declined sharply as the dollar has strengthened and tighter U.S. monetary policy is perceived as just over the horizon.
The Fed minutes spoke of more tempered inflation expectations in the coming months. That should not play as large of a role as it once did in whether the Fed keeps policy the same or not, but it does weigh on investors' minds.
Yields will be biased to the downside as inflation remains low and the exact date of scaling back easing remains uncertain.
The next chart is of
PowerShares DB Dollar Index Bullish
(UUP) - Get Report
over
CurrencyShares Swiss Franc Trust
(FXF) - Get Report
. The franc is a traditional safe-haven currency and crossed with the U.S. dollar allows analysts to see the true strength of the dollar at the present time.
As an end to easing has been pushed from early 2014 toward September 2013 in investors' minds, the dollar has seen considerable strength. It is at its yearly highs, and will need a catalyst to push it higher.
Read: The Deal: New Owner Same Image for Libor
Until Fed board members can give more guidance on what their next step will be, this pair should sit below resistance levels.
The last chart is of
SPDR S&P Regional Banking ETF
(KRE) - Get Report
over
Guggenheim S&P 500 Equal Weight
(RSP) - Get Report
.
Regional banks have been the main beneficiary of a steepening yield curve. The price action below shows that the bank index took off higher as an end to easing came into sight.
Banks profit from a larger spread between short-term and long-term yields. It allows them to borrow in the short term for a lower rate than they lend for in the longer term.
The exponential growth seen below is sure to correct. Although the yield curve probably won't contract much anytime soon, continued uncertainty over whether the economic environment warrants reining in monetary policy should be enough to incite a correction.
At the time of publication the author had no position in any of the stocks mentioned.
Follow @AndrewSachais
This article is commentary by an independent contributor, separate from TheStreet's regular news coverage.
Andrew Sachais' focus is on analyzing markets with global macro-based strategies. Sachais is a chief investment strategist and portfolio manager at the start-up fund, Satch Kapital Investments. The fund uses ETF's traded on the U.S. stock market to gain exposure to both domestic and foreign assets. His strategy takes into consideration global equity, commodity, currency and debt markets. Sachais is a senior at Georgetown University earning a degree in Economics.