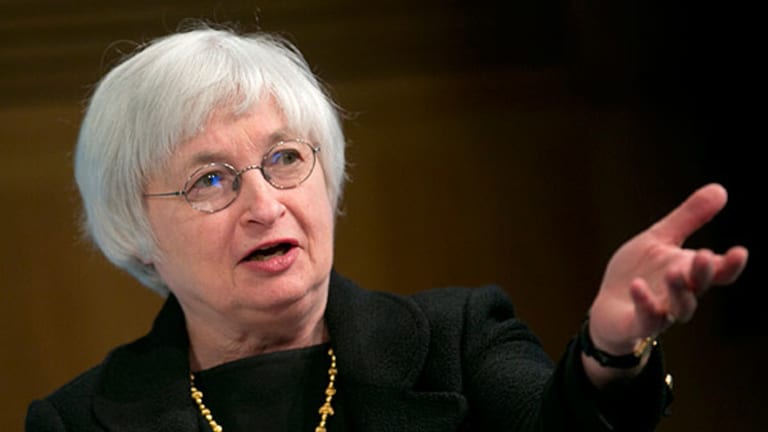 Global Macro: Do Higher Rates Endanger Dividend Stocks?
Dividend-paying stocks could be hit hard if interest rates continue to rise.
NEW YORK (TheStreet) -- As the Treasury yield curve widens, dividend-paying stocks could show relative weakness compared with the overall market.
In this article, the yield curve is represented by the iShares 1-3 Year Treasury Bond (SHY) - Get iShares 1-3 Year Treasury Bond ETF Report over the iShares 20+ Year Treasury Bond (TLT) - Get iShares 20+ Year Treasury Bond ETF Report. An increase in the price of the indicator signals that the gap between long-term and short-term rates is widening.
[Read: 10 Reasons to Own Apple Ahead of iWatch]
Last May, the Federal Reserve hinted at cutting its stimulus program by the end of the year. That ignited a massive selloff in long-dated Treasury bonds and a spike higher in interest rates.
Generally, interest rates and the price of fixed-income products move inversely. Thus, when investors are bearish on bonds, interest rates begin to rise.
Many market participants believed a similar selloff in bonds would occur when the Fed actually began cutting the stimulus in December. Much to their surprise, the long-dated bond index was bid higher as the taper was rolled out.
At that time, U.S. manufacturing and labor market data had vastly underperformed expectations, which led to anxiety within financial markets that the economy wasn't ready to operate without Fed support.
Worries about manufacturing and the job market, as well as a selloff in emerging-market assets, led to a strong move higher in Treasury bonds because of their attractive safe-haven status. Global investors piled into Treasury products, pushing down interest rates and contracting the yield curve.
[Read: Aggressive Lenovo Might Be Worth Your Investment]
As rates fell, both fixed-income products and dividend-paying stocks showed relative strength compared with other financial assets. Stocks that pay large dividends usually show price movement similar to bonds because of their steady issuance of yearly payouts.
Emerging markets have begun to stabilize, and Janet Yellen, the new Fed chair, remains committed to stimulus cuts. That should allow for a widening of the yield curve in coming months.
[Read: The Answer to Every Tax Question You Could Possibly Ask]
If interest rates do trend higher for the remainder of the year, expect the iShares Select Dividend (DVY) - Get iShares Select Dividend ETF Report to lag the overall performance of the SPDR S&P 500 (SPY) - Get SPDR S&P 500 ETF Trust Report.
At the time of publication, the author held no positions in any of the stocks mentioned.
This article represents the opinion of a contributor and not necessarily that of TheStreet or its editorial staff.
Andrew Sachais' focus is on analyzing markets with global macro-based strategies. He takes into consideration global equity, commodity, currency and debt markets. Sachais is a graduate of Georgetown University, where he earned a degree in Economics.
Follow @Macroinsights