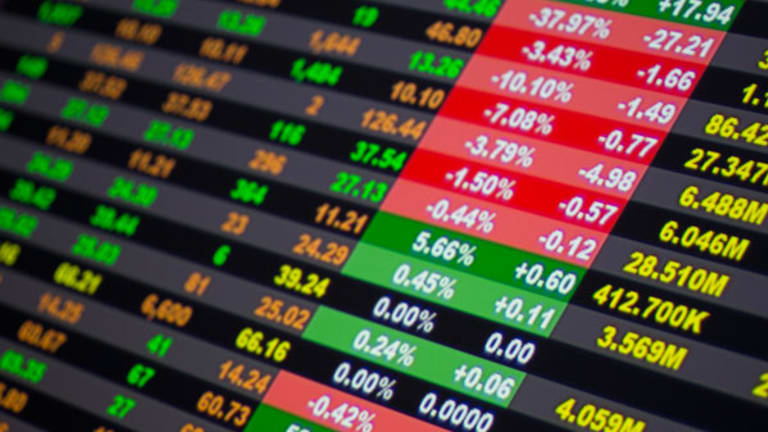 Global Macro: Are Stocks Headed Lower?
That may be the case as more investors flee to government bonds in the face of weak economic numbers.
NEW YORK (TheStreet) -- iShares 20+ Year Treasury Bond (TLT) - Get Free Report, an exchange-traded fund, broke out of its consolidation pattern on Tuesday, jeopardizing regional bank prices and broader equity market strength.
Weak U.S. economic data have spurred an uptrend in Treasuries since January and have pushed interest rates lower. The trend continued Tuesday as a reading on consumer confidence for February declined from January, pushing the price of government bonds higher as anxious investors pulled funds from equity markets.
Declining U.S. interest rates have weighed on SPDR S&P Regional Banking ETF (KRE) - Get Free Report prices as lower long-term rates indicate falling profits.
[Read: How Many $35 Billion Teslas Can We Create?]
Regional banks pay next to nothing on short deposits while charging a rate, often linked to Treasuries, on the long-term loans they issue. When yields on long-dated Treasury decline, the margins on loans fall and the banks' profits decrease.
As rates have fallen the past two months, regional bank prices have lagged the broader market. If Treasuries continue to trend higher, regional banks could again see selling pressure, which could weigh on equities overall.
[Read: 3 Reasons To Be Long-Term Bullish on Coal]
SPDR S&P 500 (SPY) - Get Free Report is trading at the 185 level, with major overhead resistance pressuring prices. For investors to push the index to record highs, there must be a catalyst or sector leading the way higher.
Investors will watch Federal Reserve Chairwoman Janet Yellen's testimony before the Senate Banking Committee this week, and hope that her comments on weather and policy will shake off anxiety and propel stocks higher.
[Read: Top Five Worst Personal-Finance Mistakes]
What can't be overlooked, however, is that regional banks have begun to soften and long-dated bonds are trending higher, which could turn the market consolidation into a top, pushing equities lower the next few months.
data by
At the time of publication, the author had no position in any of the funds mentioned.
Follow @macroinsights
This article represents the opinion of a contributor and not necessarily that of TheStreet or its editorial staff.