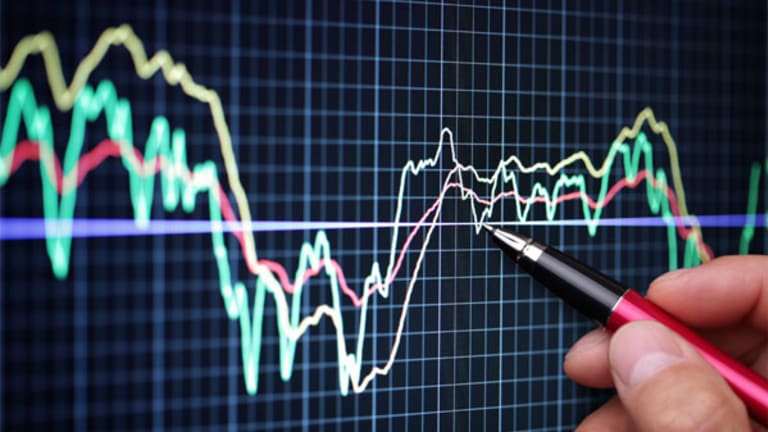 Global Macro: A Correction Looms
The Fed's lack of clarity may spell trouble for stocks.
NEW YORK (TheStreet) -- Unexpectedly the Federal Reserve didn't reduce its bond-buying program last week, causing wild price swings and adjusted expectations for financial markets.
Initially, assets spiked, but then investors seemed to think that prices were too high and they wondered about Fed Chairman Ben Bernanke lack of clarity about future policy.
Bernanke's guidance in May about slowing bond purchases, along with many Fed board members public comments since then on tapering, led investors to believe the Fed would cut stimulus to some degree at the Federal Open Market Committee's meeting last week. That did not happen and now investors feel somewhat deceived.
Read: A Stock That's All in the Packaging
The first chart below is of
SPDR S&P 500 Price
(SPY) - Get SPDR S&P 500 ETF Trust Report
. The Fed's stance last week led to a spike to record highs in equity indexes as bond purchases are to continue indefinitely.
The positive reaction may be finished, however, as the debt ceiling situation looms and uncertainty surrounding the future of the Fed's policy could push equity indexes back down to support lines over the next few weeks.
Read: Apple vs. Pandora: The Music Streaming Duopoly
The next chart is of
iShares Barclays TIPS Bond
(TIP) - Get iShares TIPS Bond ETF Report
. Inflation-protected securities have come into favor as the Fed's decision to keep pumping money into the economy raises concern over future inflation.
The price action below shows that prices of Treasury Inflation Protected Securities have traded within a sideways pattern since mid-June.
In May, investors believed that the Fed stimulus program was on its last leg, which led to a selloff of inflation protection such as gold and bonds as interest rates trader higher.
Read: Cramer Opens Oyster, Finds Pearl
That the Fed didn't taper doesn't mean TIPS will break higher out of their multi-month sideways pattern. They should merely trade toward the top of their range until rates begin to rise again leading into the next Fed meeting.
At the time of publication the author had no position in any of the stocks mentioned.
Follow @AndrewSachais
This article is commentary by an independent contributor, separate from TheStreet's regular news coverage.
Andrew Sachais' focus is on analyzing markets with global macro-based strategies. Sachais is a chief investment strategist and portfolio manager at the start-up fund, Satch Kapital Investments. The fund uses ETF's traded on the U.S. stock market to gain exposure to both domestic and foreign assets. His strategy takes into consideration global equity, commodity, currency and debt markets. Sachais is a graduate of Georgetown University, where he earned a degree in Economics.