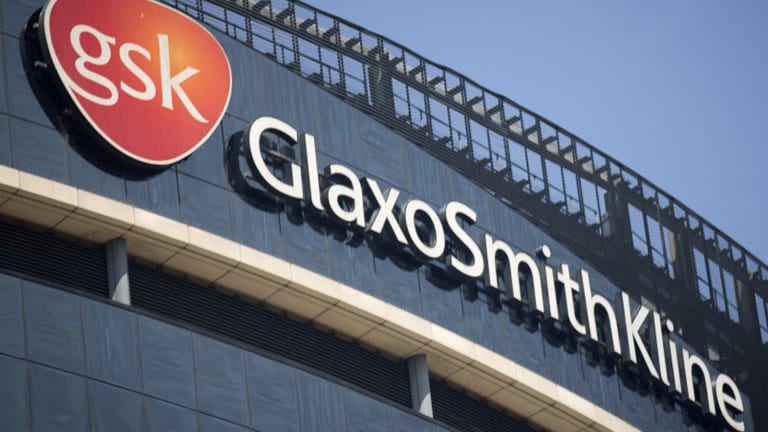 GlaxoSmithKline Rallies on Strong Quarterly Results
The U.K.'s leading drugs group lifts its forecast for the full year and confirms dividend payout plans.
U.K drugmaker Glaxosmithkline (GSK) - Get Report   announced strong organic growth during the second quarter on Wednesday as well as an eagerly anticipated boost to its bottom line, stemming from the depreciation of the pound.
Group revenue rose 4% at constant exchange rates to £6.5 billion ($8.5 billion), above estimates for £6.34 billion sales,  as new product sales more than offset the effect of a declining Advair/Seretide asthma franchise, which accounts for more than a fifth of earnings and profit. Earnings per share rose 16% to 24.5 pence,  compared with a consensus for 21 pence.
Management also raised estimates for full-year earnings, both reported and at constant exchange rates, signaling confidence in its majority-owned ViiV Healthcare HIV division and new drugs.
The group now expects earnings growth  of about 11% to 12% at constant exchange rates, up from the 10% to 12% growth range it had previously predicted.  Including currency fluctuations it sees earnings growth of 19%, up from the 8% it had forecast in April.
The stock rose by as much as 2.5% to trade as high as 1,711.0 pence ($22.40), before paring gains. It has risen by 22.6% year to date, from January lows of 1,334.0 pence.
With much of the decline in the pound only having taken place in the immediate aftermath of the referendum at the end of June, Glaxo could still benefit further from current foreign exchange rates. 
CEO  Andrew Witty said:  "Momentum across the group is being driven by growth in new product sales, continued cost control and delivery of restructuring and transaction benefits."
Reported operating profit jumped by 36% to £1.8 billion and reported earnings per share jumped by 42% to 24.5 pence.
Net cash from operations rose sharply to £1.2 billion from £200 million in the second quarter of last year as a result of favorable foreign exchange rate movements and better inventory management during the period.
The board affirmed its commitment to paying a dividend of 80.0 pence for 2016 and 2017 in Wednesday's update, which was previously a topic of concern for investors given that Glaxo was unable to fully cover the payout from earnings in 2015. 
Even after eliminating the effects of a weaker pound, Glaxo still grew strongly during the second quarter.
New products now represent 23% of total pharma sales, up from 11% in the second quarter of 2015, while vaccines and consumer healthcare revenue also grew strongly at 11% and 7%, respectively.
Glaxo stock has been one of the biggest beneficiaries of the U.K's vote to leave the European Union, after expectations of a foreign exchange boost drove a 20% increase in the share price, from 1,380.0 pence, during the five weeks since the vote.  The company derives much of its revenue from outside the U.K.
Jefferies recently  reiterated its buy recommendation and slapped a price target of 2,000.0 pence on the shares, implying an upside of around 20% from current levels.
Also on Wednesday, GlaxoSmithKline also announced a £275 million investment in three U.K drug manufacturing sites. That decision eased fears that multinationals would slash investment in the U.K. in the wake of the Brexit vote.