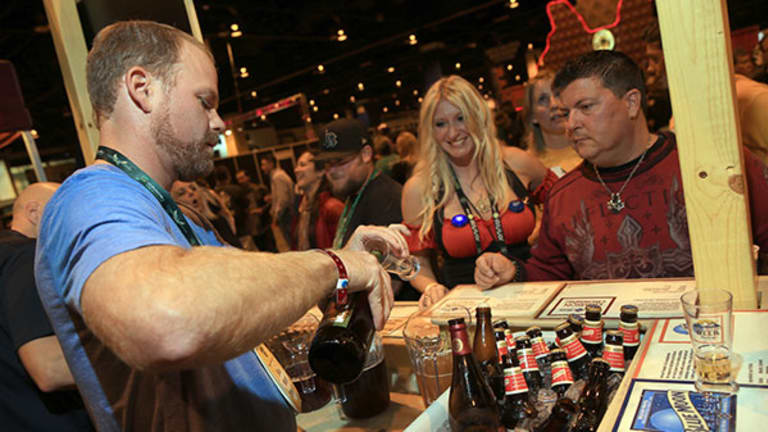 Glass Half Empty? The Great Craft Beer Selloff
The sale of Boulevard Brewing is part of a trend that sees founders aging and considering their legacies.
PORTLAND, Ore. (TheStreet) -- Earlier this week we asked a simple question: Is it still craft beer after the brewery sells?
We figured it was a question worth asking in light of the recent sales of Goose Island to Anheuser-Busch InBev (BUD) - Get Anheuser-Busch InBev SA/NV Report and of Angel City and Coney Island Craft Lagers to Boston Beer Company's (SAM) - Get Boston Beer Company, Inc. Class A ReportAlchemy & Science subsidiary. After a far more recent event, maybe a new question is in order: Has the great craft selloff begun?
On Thursday, it was announced that Kansas City's Boulevard Brewing Companywas sold to Belgian brewer Duvel Moortgat. Beer Marketer's Insights estimates the sale price at between $100 million and $120 million as Duvel adds to U.S. holdings that already include Cooperstown, N.Y.-based Brewery Ommegang -- which recently partnered with Time Warner's (TWX) HBO on a line of beers based on that network's series Game Of Thrones.
Make no mistake: In small brewing and in the beer world in general, this is a big deal. Before this, Duvel shipped roughly 70,000 barrels of beer a year in the U.S., with half of that coming from Ommegang. Boulevard Brewing, meanwhile, is expected to ship 190,000 barrels in the U.S. in 2013. It is the 12th largest craft brewer in the nation, according to the Brewers Association craft beer industry group, and the 19th largest brewer by volume in all of the U.S.
Since beginning operations in 1989, Boulevard has expanded distribution through 24 states and the District of Columbia. It has a huge presence in the Midwest and coverage throughout the mountain states and West Coast. It should give Duvel a broader U.S. distribution footprint and make both Boulevard and Ommegang beers far more accessible.
Beyond the business ramifications, however, is a more pressing issue staring down craft beer as its pioneers inch toward retirement age. Boulevard founder John McDonald posted an open letter on the front page of Boulevard's site explaining his decision to sell. Between accolades for Belgian brewing, a love note to his home base of Kansas City and a torch passing to Duvel was a little insight into what's driving him to part with the brewery he built.
I'm not getting any younger, and the long-term future of the brewery has weighed on my mind for the past several years. After long discussions with my family, we determined that we wanted to find a way to take Boulevard to the next level while retaining its essence, its people, its personality -- all the characteristics that make our beer and our brewery so important to Kansas City and the Midwest.
Let those first five words land for a minute. Now consider the following: Ken Grossman founded Sierra Nevada in 1979 and has guided the Chico, Calif., brewery for nearly 35 years. Larry Bell first opened Bell's as a homebrew supply shop in 1983 before starting Bell's Brewery in 1985. Kurt and Rob Widmer first opened the doors of Widmer Brothers Brewery in 1984. Jim Koch brewed his first batch of Samuel Adams Boston Lager in 1984 and founded Boston Beer Company the same year. Kim Jordan is a relative newcomer by those standards, opening New Belgium Brewing in Fort Collins, Colo., in 1991.
All of the above have been with their breweries from start to present. All of them oversee breweries ranked among the 15 largest in the U.S. All of them seem to be proceeding with some sort of succession plan in mind. Grossman's children are poised to run Sierra Nevada's new brewery in Asheville, N.C., and play active roles in its finance and marketing. The Widmers and Koch have each turned their breweries into publicly traded entities -- the Craft Brew Alliance  (BREW) - Get Craft Brew Alliance Report and Boston Beer Company -- and can basically sell their shares when it stops being fun. Bell has expressed a desire to hand his business to his children, but also has investors who'd be interested in taking over. Jordan, meanwhile, recently used an employee stock ownership program to sell her employees 100% of the company's shares for roughly $100 million -- clearing her path to an eventual retirement.
As the folks at American Brewer suggested last year, succession planning is becoming a more pressing issue among small brewers as the pioneers of the microbrew movement consider life after the brewery. The founders of Boulevard's Missouri neighbor, St. Louis-based Schlafly Beer Co., last year announced a succession plan that ensured Schlafly's future in St. Louis and allowed employees to buy and increasing stake in the brewery over time.
Though craft beer pioneers including Pete Slosberg of Pete's Wicked Ales and Fritz Maytag of Anchor Brewing sold off their respective breweries, the idea of selling amid the current climate remains a touchy subject. When CNBC's beer reporter Tom Rotunno and we asked on Twitter which first-line craft brewer would be the least likely to sell, Rotunnon's suggestion of Greg Koch -- founder of Escondido, Calif.-based Stone Brewing Company -- got an immediate response from Koch himself.
For brewers like Koch, who founded Stone in 1996, legacy means a lot. Small brewers tend to develop strong ties with their surrounding communities that, as they grow, take on added significance. Boulevard Brewing has 125 employees in Kansas City, none of whom are slated to lose their jobs after the sale. It's also become an ambassador for Kansas City itself, serving as one of the Kansas City Royals' official beer sponsors and establishing itself as Missouri's largest American-owned brewery -- a title no brewer in beer-rich St. Louis could claim.
When that tie is severed and a transition to a new owner isn't handled properly, it hurts. In a discussion with the folks at Schlafly a few years back, we learned that the Interbrew's $52 billion buyout of Anheuser-Busch in 2008 that led to Anheuser-Busch InBev and the loss of scores of job in St. Louis has hurt that city more deeply than outsiders can understand. Generations worked for A-B and it was still very much a company town. The sale and layoffs severed that trust, drove residents away from the brand and inspired former employees to take breweries of their own including Urban Chestnut and O'Fallon Brewery.
In his farewell letter, Boulevard's McDonald claims he took the time to get to know the people behind Duvel and found that they "share the same values, respect each other's achievements, and have the same obsession for exceptional beers." Craft beer geeks will wail and halfheartedly boycott, purists will debate whether or not Boulevard's beer is still "craft," but McDonald believes his employees are safe, the brand will thrive and that Kansas City will continue to have a brewery to be proud off.
How well his plan succeeds may determine what other big names in small brewing do with their brands once retirement beckons. They're watching, and those decisions are coming soon.
-- Written by Jason Notte in Portland, Ore.
>To contact the writer of this article, click here: Jason Notte.
>To follow the writer on Twitter, go to http://twitter.com/notteham.
>To submit a news tip, send an email to: tips@thestreet.com.
RELATED STORIES:
>>Craft Beer Brouhaha Reaches A Head
>>10 Cheapest Beers In The NFL
>>Is All That Halloween Candy And Pumpkin Beer Going To Keep?
Jason Notte is a reporter for TheStreet. His writing has appeared in The New York Times, The Huffington Post, Esquire.com, Time Out New York, the Boston Herald, the Boston Phoenix, the Metro newspaper and the Colorado Springs Independent. He previously served as the political and global affairs editor for Metro U.S., layout editor for Boston Now, assistant news editor for the Herald News of West Paterson, N.J., editor of Go Out! Magazine in Hoboken, N.J., and copy editor and lifestyle editor at the Jersey Journal in Jersey City, N.J.